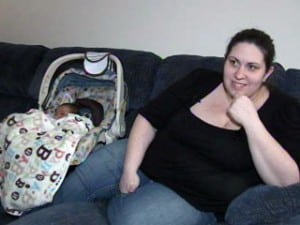 The new year started with an incredible surprise for a Detroit mom – a new baby! While expectant moms around the world were vying for the coveted first baby of the new year title, so was Jessica Genaw – except she didn't know it.
"I just was having really bad stomach cramps," she recalled "I was just really sick all day."
To help reduce her discomfort, Jessica decided to take a bath, but the pain just intensified. The unsuspecting mom-to-be had no idea what would come next.
"Your body tells you to push … whether you want to or not," she said. "And then I realized … something way different is going on here."
Upon calling 911, the operator asked her if she was expecting and 'I said, well, I didn't think I was.'
By the time paramedics arrived her labour was too painful to get out of the tub so they were forced to break down the door.
"I was just in so much pain that there wasn't a lot that I was thinking about," she said.
With the contractions getting closer, paramedics worked to get her into the ambulance when one of the emergency crew staff pointed out she was crowning.
At that point it became a reality that she was going to be a mom and just minutes after the ambulance arrived at Mount Clemens Regional Medical Center, Jessica welcomed a healthy seven pound, ten ounce baby boy.
"Then I just immediately started bawling," she said. "I never cried before in my life."
When her boyfriend received the panicked phone call, he had no idea what had happened until he arrived at the hospital.
"I (got) up on the floor and they (were) like … she just delivered. I'm like delivered what? It didn't hit me until she started weighing him and stuff, like that's my child," said Blake Williams.
Throughout her 'pregnancy' Jessica continued to take birth control pills and still got her period. She only gained a couple pounds, but didn't ever feel the baby kick.
"It was … really good to know that he was healthy because if I would've (done) all this and something would've been wrong … it just would've been the worst feeling ever," she said.
After the baby's surprise arrival family and friends came to the rescue buying baby gear, clothes and loaning the couple what they need.
And even though Jessica and Blake wanted kids someday, they are thrilled to be parents to Blake Martin Williams III.
"Every minute, I'm … so excited to be a mom and hang out with him. It's awesome. It's like the most amazing feeling ever that you didn't even know you could have," the new mom said.
Congratulations to the pair.
Related Articles:
---
[ad]