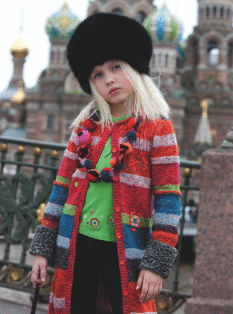 Award winning Quebec clothing label Deux par Deux boasts a fall/winter 09/10 children's collection that is a unique, vibrant, fantastical departure from typical wee apparel, featuring a self-proclaimed "flamboyant style with European inspirations" stitched into every fiber. Faux fur trims, chic silhouettes and a generous offering of bold rainbow hues strewn throughout both the boys and girls collections highlight a child's playful zest for life and colorful outlook on the world.
Launched by Claude Diwan and Maurice Elmaleh in 1986, Deux par Deux has always delivered daring apparel to pint-sized fashionistas from newborns to age 16. This season's vivid plum, pink and yellow winter coats will brighten even the dreariest gray winter days; and candy-colored pieces running the gamut from layettes to snowsuits, and including hats, tights, sweaters, dresses, jumpers, scarves and jeans translate seamlessly from day to day wear to special occasion apparel. Kids can also stand out on the ski slopes in warm, brilliant snowsuits accessorized with faux fur hats reminiscent of the toppers worn by Beefeaters in London.
Now incorporating more eco-friendly bamboo cotton into their cotton tops and knits, Deux par Deux pairs modern sensibility with captivating design, resulting in apparel that is as refreshing and original as its wearers.
---
---
[ad]