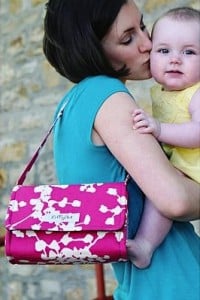 One of the chicest and easiest ways to carry baby change supplies is with a diaper clutch. Perfect just to throw into the bottom of your stroller or to keep in the glove box, a diaper clutch comes complete with everything you need for a quick change.
Plus, some are so cute that you could actually throw a couple of your essentials in and carry them to a party or out to the mall and feel fashionable without anyone knowing what their actual purpose is.
We've found 7 chic diaper clutches that are both functional and stylish. All, but #7, include a changing pad and all have room for a couple of diapers and wipes.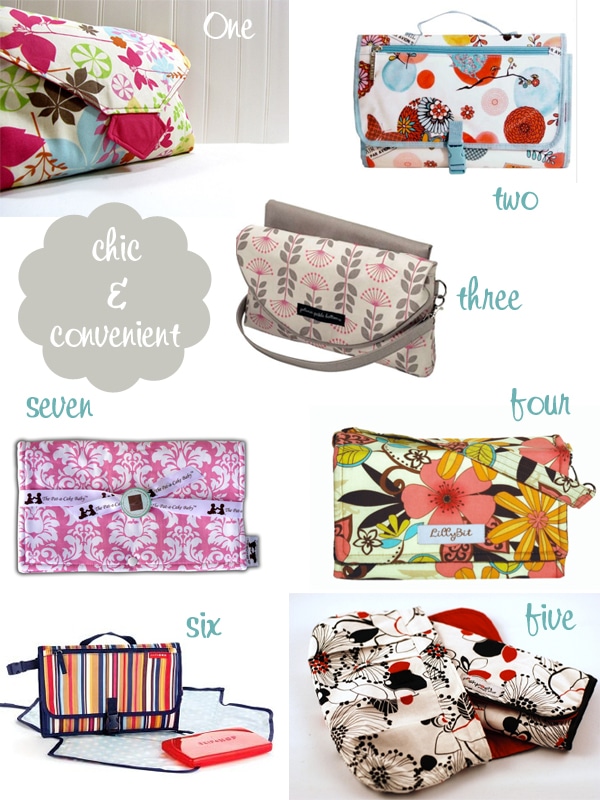 The WipeME 'N DipeME Stroller Bag($75) – The wipes pocket is conveniently placed, making it easy to access for diaper changing and tot cleaning. Load the bag with diapers, diaper ointment, snacks, keys, wallet etc and you are set. The large, wipeable changing pad unzips for quick changes and/or laundering.
Kalencom Eco-Friendly Quick Changer Kit($30) – This change bag opens to a large diaper changing pad with two zippered compartments that fold out for easy access to diapers and wipes. Clear vinyl protects changing pad and easily wipes clean
Petunia Pickle Bottom Change It Up Clutch($62) – This fashionable diaper clutch features a large, unattached, wipe-able, changing pad that easily folds out. It has a wristlet strap that converts to a shoulder strap and measures a mere 12″ x 1.5″ x 6.5″.
LillyBit's Uptown Diaper Clutch($35) – This clutch holds and cleverly conceals essential baby gear – including diapers, wipes, and rash ointment – inside a unique tri-fold bag. Parents can also easily convert the strap to fit their personal style. Wear over the shoulder, as a handbag, wristlet or clutch.
PishPosh Mommy Diaper Clutch ($25) – This Diaper Clutch comes with a matching changing pad. Use it for diapers and wipes or to carry toys and books for your little one.
Skip Hop Pronto Changer Diaper Bag($30) – The pronto has a head area that is cushioned and a removable extra-wide modern changing pad that easily wipes clean. The Pronto also includes a translucent wipes case, a mesh pocket that fits up to four large diapers and ointments, and a front zipper pocket for personal items.
Pat-a-cake baby Diaper Diddies($26) – The Diaper Diddie® doubles as a diaper and travel-size wipe case holder & a plush changing pad! These changing pads are super soft and cozy for a baby's delicate skin. It measures roughly 21″ long and 12″ wide when used as a changing pad. As a clutch, it measures 12″ wide and 7″ long (it folds into thirds).
Related Articles: