Home births have grown drastically in recent years, and this sect of natural parenting has many supporters. In fact, there are even celebrities that have opted for home delivery. But is there a hidden risk to at home births? One study seems to indicate as such.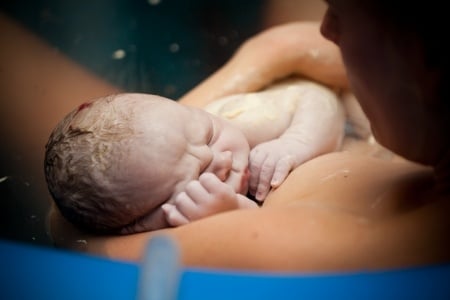 According to the Centers for Disease Control and Prevention, nearly all births occurred at home back in the 1900s. However, by 1969, all but 1 percent of births took place in a hospital. That rate has remained steady until recently.
Although the percentage of women giving birth at home has remained the same – just 1 percent of all births – the rate of home births between 2004 and 2009 has increased by about 30 percent. And home births by Caucasian women, who account for the vast majority of home births, has increased by a rate of more than 35 percent during that time. Maybe it is this increase that has some researchers, like chief of labor and delivery at New York-Presbyterian/Weill Cornell Medical Center, Dr. Amos Grunebaum, concerned.
Considered the largest of its kind, the study from New York-Presbyterian/Weill Cornell Medical Center in New York City reviewed the data from a sampling of about 13 million of the almost 17 million full-term single births in the U.S. that took place between 2004 and 2007. The sampling included parents from all races, income levels and ethnic groups.
Researchers also analyzed Apgar scores – scores that access an infant's health at one minute and five minutes after birth, zero being a stillbirth – along with birth certificate files from the National Center for Health Statistics to evaluate the deliveries by physicians and midwives in the hospital and at home during that time.
According to the results, babies born at home were nearly 10 times more likely to be stillborn. That risk was increased to 14 times more likely when a woman was delivering her first child. Additionally, babies born at home were found to be almost four times more likely to experience neonatal seizures or serious neurological dysfunction when compared to babies born in hospitals.
"Childbirth is one of the most wonderful moments in humanity, and people deserve the vest of all circumstances, including enhancing the experience and reducing unnecessary interventions," Grunebaum, the study's lead author told ABC News. "Having said that, it's not only about experience. It's also about making sure the baby is born safely."
And, according to Grunebaum, the risk is not due to the credentials of the person delivering the baby; it is, in fact the location of the birth. What's more, Grunebaum also mentioned that, in a home birth setting, there are fewer personnel to deal with an emergency situation, should one arise.
Grunebaum says that, he hopes the study prompts soon-to-be parents to consider why they want to deliver at home, and what the risks are if they decide to go through with it. if it's experience that women are after, he says, they should clearly communicate what it is they are looking for to their doctors.
"Many times the same expectations you have for a home birth can be met in a hospital setting if you communicate your wishes to your doctor," he said.
Of course, not everyone supports Grunebaum's conclusion, or his statements. Wendy Gordon, a member of the Midwife Alliance of North America's research committee is one of those people. In fact, she went claims that the study results are misleading, and they failed to accurately represent what epidemiologists and birth certificate scholars have found with an enormous body of research over the past several decades.
"Birth certificates are good at captureing common outcomes of birth, but not rare outcomes, like seizures and deaths, which are extremely rare," Gordon told ABC News.
What's more, Gordon says that the study couldn't possibly reflect the safety of birth location because they only revealed where a baby was born, not its intended birth place.
"If you make the assumption that any birth happened at home was planned, you lump in all the unplanned home births and the ones that happened on the side of the road," she said. "We know that births without a skilled attendant present have worse outcomes."
But Grunebaum says that they excluded data on the so-called "taxi-cab births" that weren't attended by a labor specialist. He says they also excluded premature births, high risk births and complicated births – some of which aren't even taken on by most midwives or labor specialists.
Grunebaum also revealed that they didn't look at access to prenatal care or whether or not the mother was insured at the time of birth. However, he doesn't believe that these would have a big impact on the overall outcomes of home births.
Did you have a home birth or know anyone that has? Are you considering one? What are your thoughts on the study? We'd love to hear from you!
Related Articles:
---
[ad]