Up Spring Baby makes a product that allows new moms know the volume of alcohol concentrated in their milk.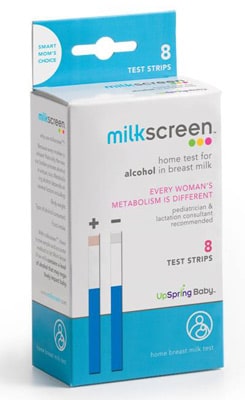 Studies have shown infants consuming breast milk with alcohol concentrations at approximately 30mg/dl, or .03%, and higher have exhibited distinctive changes in:
Feeding behavior: baby consumes less if the milk contains alcohol.
Sleep: baby sleeps less and wakes more frequently.
The milkscreen™ test is set to show a color change at .02% to let Mom know if her milk contains a level of alcohol that may negatively impact baby.
I only drank twice while I was breastfeeding and I was instructed so by the NICU nurse to try and get my milk flowing…
I guess these test strips would come in handy if you had a wedding to go to or were celebrating a special occasion.