Being born en-caul is often referred to as having a veil at birth.
What it means is that the mom-to-be's water didn't break and the baby is still in the amniotic sac. Being born with a caul(a part of the sac covering a porting of the baby) is rare, occurring in fewer than 1 in 80,000 births.
This week Greek doctor Dr Aris Tsigris posted the picture on Facebook after delivering the baby en-caul via caesarean section in Athens.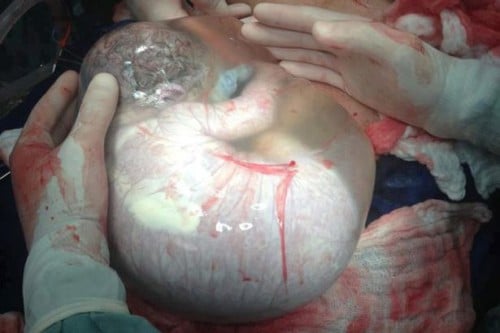 He noted,
"A rare picture … very rarely will say …. birth after caesarean, with the bag intact, the baby still has not understood that he was born ….. it is like it is still in the womb,the phenomenon is known as 'birth veil' and birth is more common but equally rare in premature births, total occlusion of the newborn in the bag, do not leave the baby drowned in the amniotic fluid, because it begins to breathe immediately after removing the 'veil', as the placenta continues to feed the baby with blood, the nature overcomes itself, leaving breathless even obstetricians …"
In medieval times the appearance of a caul on a newborn baby was seen as a sign of good luck. It was considered an omen that the child was destined for greatness.
Childbirth really is incredible.