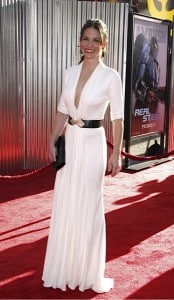 Uber secretive Evangeline Lilly who almost kept her pregnancy a secret finally shares her birthing experience – and it turns out that she opted for a home birth!
The actress divulged the details of her homebirth on The Tonight Show with Jay Leno. Jay asked the Real Steel Star about her stay at the hospital to which she replied,
"I actually skipped the hospital…I had the baby at home. It wasn't because he came so quickly though…It was a planned thing. We decided to have the baby at home because we wanted a natural birth, and it turns out it was 30 hours of natural."
The funniest advice she's received as a new mom?
"In Hawaii was, from the moment they're born, feed then poi, which is ground taro root." For those wondering, poi is called the "soul food" of Hawaii and it is given to aid with digestion and increase vitamin content.
When asked about future sisters and brothers for her son, she told Jay that she wants "a brood," and that if she wasn't currently working, she would be trying now.
Continuing her work wasn't planned, unlike her homebirth. She had wanted to "abandon ship" but Evangeline couldn't pass up the chance to be an elf in The Hobbit.
"I was sitting with my newborn baby, who was about a month and a half old, and Peter Jackson called and said, 'Would you like to be an elf in The Hobbit?' And I said, 'Yes, I really do! I really do want to do that.' So I'm sort of strapped in, as it turns out, to four movies now."
Baby comes along on the set but, according to Evangeline, doesn't know what to think of his elf mommy.
"He came to the trailer and I put him to my breast [to nurse] and he screamed his head off, staring up at this strange, pointy-eared, wigged, mess of a person that was NOT his mother, and that night I was feeding him at home and he was perfectly fine and my partner [Norman Kali] said to me, 'You know, his internal dialogue right now is, "Mom, you wouldn't believe what happened to me today.'"
Related Articles:
---
[ad]