My day is not possible without a really great baby carrier. I have spent the past six weeks or so trying out the Lillebaby EveryWear Organic carrier and it is exactly that- a really great carrier. It immediately, after the very first wearing, replaced the two other carriers I had been using with my daughter. It's that nice. As a mom of 4 , I have amassed an extensive collection of carriers, most of which are not well suited to our current needs. For a carrier to work for me and my day with children, it must be comfortable, quick and easy to get on and adjust to fit me and the rider well. The Lillebaby does this and more. It offers four carrying positions, in addition to the option of an infant cradle insert, in a great looking organic cotton and bamboo package.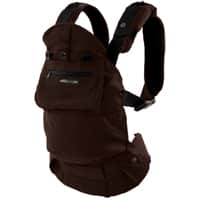 When my EveryWear arrived the first thing I noticed was how light and soft it was. That feeling carries through when it's in action, even while supporting a very heavy baby. This is one of the most comfortable carriers I have worn. The Bamboo and organic cotton fabrics are lightweight, cool and comfy- while the Earth Brown color is stylish and ever so practical. Even after constant tugging and six weeks of daily use with my 4 month old daughter it still looks great. It also dries very quickly after washing which is great when you don't want to be without it for a day. Little pockets located on the side are perfect for stowing the extra strap tails so they're not flowing along behind you, while the front pockets can store the hood, keys, a diaper or the lillebaby wipes case. An additional infant cradle insert is also available to make this carrier really work from birth to 42 pounds (19 KGs).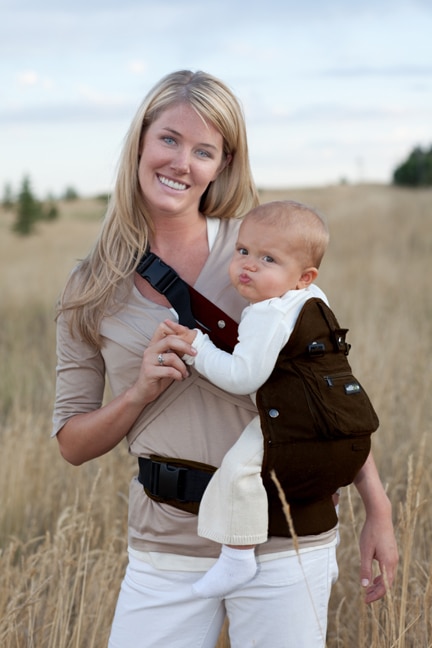 For smaller babies, Lillebaby offers an adjustable seat which can be reduced for little legs and an infant safety harness that allows you to secure babies under fifteen pounds. There is also a removable head support for infants, something I like as it gave my daughter a comfortable, well supported ride until she was old enough to develop better head control.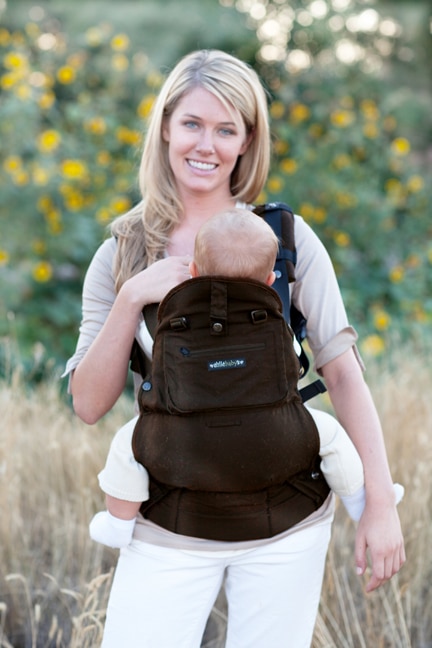 For parents on-the-go, the Lillebaby EveryWear allows you to use the carrier for front carries, facing in and out, back carries and as a hip carrier. I tried out all positions with three of my children- my 4 month old 17 lb daughter, my 22 pound skinny and long 18 month old and my very large nearly 40 pound 2 year old. Because I use the carrier with my daughter every day she is able to ride along through all of our daily tasks, napping (now with the included and removable sleeping hood) and nursing very comfortably with a quick adjustment to the straps. If approached with another carrier she visibly expresses her displeasure.
My 18 month old is not very heavy, but he really did feel weightless in the back carry. The only trouble I had with the carrier at all was converting to the hip carry mode. It truly looks easy in the instructions, but it took me awhile, and some help to get it adjusted correctly. Once we did, all three children rode in it and all three, even the 2 yr old, rode in comfort without any discomfort on my part. It was a nice surprise to find that this carrier fits all of them well despite their wide variety of sizes, weight and body types. The attached chest strap makes both front and back carries easy and quite secure, while the wide padded waist belt really helps carry the weight evenly.
All of these together provide a very comfortable fit with terrific weight distribution for a wide variety of body types. My husband and I both can wear the Lillebaby with ease even though I am particularly hard to fit as I have a very long waist and narrow shoulders. In the past, I found that many carriers didn't work on me at all and while we did intially have trouble with the hip carry and the shoulder strap on my narrow shoulder, I'm confident that the optional shoulder sling attachment would completely solve that problem.
Before the EveryWear arrived, I was in the process of finding a carrier for my daughter, having sent back several that just did not work for her. The problem I kept finding was that at six weeks she was too tall for most infant carriers and was not getting enough head support. Her legs were too small to ride in a full sized seat, problems that were all fixed with the Lillebaby's adjustable seat and removable head support. We like that she is still comfy and that we can quickly and easily adjust everything back to carry any of our children. Best of all, the contoured seat is not only comfortable for your them, it promotes proper spine development as well and prevents uncomfortable dangling legs.
The Lillebaby EveryWear is a really lovely carrier that offers style, great features, so many options and incredible comfort for you and your baby all in lightweight natural and organic wrapper.