As a parent it can be hard to travel with kids because you want them to be entertained, and engaged but there also needs to be a mature aspects that caters to your vacation.
Last year when we travelled to Azul Beach hotel one of the aspects I was most impressed with was Karisma Hotel's ability to create a serene location that was sooo family friendly.
This past week I travelled back to Mexico to stay at the brand's new property Generations Riviera Maya. Just 25 minutes from the Cancun airport, this beautiful resort marries luxury with functionality in a way that ensures everyone in the family will have a great time!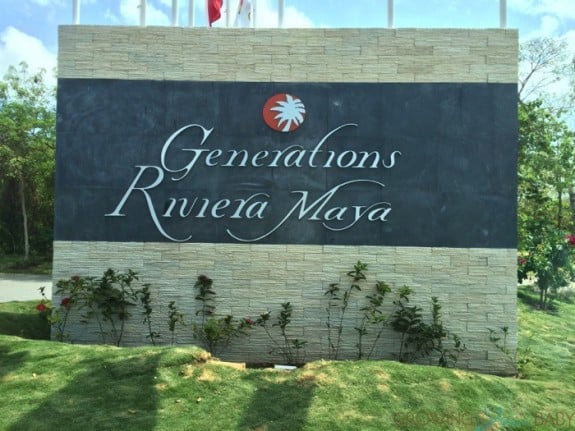 At the airport I was greeted by Lomas Travel and transported to the resort just a short distance away.
When you arrive at Generations Riviera Maya you check in at the main building before you are shuttled to the resort location by golf cart. A large mangrove, that separates the two properties is being developed as an eco-tour location. As legend has it there are crocodiles in the water. One didn't show hisself while I was visiting, but staff insisted there were many patrolling the area.
At the entrance to the resort you will be assisted by a butler, who will give you a quick tour of the property and room before you settle in.  They are also on hand to help you with anything you need during your vacation.
Generations Riviera Maya features 144 suites across three buildings. These buildings are joined by a seemingly never-ending pool that stretches the length of the property. Laps anyone?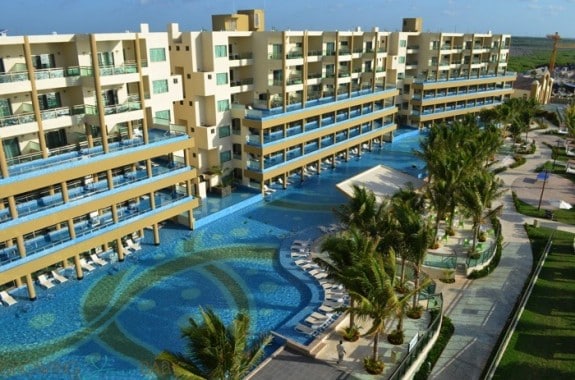 My room, the Ocean Front Luxury Jacuzzi Suite, was a standard room – for them. At 722 square feet it was also one of the biggest hotels rooms I have ever stayed in. You will not trip over your family in this suite.  In fact there are two separate areas to ensure every member of your family has their own space.
When you first enter the room the first space you will see is the bathroom.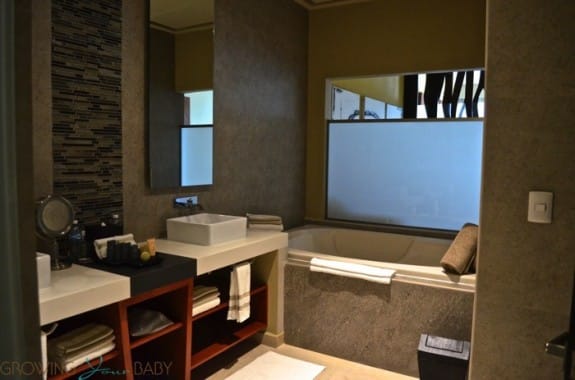 Equipped with his and hers vanities, a two person jacuzzi tub and a private shower, this room provides ample space for everyone to get ready in the morning.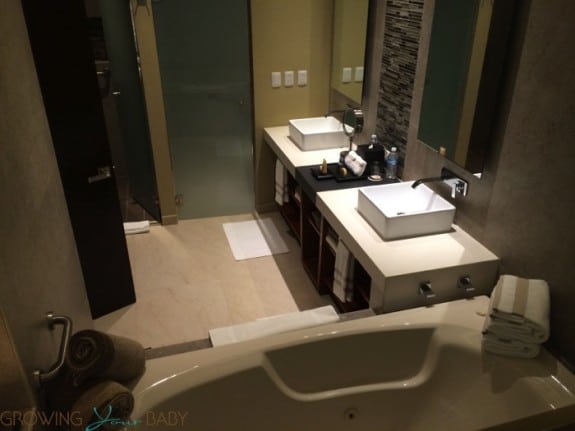 Generations also provides a hairdryer and some toiletries.   I heard mention there was a scale hiding somewhere in the room, but didn't seek it out…
Along the hallway there is a bank of closets that have drawers to hold your clothes, robes, a safety deposit box, iron and ironing board.
In the living room there is a small dining table for two, an oversized pull out L-shaped couch and a 47″ flat screen TV.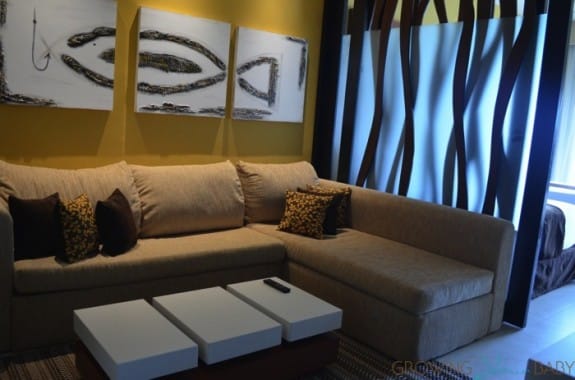 Either a King sized bed, or two doubles adorns the sleeping area of the room, along with an additional 47″ screen TV, entertainment hutch and beverage center.   To keep you on track an ipod dockable clock radio sits on the night table.  But be sure to double-check the vacationer before you hasn't set it for an ungodly time – like 5am…because you may not know how to turn it off when it goes off on your first morning. sigh.  I guess that person knew I planned to see the sunrise…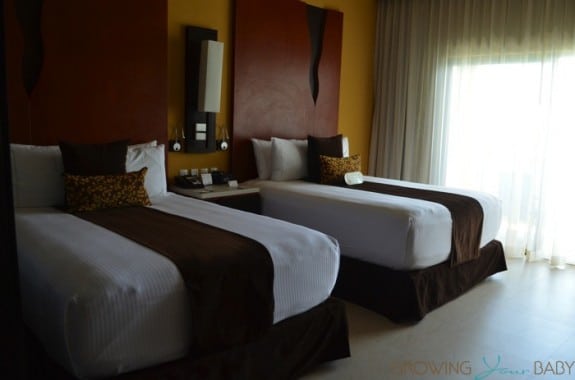 Snacks and beverages can be had from the mini fridge just under the coffee maker and ice bucket.  The chocolate bars were definitely welcome, as was the mango nectar.  yum!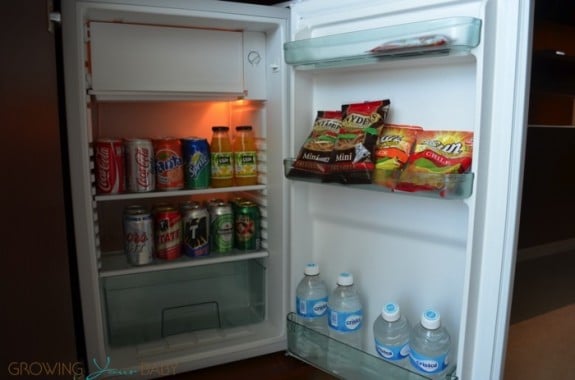 But by far the BEST part of the room is the VIEW!!  My room was on the 5th, and top floor, and it overlooked the whole resort and ocean. In fact every room at Generations Riviera Maya has an ocean view.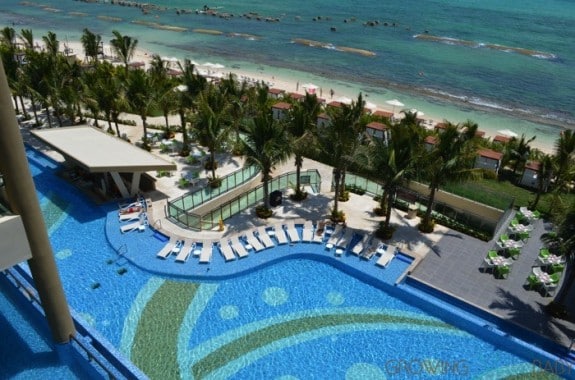 It gets better however, if you book a swim up or infinity suite…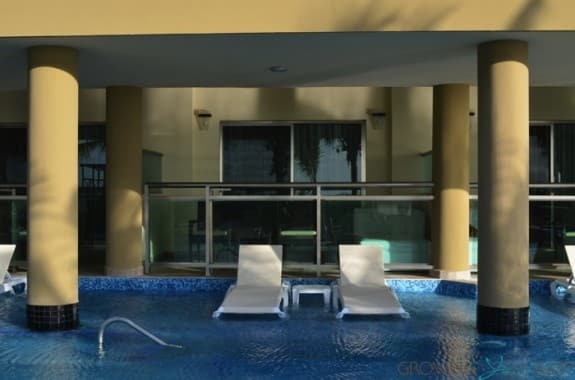 Rooms on the 1st, 2nd and 3rd floors have either an infinity pool or they connect directly to the main swimming pool, which eliminates the need to jockey for a chair.  Your room comes with its own private haven.  In the past I have seen swim up rooms, but balconies with pools?  Genius!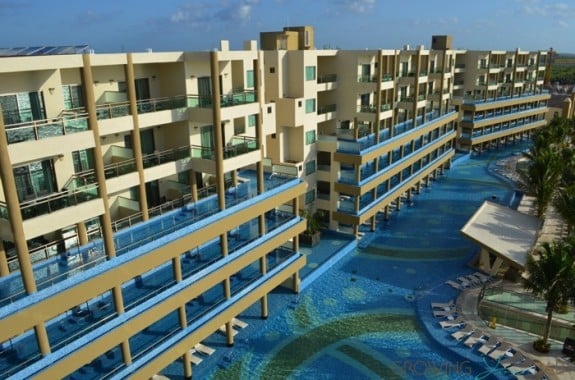 Families travelling as a group can chose between the 1, 2 and 3 bedroom suites to create an expansive unit that keeps everyone together in one apartment.
Complimentary baby amenities such as strollers, cribs, pack n plays, baby changing tables, monitors, baby bottle warmers and children's bath robes can also be delivered to your room to reduce the amount of gear you need to bring while away.
Relaxation!
Because this resort opened just a few weeks ago, the spa is still under construction.  I did however, have the opportunity to visit the Naay Spa next door at the Eldorado Royale and it was devine.  From top to bottom – a much needed morning of pampering.  I highly recommend it.  Their treatments start at $13 for a nail polish change and go all the way up to $375 for a half day 'wedding day ritual'.  In between you'll find lots of options like couples massages, facials, full body scrubs and even waxing services.  You can also chose to do you massages outside or in one of the relaxing treatment rooms.
More relaxation can be had in one of the property's cabanas.  I can honestly say I have never seen so many cabanas at one resort – ever!  There are lined up along the grass at the edge of the resort and all along the beach.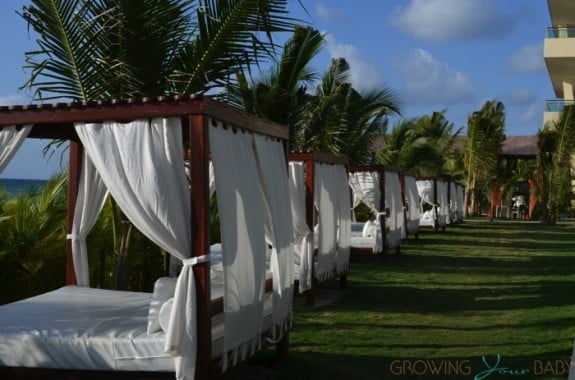 They do fill up in the morning, but we didn't have any issues getting one after lunch.  Plus, like with your room, they also come with a butler service so you never have to move from your spot – not even to grab a bite. The beach butlers are very attentive and will come to your rescue if you forget something.
Additionally there is a concierge cart in the middle of the property that stocks sunscreen, books, and other various goodies you and your family will need while lounging beach or poolside.
The Pool!
It is the centerpiece of this resort.  You could literally swim off a whole days worth of meals doing laps in it – it is so long.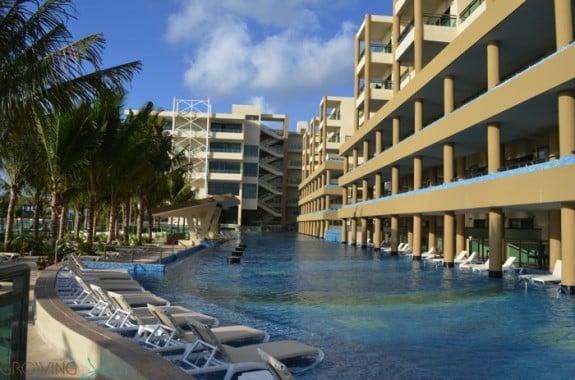 Play football, float, get some sun or just watch your kids splash around, this pool is designed for everyone.
In front of the swim up bar there are also tables and bar stools built into the water to accommodate afternoon social time with friends.
It also has a very cute wading pool off to the side for little ones which comes complete with seats that are just their size.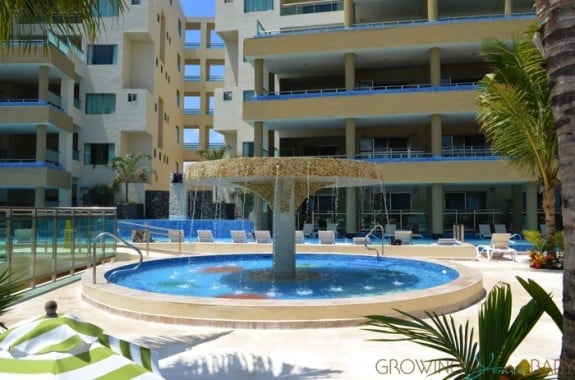 A mom I met while swimming one afternoon told me she liked the design of the of the pool lounger area around the edge because the water there was shallow enough that her 18 month-old son could just sit and play without her having to worry about it being too deep.
Just for Kids!
The lower level of the main building houses Generations Riviera Maya's Kids club – Eko Kids.  Open from 9am-5pm, and then again from 7:30 – 9pm daily this expansive space offers a wide variety of play options for kids aged 4-12.  Little ones under 4 can also play but need to be accompanied by a caregiver.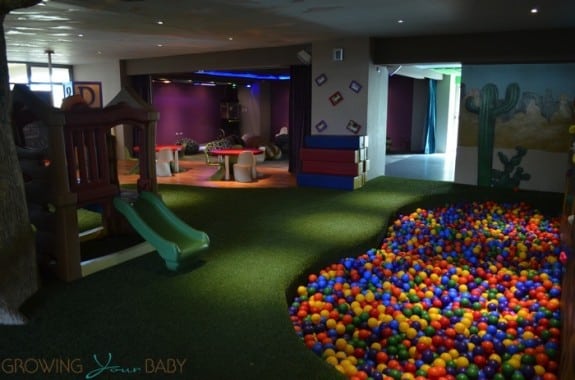 Jump in the ball pit or on the trampoline, build with LEGO or create a craft, there are so many activities kids can do while hanging out with their friends at Eko Kids.  There are also napping spaces for littles ones who need a break and a gaming area for older kids.  This club is complimentary for guests staying at the hotel, which is perfect for couples looking to have a bit of 'us' time while away.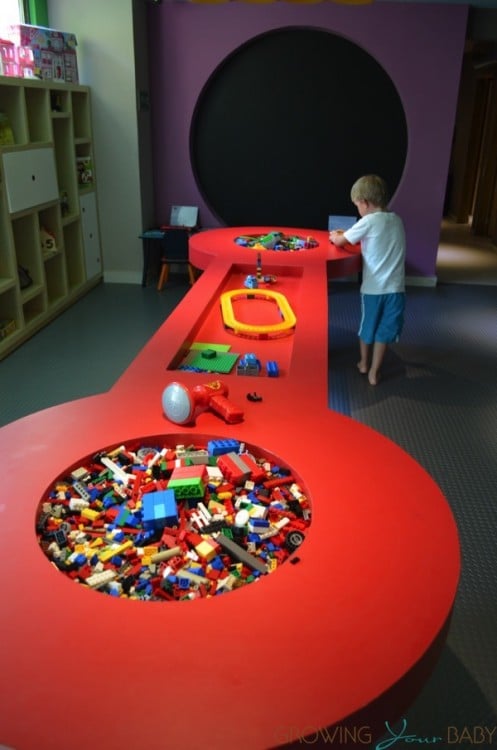 Dining
Karisma excels at their Gourmet Inclusive program.  Generations Riviera Maya currently has five restaurants to chose from with the most popular food destination being the Chef Market.  Located in the food building just across from the main pool, this location offers a wide variety of food choices from 6:00am – 10:00pm.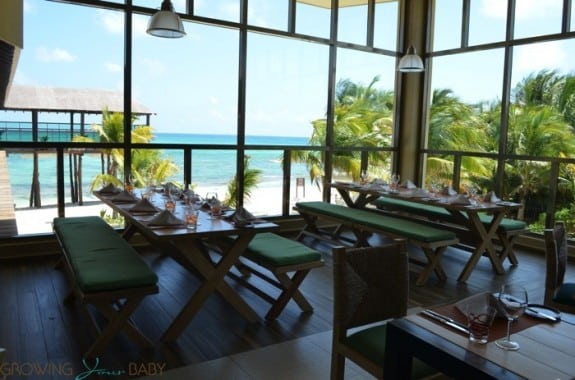 Fresh salads, fish, pizza, pastries, pasta, soups.  It's all here and soooo good.  The Chef's Market was my favorite place to just stop in and grab something quick.  Full disclosure.  I am an incredibly picky eater.  Incredibly, and I was able to fill my plate many times over regardless of which meal I was stopping in for.  I can't often say that about a resort buffet.  But this one is a good one.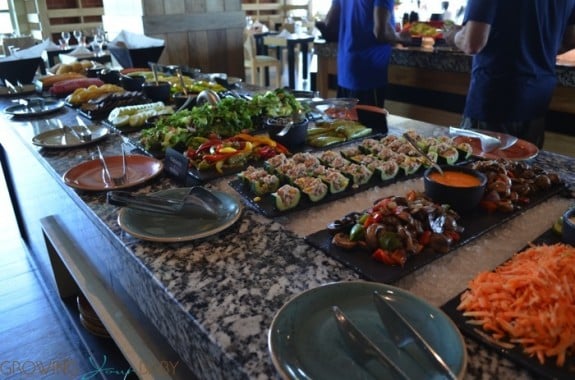 Located on the first floor of the same building, Jade, the Pan Asian Cuisine restaurant offers a large variety dishes that are served to be shared.  We enjoyed an impressive sample menu that included fried shrimp Won Ton, Spring Roll vethamita, miso soup, Sea Bass, sushi and tempura.  For my main course I had beef tenderloin, which was accompanied by a variety of stir fried vegetables.  The restaurant is elegant and designed with some private booths for more intimate dining.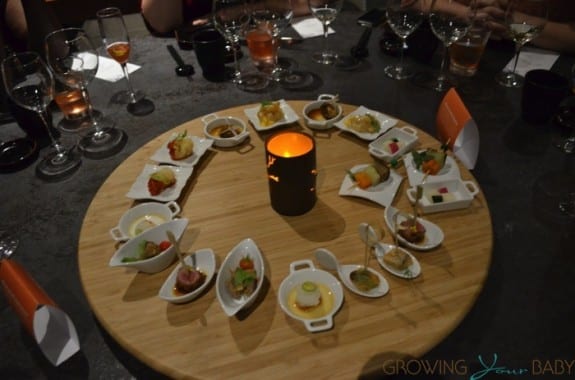 When you dine at Haab, the Mediterranean restaurant, expect to be impressed with a diverse assortment of cuisine that ranges from fresh seafood and flatbreads to Kebabs, pastas and paella.  The decor here is reminiscent of what you would see in Santorini with bold whites against vibrant teals and other blues.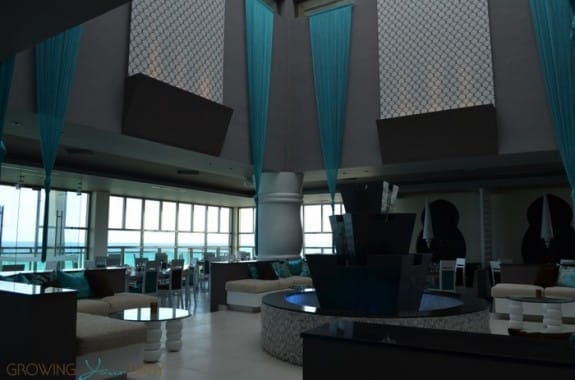 The Wine kitchen is 'a culinary endeavor serving preparations from the various wine regions of the world.'  Translation – everything here is made with wine – including the bread and butter!  Our sampling menu included Cream of fennel and Pernod scallops; Organic greens with brie, grapes, candied walnuts and a tomato vinaigrette; Chilean Sea Bass, and Leg or Lamb.  For dessert the kitchen created  a fun mango parfait and crunchy chocolate dish that resembled bacon and eggs.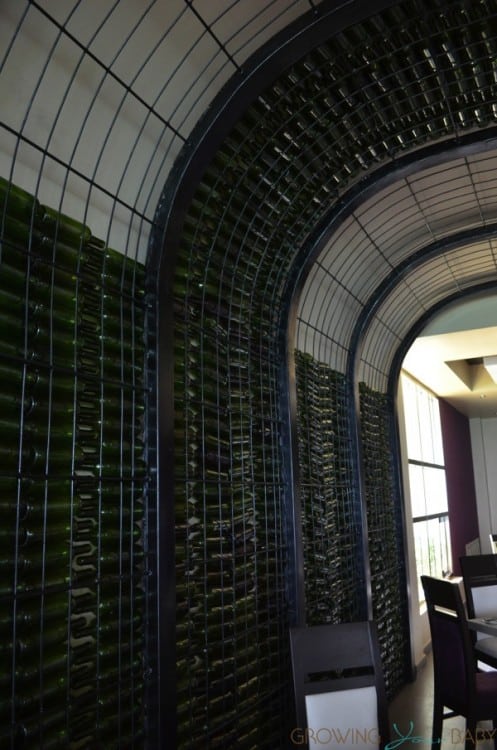 Outside on the patio the Palms gourmet terrace places its emphasis on 'authentic Mexican "street" cuisine, spices and flavors'.
Forget something?  The convenience store in the first building has you completely covered.  They have everything here including snacks, beach toys, floaties, bathing suits, totes, cover ups, sandals, hats and even some toys.
Across from the shop there is a small fitness room with a couple elliptical machines and bikes, but many of the women I travelled with preferred to participate in the early morning yoga sessions that were held on the pier.  Fitness buffs  looking for a more equipped center can jog down to the one located at El Dorado.  It's not far and the view is worth the trek!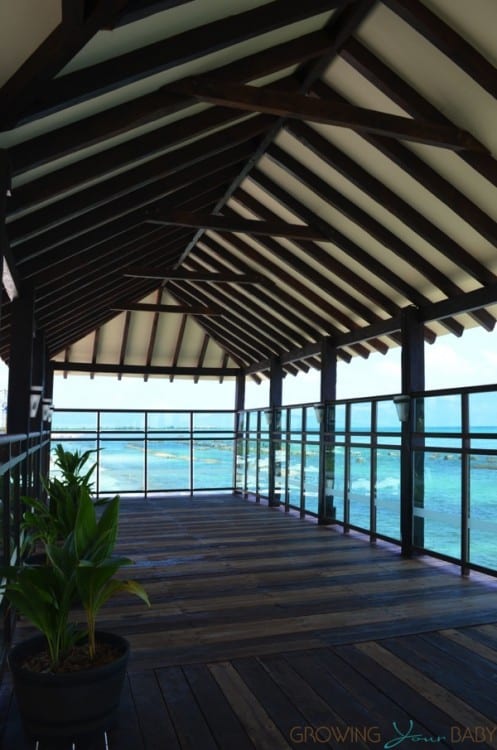 No resort is complete without a beach. The beach at Generations is pretty, but it is still a work in process. As you can see in the images there are some structures in the water like massive sandbags that act as an artificial reef, and a barrier to prevent the sand from eroding. In addition there are quite a few concrete cones scattered offshore, which are in place as part of a future project.
I did not get a chance to snorkel but one guest who had just come out of the water was impressed by the variety of fish around the pier and the presence of baby sting rays.  She also spotted a snail the size of a globe.  Snorkel gear is available at the resort for you to use, but I recommend that you bring water shoes as there is rock along the coast.
Generations Riviera Maya is a luxurious travel destination for vacationers of all ages.  From start to finish the staff at the resort makes every effort to ensure you are well taken care of, while the design and amenities create an environment that encourages you to relax.  After all that is why you needed to get away!
From the beautiful ocean side cabanas, and yoga on the pier to the gorgeous suites, and incredible culinary experience, this resort caters to your every need.
Additionally, guests who stay at Generations Riviera Maya are able to use the facilities at Eldorado Casitas and Eldorado Royale next door.  Casitas is practically attached to the resort so vacationers can take a stroll through the grounds, take in an evening show or eat at one of the 8+ restaurants on the property.  It is important to note that these resorts are adult-only so make sure gramma and grampa are on hand to watch the kids!  If not, nannies are available for $30/hr for one child, $45/hr for two.
Below are two videos from our trip, and also a gallery of photos of the resort.  Enjoy!
Full resort review
Oceanview Luxury Jacuzzi Suite
Gallery
---
[ad]