Known for their stylish gear, UK company Mamas&Papas' trek stroller is a great option for families who are looking for a compact, lightweight stroller for traveling, the park or city strolling.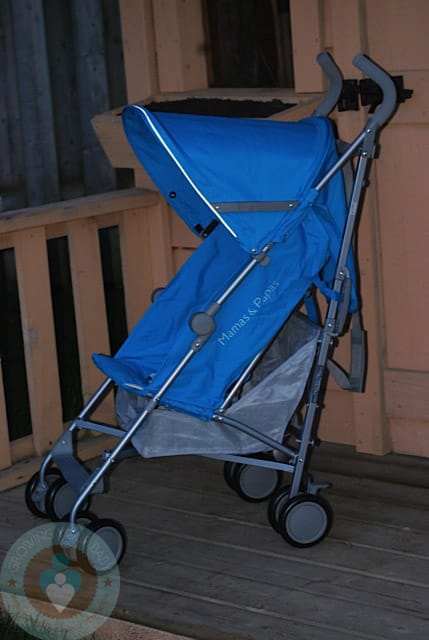 Out of the box all that was needed to get started was to install the canopy. The Trek is a really cute stroller that comes in an array of fun colours with a 'bubbles' pattern on the harness. Mamas&Papas also includes some great accessories to help keep your child comfortable year-round.
For babies 6 months+ the Trek has a padded seat that is deep enough to keep them comfortable during any trip. To keep your little one safe(and in place) it has a 5-point adjustable harness that can be easily fixed in 3 positions. For rest time there is a slight recline but not enough for a comfortable sleep.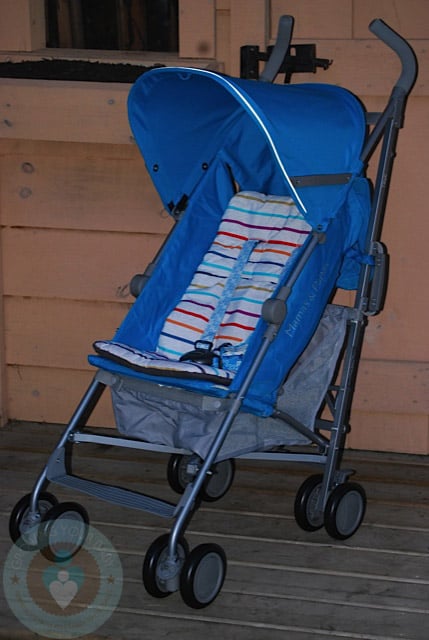 Also included with the stroller was a nicely padded reversible liner that would be perfect for Fall or Winter excursions.
The canopy on the Trek is a good size that has locks on both side to prevent it from blowing back during bad weather. It also can be rolled up at the back to allow the air to flow through the stroller on a hot day and can be adjusted up the frame of the stroller to accommodate a taller child. And as a bonus Mamas&Papas has added a toy ring at the top of the canopy for parents to attach your child's favourite stuffy or pull toy!
For rainy or snowy days M&P includes a rain cover that attaches to the canopy and the frame to protect the whole front of the stroller.
Just like most umbrella strollers the Trek has limited storage. The basket underneath is accessible from both sides and can hold a small bag with snacks or necessities. You can hang your diaper bag off the back handles but just remember to remove it before your take your child out or it will flip the stroller. Even though I know this I still manage to flip the stroller every time.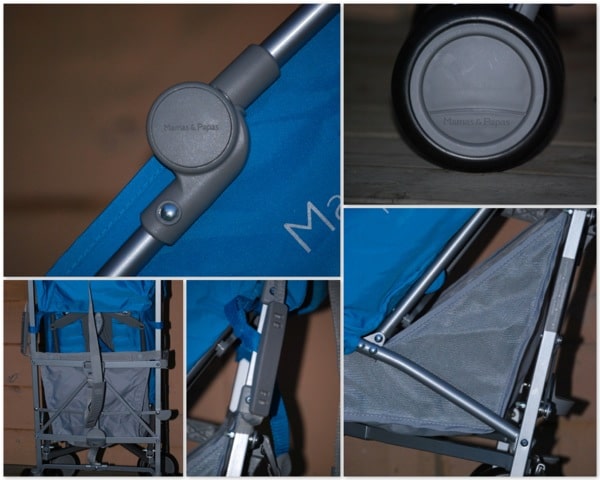 Something I really like about the Trek is the push. Even while fully loaded with my 37lb son in it, it still pushes easily and can turn on a dime. Mamas&Papas uses 8- 5″ wheels to give parents a smooth, effortless strolling experience.
The trek features the popular umbrella fold with a side locking latch and a carry handle. It also has an over the should strap that doubles as a tether so close the stroller as well. The brakes, however, do not stay engaged when the stroller is folded. This prevents it from standing on it own unless propped in a corner.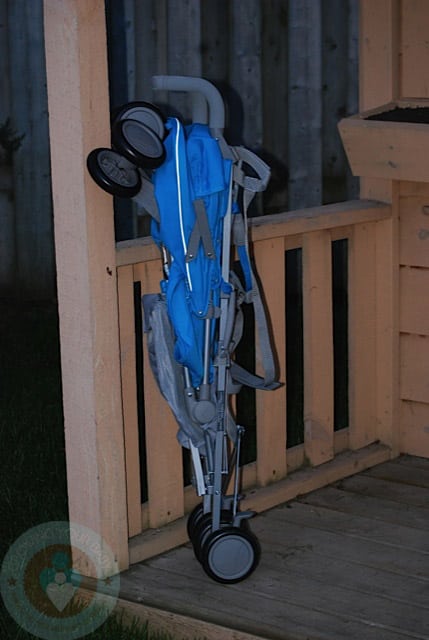 If asked I would add a peek-a-boo window to the canopy and a pocket to the back of the stroller for storing keys, money and my phone.
Those small things aside the Trek is a great stroller for mall trips, the park or a vacation down south.  It is compact enough to stay in your trunk full-time and can be gate checked with almost every airline.
Specs:
Suitable from 6months – 50lbs
Stroller Weighs: 13lbs
Size:  42″H x 19″W x  31″D
Folded Size 11″H x 9″W x 31″D
Related Articles: