When we first found out we were having twins, I couldn't help but think where two of everything would fit in our small house. Two cribs, double the clothes, two bouncers, two swings, mounds of diapers. It was all a bit overwhelming! After searching for months we finally found the perfect cribs and dresser, one thing that was missing in our nursery was a glider. I always heard how important the glider is and how frequently it would be used for rocking, feeding and reading so I knew we needed to find the perfect one.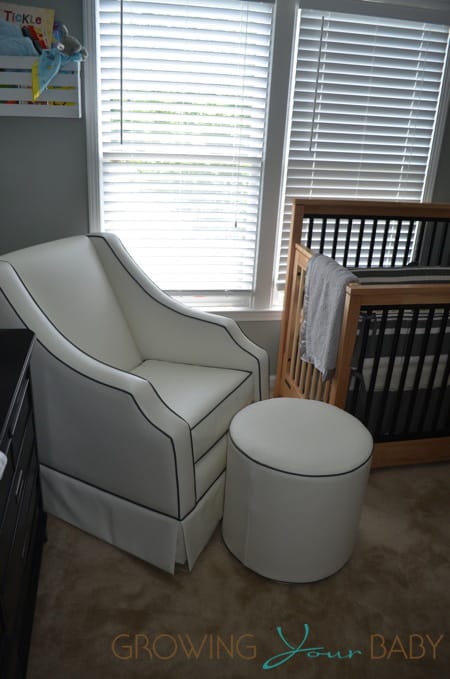 The Oilo Cohen Glider is not for those on a tight budget at $1,349.99. Though in the upper priced category for a glider, you definitely get what you pay for. After six weeks, the 100lb glider was delivered and we couldn't have been more excited. Keep in mind the transportation company will not assemble/unpack the chair for the $99.00 fee only deliver it to the front door, make sure you have help to bring the furniture to the nursery.  My husband and father-in-law were able to carry it up the stairs so it was not a huge issue for us but important to know.
We chose the white faux leather with gray piping that matched our triple band nursery bedding also from Oilo. The faux leather is both water repellant and stain resistant, important features due to all those things that newborns can do to any piece of furniture.   With one wipe of a damp cloth the chair is good as new. It's nice to know that we don't have to be in fear of ruining the chair fabric as it can be pretty chaotic during feedings with twin boys.
One of my favorite things about the recliner is the arm height. When rocking our babies to sleep, no pillows are needed, my arm rests perfectly and comfortably on the sides. The glider has a tall back which is unique and extremely comfortable for long nights of rocking and soothing fussy babies. Coordinating plush pouf footrests are available as well which I would highly recommend.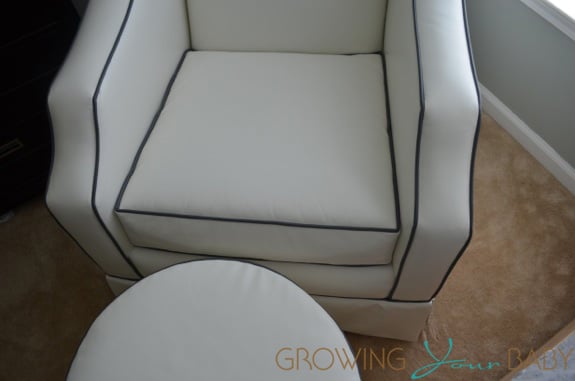 After the twins get older and we no longer have a need for it in the nursery, this glider will be perfect in any room of the house from the office to a guest bedroom! ~ Mariel Wright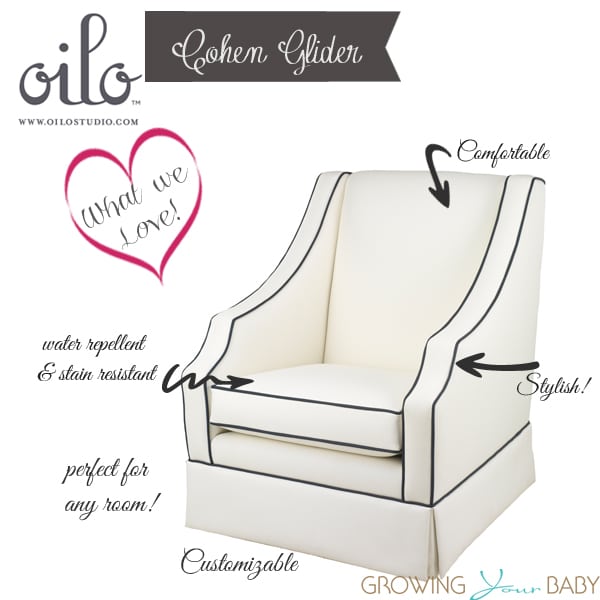 ---
[ad]