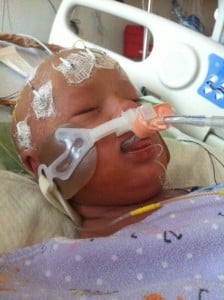 It is a very sad day for a Vancouver family.  After fighting to keep their daughter alive for 2 years, a family friend has announced on the family blog that Molly Campbell has passed away.
The Campbell family has had very tough couple years.  Just weeks after their daughter Molly was born she was diagnosed with Acute Lymphoblastic Leukemia, a cancer of the white blood cells.
A tiny baby, she underwent chemotherapy, which appeared to put the cancer in remission.  Last November, however, the family was shocked to learn that Molly's leukemia cells had regenerated.  After being transferred to BC Children's Hospital in Vancouver, she was moved to St. Jude's Hospital in Memphis, a leading facility for children's cancer treatment in North America.
Throughout her stay Molly's dad Dave has keep her blog current documenting her ups and downs.  Recently doctors had been fighting to get her seizures under control and also her breathing. In June doctors had tried to put her into a medically induced coma to stabilize her enough to have an MRI.
In the last couple weeks she had been intubated because her lungs were too weak.  High blood gas readings forced staff to have to bag the toddler at the end of June and a bronchial spasm weakened them to the point where there was no treatment.
Yesterday Dave Campbell posted,
I find myself kneeling next to her bed multiple times during the day, to beg God for a miracle and Rebekah has still not left the hospital. Molly has been on the vent and oscillator for 3 weeks now and for a week prior when she was having seizures. A month of her asleep and paralyzed and still a month without any answers. At this point, still no end in sight. We remain vigilant in our prayers for a miracle for Molly, for her lungs to begin to improve and for her to stay as strong as she is. We are trying to keep our sense of humour and find something to make us laugh everyday and to rejoice in the small things (her hair is coming in and she looks to have grown a couple of inches in all this induced sleep). I am having more difficulty when I see other little kids walk or skip the day Molly used to and I find myself crying in the middle of the cafeteria during the busy lunch hour.
Today a family friend named Emma shared the news of the toddler's passing saying,
I am heartbroken to tell you that the beautiful, inspirational Molly Campbell passed away this morning.

Your support has meant so much, and I know the Campbell family will appreciate additional prayers and love in the coming weeks. No family should have to go through this.
Our thoughts are with the Campbell's as they make the trip home to Canada and plan to say good bye to their daughter. They fought so hard for their baby girl and I prayed each day that she would turn around.
---
[ad]