Cruising has been my vacation 'mode' of choice for more than 15 years.  In that time I have had the pleasure of cruising on 16 ships across 5 cruiselines.  And while I have sailed on some pretty incredible ships, I wasn't prepared for the grandeur of Allure of the Seas.  I will start by saying I am hard to impress and even though I knew that Allure had a lot to offer I didn't believe that it would blow me away.  But I was wrong.  From head to toe this ship is unbelievable.  And oddly enough, it wasn't the big things that impressed as much as the attention to detail.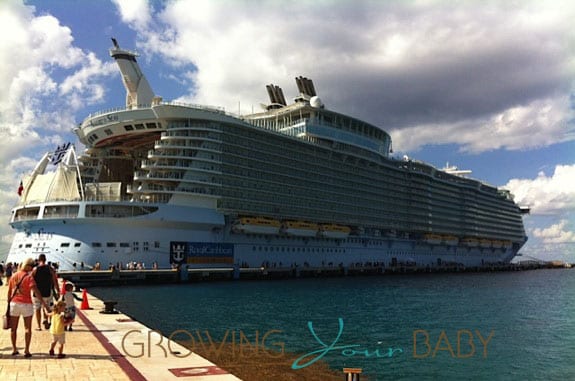 A few weeks ago we had the pleasure of sailing on Allure of the Seas for seven days.  Here are my thoughts,
Embarkation
Knowing that 6,000 passengers needed to board this ship in just 5.5 hours I was a little concerned that the embarkation process may be lengthy.  Royal has, however, created two areas that are designed to take passengers on odd or even floors.  After we found our area and specific line, the check in process was less than 10 minutes.  To execute this they must have had at least 100 people checking passengers in.  It really is well organized.
Once we boarded the ship our first stop was the Windjammer.  Because it was only 11:30 and our cabin wouldn't be ready until 1pm, we decided to grab some lunch and relax.  It was then that I realized the sheer volume of people on board and started to worry that our whole week would be plagued with long lines and no table availability.
Thankfully, the masses dispersed when their cabins were finally opened and I am happy to say that even though the ship was completely booked for our cruise it didn't ever feel busy.
Cabin
The cabin we stayed in was 8208, which was mid ship Port side.  At 182sq ft (plus 53 sq ft for the balcony) this 'Superior Ocean View Stateroom with Balcony' was slightly bigger than cabins we had stayed in on other lines.  Because there were four of us in the cabin it came with a King bed and a pull out couch, which the cabin steward would set up for us each night.  For the first couple nights my husband slept with our youngest son on the pull out couch while I shared the bed with our oldest.  His legs, however, hung over the end of the couch so we made the switch and it was perfect for the boys.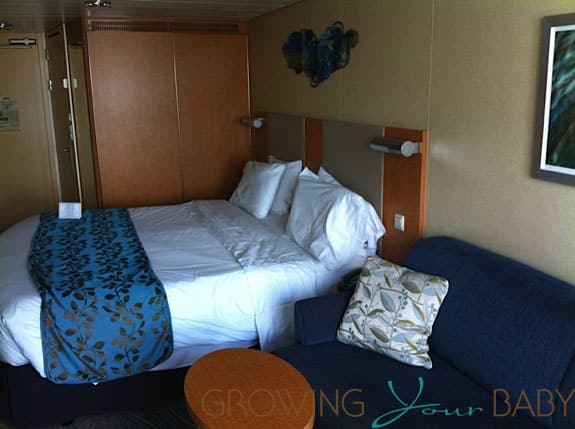 The cabin also came equipped with a desk that had an iPod dock/clock radio, a hair dryer and a mini-fridge.  It is worth noting that the ONLY visible electronics plugin in the whole room was on the desk. Because it is a disk that is slightly angled you may have trouble plugging some of your devices into it.  There was, however, a power strip hidden under and behind the desk that I found to charge my camera battery.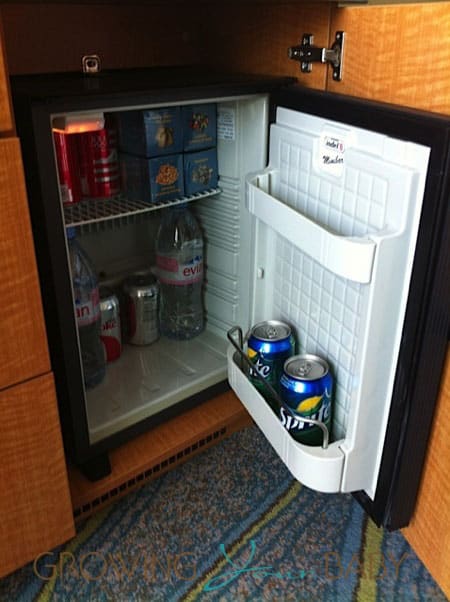 Above the desk is a 40″ flat screen television that pivots so that both those on the couch and in the bed can enjoy a movie at the same time.
The bathroom is tiny, but it features a circular shower that is a little bigger than the ones we have had on other lines.  Shampoo, conditioner and the standard lotions are not stocked in the cabin but can be delivered if you need them.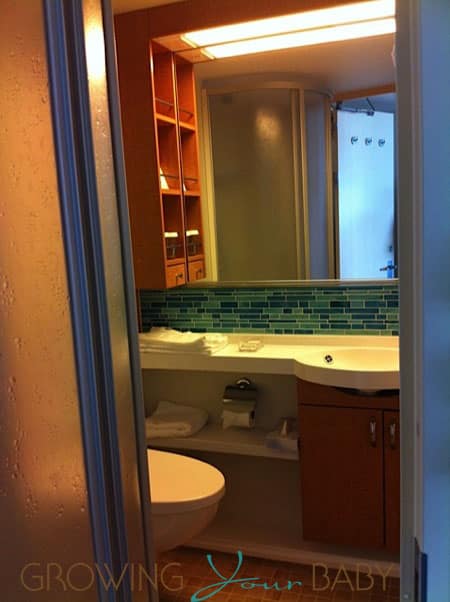 Adventure Ocean
As soon as you settle in on your first day I highly recommend signing your kids up for the kids club.  Not only will it speed up the process before the first visit, you are given a 'wave' phone that can be used throughout your vacation.  This portable phone comes with a phone number that can be dialed from any phone onboard the ship.  So if you are at the pool and your spouse is in the room they can call you!  Oh, and the Adventure Ocean Staff can contact you as well if there are any issues with your child.
Created to accommodate cruisers of all ages, Adventure Ocean is a massive kid friendly space at the front of the boat.  Royal has teamed up with a few well know toy and craft companies to provide kids with the best experience while they are onboard.
Infants 6 months-18 months have their own nursery and play program called Royal Babies.  In partnership with Fisher-Price, Royal's childcare staff run a 45 minute play program every morning created to work on developmental milestones for children in that age range.  There is also a fully equipped space that babies can play in along with the staff if parents want to have a couple hours together.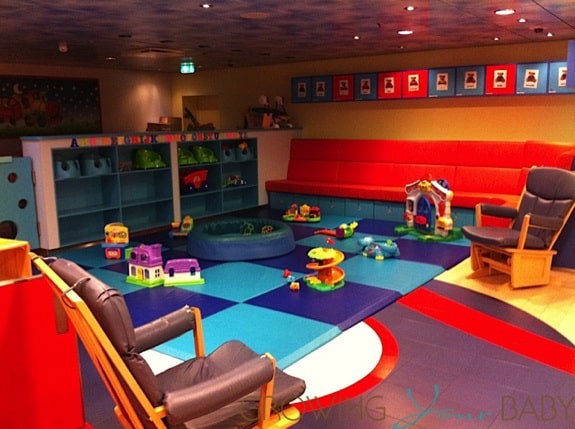 For toddlers 18 months – 36 months, Royal also has a dedicated space that is filled with toys and walkers that can be accessed by families at any time.  In the morning it is also the space where the child care workers hold their 'Mom & Tots' time, which features specially designed programs to 'encourage little ones to explore and make new discoveries'  Some of the sessions include themes like Fun on the Farm and Out & About in the Neighbourhood.
For cruisers 3 and up that are potty trained, Royal has created separate rooms based on their age.  Pre-Schoolers between the ages of 3-5 have their own program called the Aquanauts, Kids aged 6-8 play in the Explorers lounge and cruisers who are 9-11 hang out in the Voyagers room just down the hall.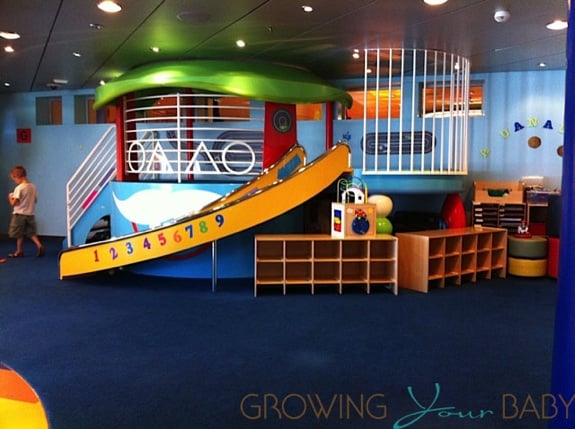 Parents will love that their kids won't be left to their own devices during their time at Adventure Ocean.  The staff has worked very closely with trusted brands like Fisher-Price to create a curriculum for each session.  In addition, kids will also have the chance to see a few shows created just for them from the Little People Birthday Party Show and a glow in the dark presentation called ImaginOcean.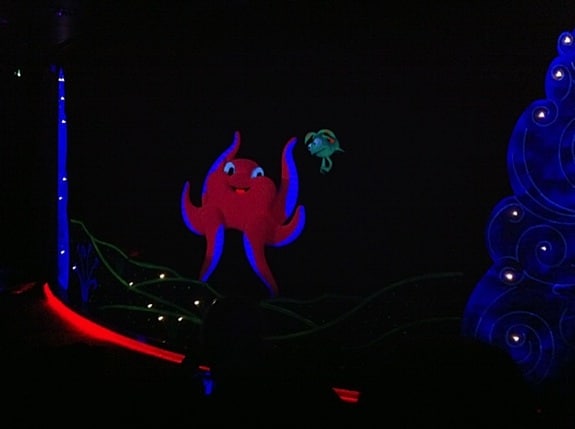 Teens are not left out and have a whole space one floor up.  Cruisers 12+ are split into 2 groups(12-14, 15-17) on board and can meet up and participate in supervised pool parties, sports tournaments or Karaoke.    They also have a tabletop tennis area, an outdoor lounge and their own nightclubs(Living room and Fuel).
Allure of the Seas is divided into neighbourhoods, all with a different vibe.
Central Park is located in the middle of the ship on deck 8. This incredible space is filled with over 12,000 plants and trees. In fact Royal has a Hortacologist on board to take care of the 'garden' including 2 living walls.  Home to many of Allure's specialty restaurants including 150 Central Park, Chops Grille and Giovanni's, Central Park is a peaceful space to sit back, relax and enjoy a good read.  At night, it is lit up for a nice walk or you can have a drink at the Rising Tide bar that moves between the Promenade on the 5th floor and the park. Shoppers will like that there is a Romero Britto gallery and a Coach store.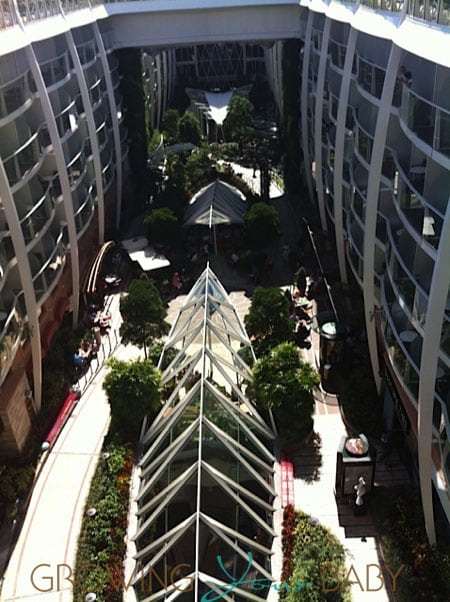 Closer to the end of the ship on the 6th floor is The Boardwalk.  Created with a Coney Island feel, this open-aired space is home to the ship's famous carousel.  Handmade in Ohio at Carousel Works, the carousel was incredibly popular with cruisers of all ages.  Regardless of the time of day (unless we were in port), you could find kids, adults and even grandparents riding up and down on the horses.  Along with an ice cream parlor there is a hot dog stand, stuffed animal shop, Mexican restaurant and the famous burger joint Johnny rockets. The boardwalk was one of our favorite places to hang out because there was always a lot for the kids to do. And not always big activities but games to play, characters to pose with and a cool playhouse that was modeled to look like a Mexican town.
The Royal Promenade is, in my opinion, the life of the ship.  It is located right under Central Park on the 5th floor and it spans almost the length of the ship.  When we boarded the ship we embarked right into the promenade.  I had previously sailed on Adventure and Freedom, both of which are designed with a similar space, but was struck by the magnitude of the one on Allure.  The space is pretty incredible.  Here you will find most of the ship's shops and nine restaurants/bars, including Boleros, a Latin night club, Bow and Stern, the English pub and Sorrento's Pizzeria.
Hanging out in the Royal Promenade was one of our favorite things to do after dinner.  There is also music playing and Royal hosts some of their big events there like the Dreamworks Parade and their wildly popular Disco show.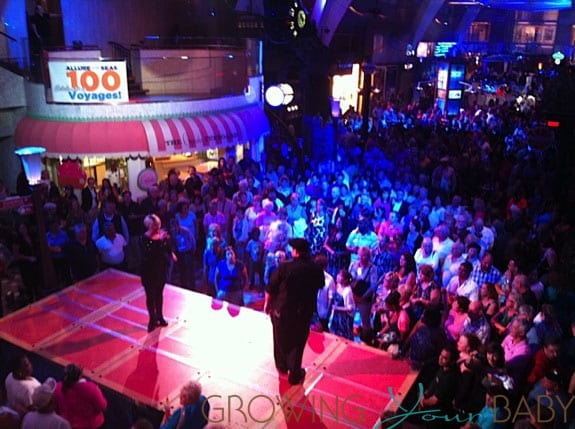 Dining
You will never ever go hungry on Allure of the seas.  While cruises are well known for their vast offerings of food, Allure has more restaurants and cafes than I have seen before on any ship.  This is likely due to the fact that there are 6,000 passengers on board who all need to be fed many times a day.  But the end result is a big win for vacationers.  There is always somewhere to eat and often a lot of variety.  Our favorite spot is always the Windjammer.  The wide assortment makes it perfect for my picky boys.  On Allure, the Windjammer Marketplace was our go-to for breakfast, lunch and a couple dinners.
Stations set-up in a circle formation ensured that there were few line-ups for food and that the area was easy to navigate through.  Burgers, fries and hotdogs were available at lunch and dinner as were fresh salads, fish, steamed vegetables, carved meats and quite a few international dishes.  Desserts fill their own station, which I loved.  Everything from pudding and mousse to cake and pie is on display along with a fresh fruits and cookies.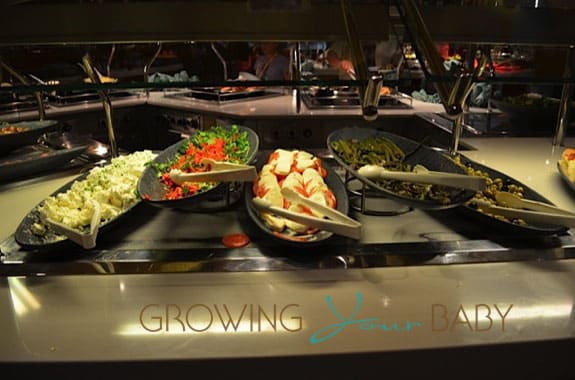 In addition, strawberry kiwi water, lemonade and iced tea are poured by staff behind the beverage counter and set out for cruisers to take as they please.
On our 4th day we attended the Dreamworks Character breakfast.  If you are cruising with little ones I highly recommend this special breakfast.  It starts on a high note with some dancing and chocolate pastries and continues to impress as big furry characters make their way into the dining room, dance with their new friends and stop to pose with each family.  My boys loved this experience and asked to do it every morning after.  It is not, however, offered every day and must be booked in advance.  To ensure you get a spot, you can book the complimentary breakfast before you board.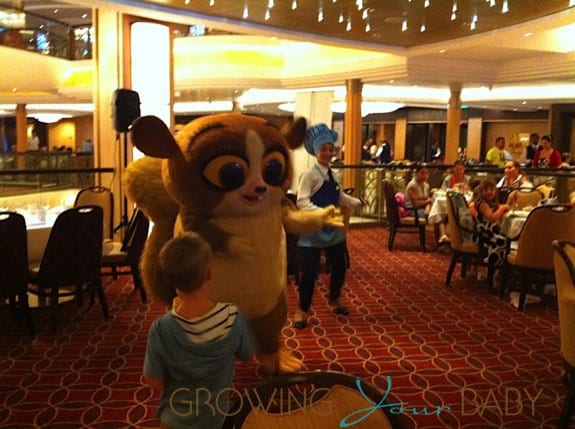 A first for us, we tried one of the specialty restaurants.  Cruisers who are looking for something casual, but delicious will love Giovanni's Table.  Served family style, this Italian restaurant was a highlight.  I enjoyed the scampi and stuffed chicken as well as the Amoretto Tiramisu.  This dessert is not for kids because it has alcohol in it, but definitely the perfect end to a very nice meal. A $10 surcharge per person at lunch ($15 dinner) does apply, but its worth the small fee.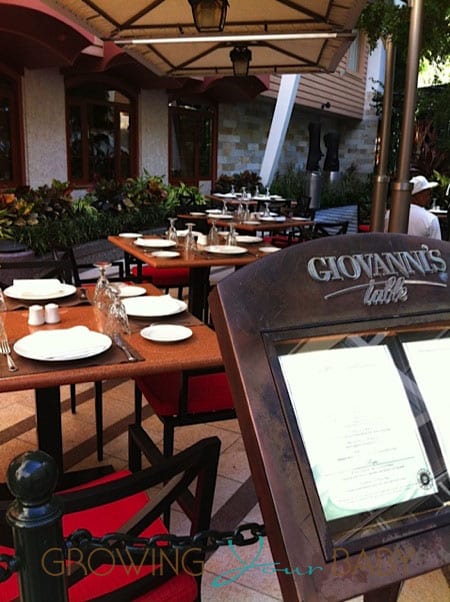 Entertainment
There is no shortage of entertainment on Allure of the Seas.  Our first show was the sailaway Dreamworks production and it was a great warm-up for some of the awesome productions we took in while onboard.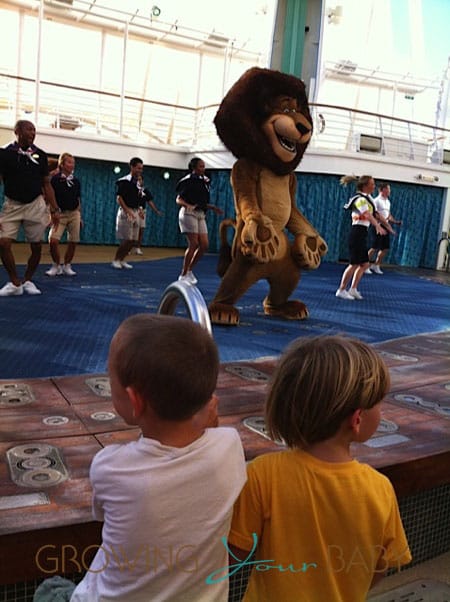 High on my list was OceanAria and it did not disappoint.  This incredible water show is a must see and appropriate for passengers of all ages.  My boys, who can't normally sit still, sat glued to their seat the whole show.  Much like a cirque du soleil show, OceanAria has lots of technical & artistic elements.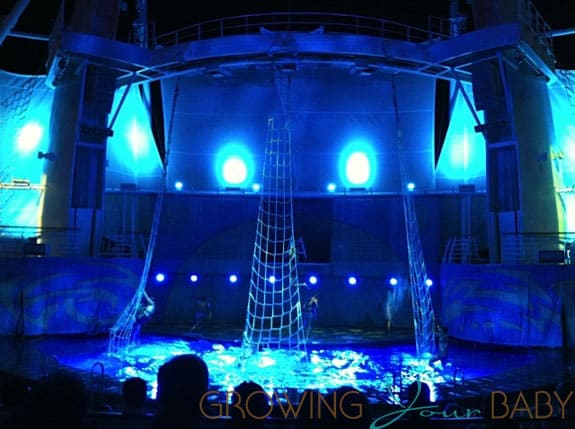 My 7-year-old son is a huge Beatles fan so we were excited that there was a Tribute band on board during our cruise.  Split in two eras, 'Beatlemania Live' played all of our favorite hits.  The whole theater was packed for the performance, with many fans up dancing in the aisles.
H20 Zone
Our favorite spot to hang out at during the day was the H20 Zone.  This water wonderland is filled with sprinklers, sprayers and lots of water play options for kids.  My boys spent their time running between the current pool, the regular swimming pool and the massive hot tub.  Rain or shine, they wanted to be in the H20 zone hanging out with all of their new friends, eating vast amounts of ice cream from the machine, which was strategically placed beside the hot tub.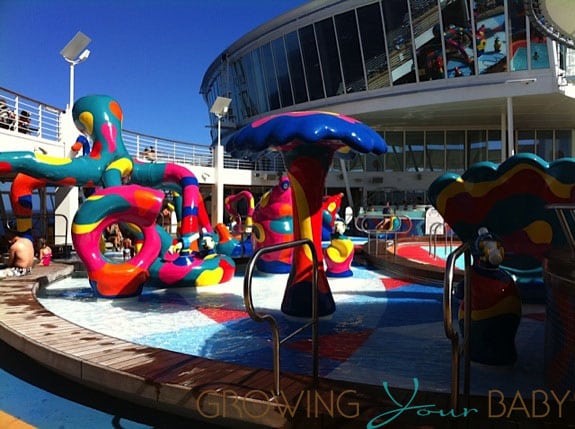 From surfing to zip lining,  mini-golf to ice skating, there are so many things to do.  Because we cruised during hurricane Sandy one of our ports was cancelled, which meant we spent an extra day at sea.  This was a bit of a blessing, as it allowed us to experience more of the ship.  Even though we cruised on Allure for 7 days, we didn't get even chip the surface of the vast amount of activities available for passengers onboard.
We look forward to returning soon to continue our adventure!
Tips for cruising on Allure:
Customize your cruise before you board – 60-90 days prior to departure date you can pre-book character dining, shows, shore excursions and beverage pkgs, my time dining and specialty restaurants.  When we boarded many of the good times for the shows were already booked so I wish we would have done this before hand – especially for the comedy show.  Because it is in a small venue it books up quickly. Various performances like the aqua shows, Chicago, the adult comedy shows and the skate shows must be booked in advance. As soon as you board head to the 4th floor and a team of cruise directors will work out your schedule.
Read Your Cruise Compass – I highly recommend vacationers read the daily newspaper that the cruise line leaves in your room every evening. It is your hour by hour schedule of what is happening around the ship. We like to sit out in the balcony and highlight what is happening the next so we don't miss anything. I also carried it in bag all day so we could refer to it if we were looking for something to do.
Don't try to do everything – One of the things that stressed me out while on board was that I wanted to do and see everything. It's not possible. Make a list of your most important activities and tackle them one by one. The silver lining is that there will still be lots of exciting things to do if you decide to sail on Allure again.
"Disclosure: I am a Fisher-Price Play Ambassador and I receive special perks as part of my affiliation with this group. The opinions on this blog are my own."
---
[ad]