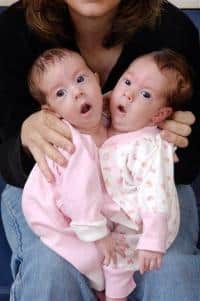 Doctors successfully separated 5-month-old conjoined twins from North Dakota during a six-hour procedure Wednesday at the Mayo Clinic.
Abygail and Madysen Fitterer, who were joined at the chest, "did exceptionally well," said lead surgeon Dr. Christopher Moir.

"This is Day 99 of their hospital stay," Moir said. "It is also Day 1 of their beautiful, separate lives."

The girls' parents, who live in Bismarck, N.D., were grateful to the team of about 40 involved in the surgery and Mayo staff. Suzy Fitterer said, "I don't know how you thank people for giving not one, but two of your children a chance at normal life."

The twins have been at Mayo since doctors implanted tissue expanders in October to slowly stretch the girls' skin enough to close their incisions from the separation surgery.

Moir said the girls provided "some exciting moments" during the surgery. Those tense moments included placing the girls' hearts into their respective chests, particularly because half of Madysen's heart projected into Abygail's chest.

Doctors said the most difficult part of the procedure was separating and reconstructing the girls' chest walls and closing their chests over their hearts. Moir said the girls shared one liver that, fortunately, had two drainage systems.

Moir said he expects the girls to spend at least a few weeks in intensive care.

The Fitterers were Mayo's fifth separation of conjoined twins, including two last year. According to Mayo, conjoined twins may develop in as many as one in 50,000 pregnancies, but they account for only one in about 250,000 live births.
I hope these two beautiful girls are able to have full, exciting lives. The sacrifice they made now will pay off later.
SOURCE:CTV PHOTO CREDIT:AP Photo/Mayo Clinic

---
[ad]