Somewhere in India, a mother holds her twin babies. She doesn't know their genders because they are joined at the abdomen. They also shared an umbilical cord during the pregnancy, which limited blood flow enough that it could endanger their lives. Their only hope may be the same woman that birthed them, discharged herself from the hospital, and took the children with her.
"They each had four limbs and a heart and other organs, but being attached at the abdomen and sharing the same umbilical cord made blood circulation challenging," Dr. Rahul Aggarwal, a pediatric surgeon and the doctor that delivered the conjoined twins, told Mirror UK. ""If they had had an umbilical cord each it would have made them much stronger babies. Now, they desperately need surgery so they can go on and have a chance."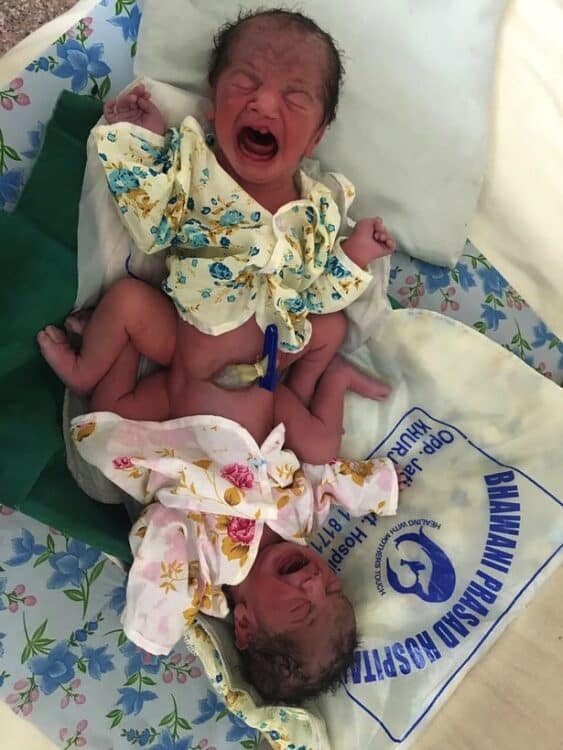 Dr. Aggarwal says the mother had come to the hospital in mid-labor. At the time, she had suspected she might be pregnant with twins, but she couldn't be sure as she hadn't received a scan prior to being admitted to the hospital. The hospital was able to confirm that she was, in fact, carrying twins, but they also discovered that the babies were joined at the abdomen. They began to prepare for surgery, but within the hour, the mother had naturally birthed the twins.
"We prepared her for labor but within an hour she delivered naturally, which was miraculous. Delivering conjoined twins naturally, especially when they are attached at the abdomen, is quite challenging," Dr. Aggarwal said. ""It's very rare. The woman bravely delivered the twins and fortunately all did fine."
Everyone did so well, in fact, that mom had a chance to bond with and show off her babies (once she managed to overcome her initial shock, of course) a bit.
"It was amazing to see the two babies," Dr. Aggarwal said. "If we stimulated one, both of them would react and start crying together. They both responded to what the other was doing. It was remarkable to watch."
But when the doctor began talking to her about the future health of her infants, the mother must have panicked. Shortly after Dr. Aggarwal gave her a referral to a nearby medical facility that could offer better long-term treatment, she checked herself out of the hospital and took the babies with her. Now doctors are concerned for their welfare.
"The mother and twins were doing well so they were able to go home. However, I referred them to a better hospital with advanced medical facilities so they can seek further treatment. But they have not responded," Dr. Aggarwal said. "I am unaware of their whereabouts or if at all they took the twins anywhere else. I can only hope they seek further help."
---