One Iowa family is urging families to get the flu shot after their 4-year-old daughter nearly died and is currently blind because of the flu.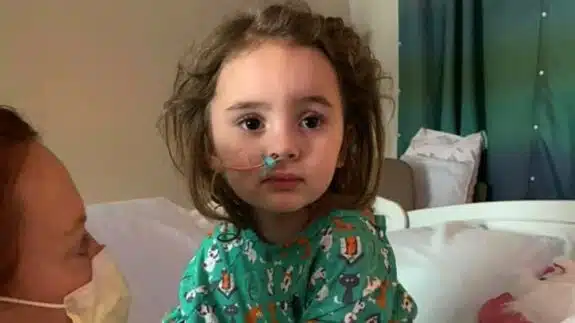 When Amanda Phillips noticed her daughter wasn't quite herself on December 19, she figured she may have a bug but would get over it.
Despite spiking a low-grade fever over the next few days, the family was able to bring it down with over the counter medicines.
"There wasn't any sign that would've told me that something was seriously wrong with her," Amanda recalled.
On Christmas Eve morning, the family was ready to leave the house to when they realized Jade hadn't yet woken up.
When her father went to check on her, Jade was lying in bed, unresponsive. And her body was burning hot.
"I yelled at him — I was like, 'We have to go. We have to go to the emergency room. This isn't right. Something's not right with her," Amanda told the media.
As they arrived at Covenant Medical Center, Jade's started to have a seizure.
Jade was immediately airlifted to the children's hospital at the University of Iowa in Iowa City, where it was revealed that she had the flu and it had affected her brain.
The National Institute for Health notes that Influenza virus-associated encephalopathy is an acute non-inflammatory encephalopathy that presents with seizures and coma on the day or the day after, influenza symptoms start.
When doctors showed Jade's parents the MRI results her brain was "lit up like a Christmas tree," her mother remembers.
"They said she had significant brain damage. They said our child might not ever wake up, and if she did, she might not ever be the same," she said.
Over the next few days, Jade remained almost completely unresponsive.
On December 31, Czech, a pediatric neurologist, told Jade's parents her specific diagnosis: acute necrotizing encephalopathy, or ANE, a type of encephalopathy usually caused by a viral infection.
She also revealed that ANE is so rare there are few studies on how children fare. But the one study they found that looked at four children with ANE. Three of them died.
"It's been 7 days. 7 days of it feeling like Jade was slipping away and that there was no hope. No hope of her ever coming back to us," her mother wrote on Facebook that day. "All because of the flu."
Czech prescribed steroids to calm the swelling in her brain and finally, Jade started to respond.
What had seemed so unlikely had happened – the little girl woke up.
"She's got her eyes open. She's looking around. We got a couple of hand squeezes! And then we got a smile!" she said.
Over the next few days, her breathing tube came out, she could sit up and started to eat on her own.
Shortly after Jade's parents and doctors noticed something. When they placed items in front of her Jade didn't look at them.
An ophthalmologist determined her eyes were fine. The flu had affected her brain.
"It affected the part of her brain that perceives sight, and we don't know if she's going to get her vision back," said Czech, Jade's neurologist. "In about three to six months from now, we'll know. Whatever recovery she has at six months, that's likely all she's going to get."
Doctors are also concerned that Jade might also have cognitive or developmental problems, such as learning disabilities.
Thankfully, Jade went was released home on January 9, 2020. Her family has launched a GoFundMe to help fund Jade's care.