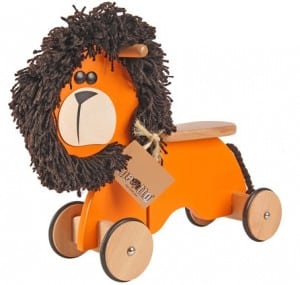 A foot-powered ride-on toy is a classic toy for toddlers. Often they come in the form of tractors, trucks or cars, but animals are also quite common. The European label, Gepetto, has an absolutely beautiful collection of wooden ride-on animals.
Gepetto wooden ride-on animals are carefully made of Beech-wood and decorated with non-toxic paints. The wooden wheels are surrounded by a rubber strip which enables the child to ride around smoothly, and ensures a quiet, non-slip ride on wood or tile floors. The unique, reinforced rubber steering mechanism eliminates need for screws and bolts, and also helps children maintain stability by not allowing them to over-steer and potentially tip.
The ride-on animals by Gepetto are suitable for children from 1 year of age and are available in a host of awesome designs; a giraffe, ladybug, turtle, lion and bee are just of the wonderful designs available.
If you're searching for a well-made, beautiful wooden ride-on toy than can be enjoyed by generations to come, check out Gepetto for their host of ride-on animals!
---
Related Articles:
---
[ad]