For Jessica Stanley and Antavian Milton, Friday is a day the couple will remember not just for all things that went wrong but also those that miraculously did.
It was just after 6.00 am when the couple was rushing to the hospital after Jessica went into labour when their car was involved in an accident.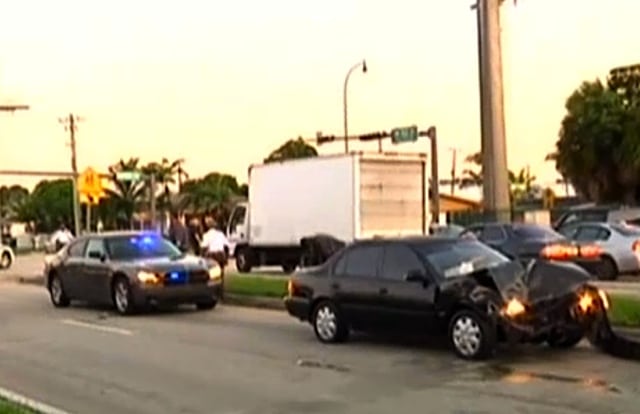 "Soon as the impact happened the first baby came out," Jessica said.
She blacked out immediately but Betty Hornes, a gastroenterology technician at Baptist Hospital was right there to help.
"We were at that light at 6:07 and I was watching the time because I had to be at work at 6:30 at Baptist Hospital," Betty said.
That is when Betty saw the car crash. She got out to help only to find Jessica lying in the passenger seat in labor.
"I saw the guy jump out, frantic. He said 'I'm gonna have a baby, she's gonna have twins,'" Betty said. "I look, and I saw the baby's head, just the hair."
Betty brought a towel from her car and wasted no time in helping Jessica deliver the first of the twin boys – Antavian II.
"I said 'your baby's doing fine, breathe nice and easy,'" she said. "I took the baby out and second or two, the baby didn't say anything, and so I took my fingers, my index fingers and swiped the back of the baby's mouth, and he started  crying … said 'cry, baby, cry.'"
As she wrapped the infant with the towel, the paramedics arrived and helped cut the umbilical cord. He weighed 7 pounds and 13 ounces. His sibling Antavian III was delivered via C-section at the Jackson South Community Hospital. He weighed 7 pounds and 7 ounces.
Betty says she got a little help from a passerby who stopped by the car and prayed while she delivered the baby.
"That gave me a little courage, I thought 'Hey, God's got this under control,'" she said.

"I don't even know what a hero is. I tell you, I don't feel like a hero. I feel that that's something that we all got to do for each other. We all got to help each other," she adds.
Jessica is extremely thankful that things turned out well in the end.
"I'm thankful that everything happened the way that it did, like the outcome," Jessica said. "I'm not not happy that we got into an accident, but I'm happy the way things turned out. Everybody is healthy and safe."
Antavian, who was driving the car says he was trying to avoid the driver who pulled in front of him.
"The thought of having lost an only child. To lose one would be terrible," Antavian said. "I'm just blessed to be able to have them all right here now."
The twins are now back home in the Goulds with their parents.
---
[ad]