Now that I have 2 kids, my current diaper bag is just not cutting it. Its one big compartment design with pockets on the side makes it hard to know what's at the bottom without pulling everything out.
The Gr8x Baby Traveller Deluxe was created for parents who want organization. Once opened, the changing pad sits down the middle and all of your contents are tucked away in the 'flaps' at the side.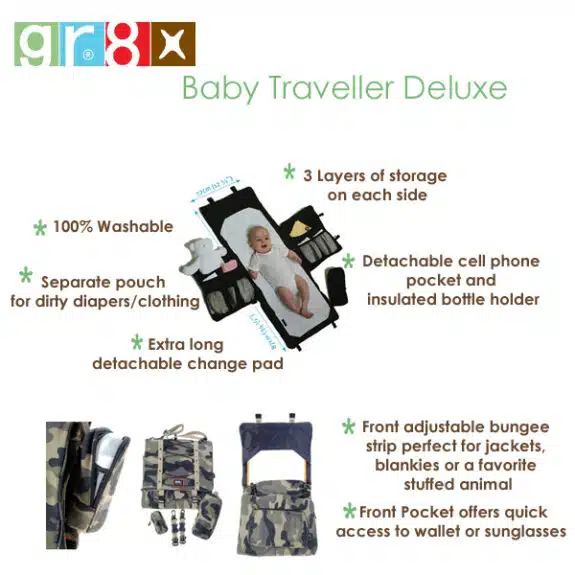 At first, I wasn't sure if everything I normally carry would fit, but to my surprise, all of my gear found its own place without overstuffing the bag.
This style is perfect for 2 kids or twins because each child has their own side and everything has its place. I like that I know if I am missing something at a quick glance.
The 3 layers of storage offered on each side gave me enough room to store tons of diapers, wipes, a change of clothes for the baby, hats for both boys, sunscreen, a couple of toys, crayons, and a coloring book.
Moms on the go will appreciate that Gr8x has designed the traveler deluxe to be carried 3 ways; as a backpack, briefcase or over the shoulder. Also included are a set of stroller attachments, a bottle holder, and a pouch to hold your cell phone.
While the pocket on the back of the bag is great for money or keys, I keep its contents light so that they don't jab into the baby when I'm changing him.
I found that the bungee strip on the front is great for carrying a blankie, a jacket or a favorite stuffed animal.
The Baby Traveller Deluxe is a practical and functional bag. Its smart design makes it perfect for any outing.
Dimensions:
changing area L89cm x W33cm
Bag closed H36cm x W39cm