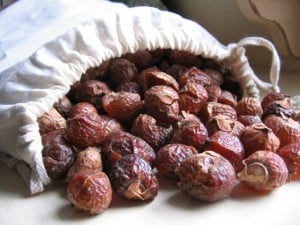 Laundry is the bain of my existence. I have 2 kids that do what kids do – get dirty. So I am constantly working on a re-wash pile because for some reason basic life stains like dirt and chocolate seem to need to be washed twice even if they've been treated. I hate laundry.
Lately I've been reading some buzz online about soapnuts. So while out at the health food store a couple weeks ago I picked up a pack for $10 and decided to give them a try.
These dried fruit shells come from the Soap Nut Tree, which is grown in Nepal, India and Indonesia. The fruit shells have been used in India and China for centuries, and are now gaining popularity in America and Europe as a renewable, biodegradable and organic alternative to chemical detergents and expensive "green" laundry soaps.
For my first test I just threw 8 nuts in the muslin bag that was included and washed my clothes. Because they don't really have a odour(a mild vinegar smell) and they don't froth like soap does I didn't think that they'd work. But to my surprise my whites were white and some stains that had been left from a previous wash were gone. The second wash was darks so it was harder to see if the clothes were clean, but I did notice that the colors were bright. Even after being in the dryer, the colors were not faded or dull. The next test was my kitchen laundry. The kids put my cloths and towels through the ringer when they spill or clean their dirty faces after spaghetti or saucy dinners. Again, I was pretty impressed with the outcome. Deep down stains were still visible, but the new stains had been washed out.
After doing some research I learned that you can boil the soapnuts and use the concentrate much like liquid detergent. So I added 10 or so soapnuts to 6 cups of water and boiled up a batch of cleaner. This is the way to get your best value out of the nuts as it gets all of the saponin out, while allowing you to make a batch that will last up to 30 washes. Once it was done I let it cool, strained out the pieces and stored the 'tea' in a plastic container.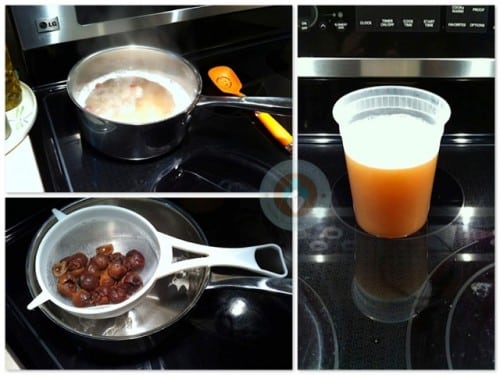 I've also found a million non-laundry ways to use this concentrate.  I use it on my walls, windows and countertops during my weekly go through of the house and also tried it on my floors but it dried a bit sticky.
Now that I've used soapnuts for almost a month I have noticed there are a few different brands of them, which made me wonder what the difference was. My package says that I can only use the 'nuts' in the wash for twice, while others claim that they can actually be used as many as 10 times. While at the ABC show in September I met with eco-nuts, one of the companies that says their 'variety' is good for 10 washes.  When I questioned the rep on the different claims she told me she sold the very best variety and hers were more robust. Upon closer inspection I personally couldn't tell the difference between her product and the others that I had purchased.  I could say that they work just as well as the original set that I bought, which is what I am looking for.
Soapnuts are a good choice for new parents because they are mild enough to wash babies clothes or diapers.  They also don't contain any harsh chemicals so they are ideal for those with sensitive skin, eczema, allergies and psoriasis.
And because you keep the bag in for the whole wash, they essentially clean your clothes twice.  I have been happy with using soapnuts and they are now a staple in my laundry room.  They are a good multi-use product that is easy on the environment and also convenient to take on vacation to ensure that you always have something to get your clothes clean.  Plus, they come in a nice muslin bag that I use to store action figures in when it's empty!
Related Articles:
---