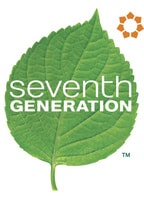 One of the easiest ways to 'green' your house quickly is to switch to eco-friendly cleaners.
Last Summer a study conducted between 1990 and 2006 found that despite child-resistant packaging being added to most cleaners, toddlers are still managing to get into dangerous cleaning supplies. During the time frame examined, 267,269 children ages five and younger were treated for nonfatal injuries due to cleaning products. Of those children, 72 percent were aged 1 – 3 years.
Because our family's safety is our number one priority, my husband and I have made some changes in previous years to our household and one is switching to Seventh Generation's products.
So when I was recently offered the opportunity to review a couple products I hadn't previously used I jumped at the chance. For my test I received a 100% organic cotton Seventh Gen Eco lunch bag as well as coupons to redeem for a package of Seventh Generation Free & Clear Diapers, Free & Clear Baby Wipes and dish washing products.
Because we don't use wipes but still use one diaper a day just for overnights I opted to try just the diapers. When you open Seventh Generation's Free & Clear Diapers you won't see Elmo or Mickey Mouse, you have a only light beige diapers. Free of chlorine processing; they are also free of fragrances, latex and petroleum-based lotions. And while they aren't 'pretty', they do work – very well. In the 3 weeks that we've been using them we haven't had a leak even on the nights when I'm pretty sure my guy drank the whole bath tub.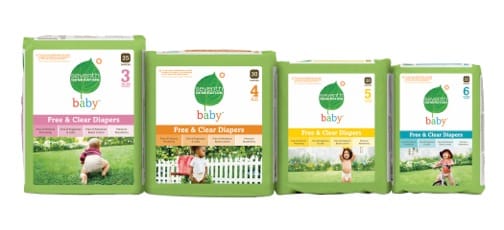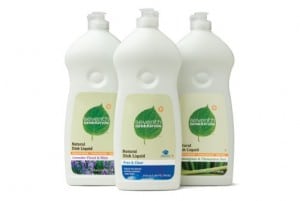 The lemongrass & clementine hand dishwashing detergent is nice because it smells great and it cleans really well. Plus, we use this same cleaner in a foamer in the kitchen to wash our hands. Now that we are heading into the colder weather I'm hoping that it won't dry my hands out like the brand we used last year did.
A favorite in our house the All Purpose Cleaner is my go to when cleaning everything from dirty baseboards to the bathroom. In years past I've used one that smells like oranges, this time around I opted for a scent free version. For those who are allergic to fragrance Seventh Generation has a full line of Free and Clear Cleaners that includes laundry detergents, fabric softeners, dishwasher liquids and Glass & Surface Cleaners. These products are created without added fragrances, and have been confirmed to be hypo-allergenic through independent testing.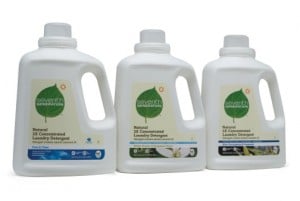 The last product I was able to test was the White Flower & Bergamot Citrus laundry detergent. Created from a biodegradable formula and free of dyes & synthetic fragrances this detergent has worked well for us. My boys love to challenge my stain removing skills on a daily basis so I am a bit of a laundry maven. To get tougher stains out with the Seventh Generation detergent I put it directly on the stain for 15 minutes and then soaked the clothes in the sink with just a bit of warm water for 20 more minutes. In most cases this worked. If it was chocolate more 'treatment' was needed but that is the case with the other detergent I use as well.
I highly recommend all of Seventh Generation's products.  Not only are they created with your family's safety in mind but they are also good for the planet and aren't tested on animals.  In a day when many companies are making products only for profit, it's important to support one that is environmentally responsible.
Disclosure – I am participating in the Seventh Generation program by Mom Central Canada.  I received compensation as a thank you for my participation.  The opinions on this blog are my own.
---