It is believed that consuming your placenta after childbirth can boost your milk supply, reduce the risk of developing postpartum depression, and replenish nutrients.  There are services that will take your freshly birthed placenta, dry it out and encapsulate it for you to take daily.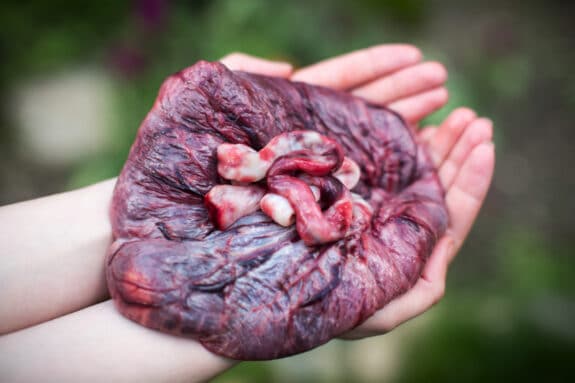 Kourtney Kardashian did it – so now it's all the rage.  Just kidding. Women have been doing it for decades.
There are cookbooks dedicated to the at-home preparation if you'd like to take it into your own hands and lots and lots of information online that supports the age-old practice.
Last week Health Canada, however, released a warning urging anyone looking to consume any products that contain human placenta to be aware of potential risks.  They also noted that there is currently no scientific evidence that supports claims of health benefits associated with consuming human placenta.
Because placenta products are prepared by a third party they are considered drugs and therefore subject to the requirements of the Food and Drugs Act and Regulations. This also means that information about the safety and efficacy of the product must be submitted to Health Canada for review and obtain approval before they can be sold.  To date, Health Canada has not authorized any health products containing human placenta for consumption in Canada.
More seriously, a human placenta is a biologic material and can contain infectious agents such as bacteria (eg Group B Streptococcus) and viruses (eg hepatitis, or HIV).  In addition, the preparation process itself has the potential to introduce infectious agents into the product.  Consuming human placenta containing bacteria or viruses may lead to infections in mothers or their babies, and the risk is higher if someone ingests the placenta of another person.
In addition to its concerns about the transmission of bacterial or viral infections, Health Canada is concerned that health claims associated with human placenta for consumption could lead mothers with serious health issues to delay seeking medical treatment.
In the US, the Centers for Disease Control and Prevention reported the case of an infant who had been hospitalized for an infection from a bacteria found in the placenta pills his mother had been consuming.