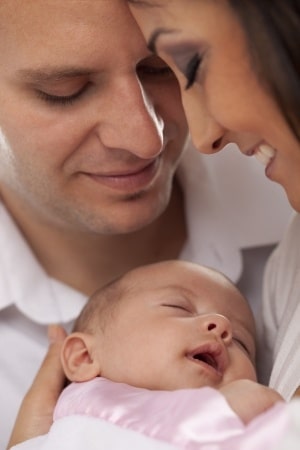 Trends come and go, and then sometimes they come back. While some trends should be left in the era they came from (I don't know about you, but I'd prefer to never see big hair or fanny packs EVER again), there are others that are warmly welcome and even a bit refreshing, like Today's predictions for 2014 trending baby names!
Whether you're a classic movie and literature fan, a major history buff, or just have a family tree that needs a revival, you're bound to be considered 'trendy' if you opt for an old but newly popular name, Today said in a recent report. Refreshing and, surprisingly enough, original names like Scarlett, Atticus, Chaplin, and even Huckleberry are expected to give a nod to classical movies and films in 2014.
Today also predicts that ancestor names – Edna, Violet, Mabel, Ethel, Wihelmina, and Gertrude – will make a huge comeback. Oh, and don't worry about that 'old' name feeling too formal or stuffy for school-aged children – nicknames and shortened versions of older names sound both trendy and more child-like (Edie for Edna, Wilma for Wihelmina, etc.).
Historical hero names like Abraham, Wolfgang, Lincoln and McKinley are also expected to join the trend.
Grandparent names (Kenneth, Gail, Gary, Janet) are expected to take a dive when it comes to baby names, but GREAT-grandparent names (Mabel, Henry, Max and Violet) are expected to 'boom' this coming year.
Other classical names expected to see some charts include classics (Owen and Ethan), Royal sounding names (Mary, Louis, George, Helena, Albert, Arthur, Margaret), and Greek names (Penelope, Chloe, Calliope, Theodora, Olympia, Evangeline).
Today is also expecting some interesting twists in 2014's baby naming trend. Girls are expected to receive names relating to spices (Saffron, Rosemary, Cinnamon, Sage, Juniper, Cassia) and names with a masculine edge. Cases in point, celebrity girls recently named Autumn James, Lucy Thomas, Agnes Charles, Poppy James and Mary James. Boys will be getting a twist in the baby naming trend as well with virtue names like Noble, Valor (recently chosen by Emily Hirsch), Justice, Loyal and True.
Names starting with "C" are also expected to trend in the coming year, particularly "C" names that have an ancient feel to them – Cora, Clarissa, Clementine, Caspian, Claire, Cyrus, and Cassius. Other "C" names expected to top the charts include Clover, Cedar and Cadence.
One of the most surprising trends, however, is the expected Pope Francis trend. While Francesco has been a top boy name in Italy for several years, the name is expected to make waves around the world this year, with names like Frankie, Francine, Francis, Frances, Francisco, Frank, and Francesca.
One name trend that Today doesn't think will catch on? 'Joke names' like North West. While they did predict that North would make a huge splash in 2013, Today says that joke names weren't ever funny or cute, and they don't expect them to become so anytime soon.
Related Articles:
---
[ad]