There is no denying that the Shopkins playsets and tiny figurines are one of the hottest toys on the market. Designed to bring the shopping experience to life, Moose Toys has created a number of really cool sets that allow kids to create their own places to shop for shoes, accessories and house hold items like treats, produce and small appliances.
While reviewing a couple of the sets last year we found that our little testers loved to add in their own Little Ponies and Fairies to give the sets more playability. Knowing this, the company has created three adorable characters to better bring the whole experience to life!
But in true Shopkins style, they are incredibly hard to get your hands on. We were able to get two, but the third one has been a little elusive. So we will give you a first hand look at Bubbleisha and Poppette and a preview of Jessicake.
Bubbleisha's 2 favorite things are talking and chewing gum.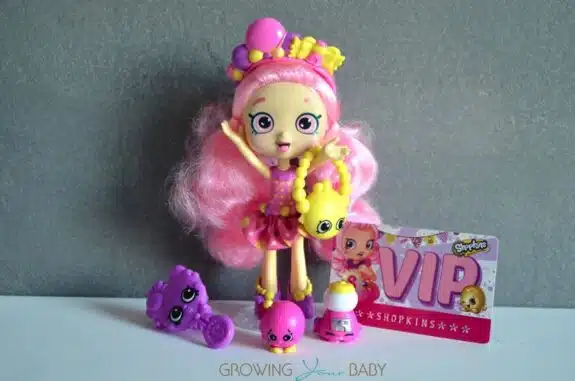 This 4″ doll was created real rooted hair, and is accompanied by two exclusive Shopkins characters; Bubba Gum and Bubblicious. In the package there is also a brush to do her hair, a Bubblegum purse and a VIP card that allows kids to unlock exclusive perks in the App.
The doll itself is so cute. She has big pink eyes with matching eyebrows, and an adorable headband that is covered in gumballs.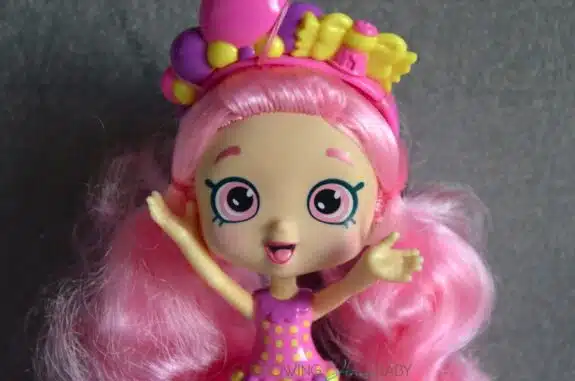 Her dress is covered in – you guessed it – gumballs, and the top is all plastic with a fabric puffy shirt. To continue the theme, Shopkins has given her wedges with gumballs around the edges.
To get a better look at her please check out the video below:
Movies are Popettes life and it shows from her outfit and accessories!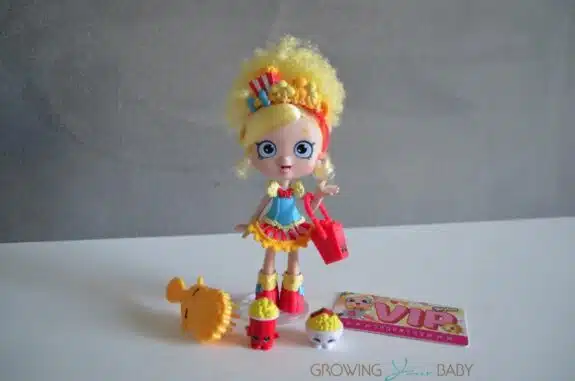 Designed with blonde curly hair, this 4″ doll comes with two exclusive Shopkins characters; Bowl-Inda Popcorn and Polly Popcorn.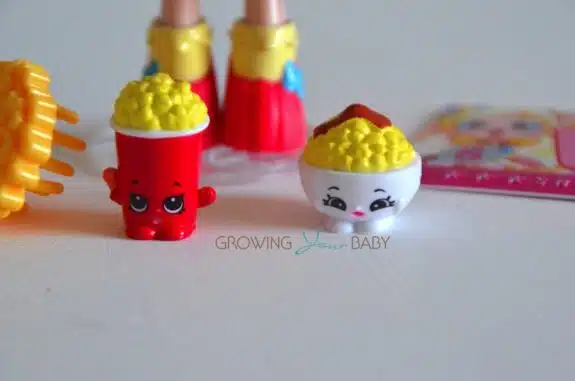 Also in the package is a brush to comb her hair, a popcorn box purse and a VIP card to unlock exclusive perks in the App.
Popette has big blue eyes and a super cute popcorn themed hairband to hold all of her curls back.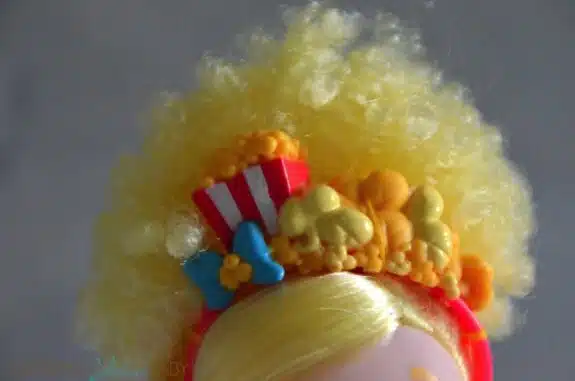 Her plastic top is lined with popcorn kernels, which matches her striped carnival like skirt. To add to the cuteness, Shopkins has added popcorn buckets to the bottom of her shoes!
To get a better look at her please check out the video below:
Jessicake is just as cute as the other two with bright, long blue hair and matching big eyes. She comes with two Exclusive Shopkins Characters; Coco Cupcake and Cherry Cake. Her headband is adorned with a cupcake, as is her cute purse. Like her fellow Shoppies, this 4″ doll also comes with a brush and a VIP Card to get additional perks in the app!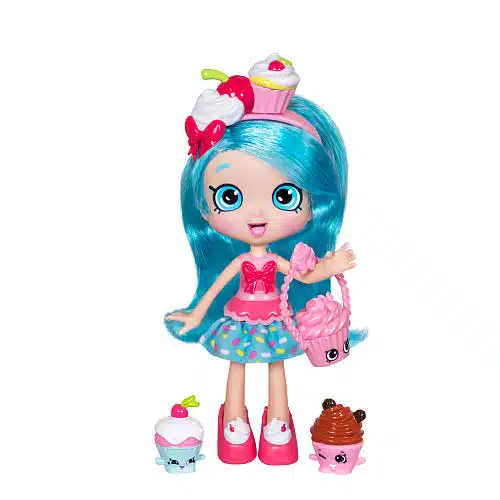 We love that each doll has its own unique personality and adorable accessories.   Each Shoppie is created with incredible detail and such charming style!
Season 4 will be hitting shelves soon so we can't wait to see what new dolls Shopkins will be adding to their collection!
---