The race is on!  Every year parents head to the store manned with their lists, only to find their kid's top selections out of stock.  We've all been there.  Actually I have found myself there more times that I care to admit.  This year I started out with a better plan.  Shop early and grab the hot toys first.  I am 'this' close to being done and haven't hit a snag yet…
We were very lucky this year.  Our boys were able to test one of their top toys before the big day.  The Hot Wheels Triple Track Twister set is one they've been asking for for a while.  We have the wall tracks so they have been wanting to have a floor set as while.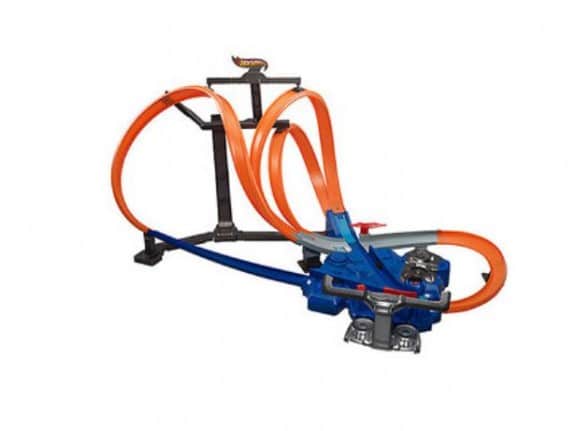 The only problem was that my husband wasn't home when the set arrived and I was a little stressed out when I opened the box.  Piles of track, loops and joining pieces,  I was sure I got in over my head.  But I had two little people staring at me in excitement so I pushed on.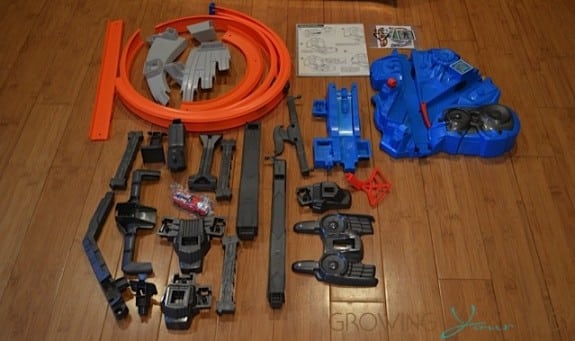 Thankfully Mattel has lettered and numbered every piece that should go together because the track really is a maze with pieces going in all directions.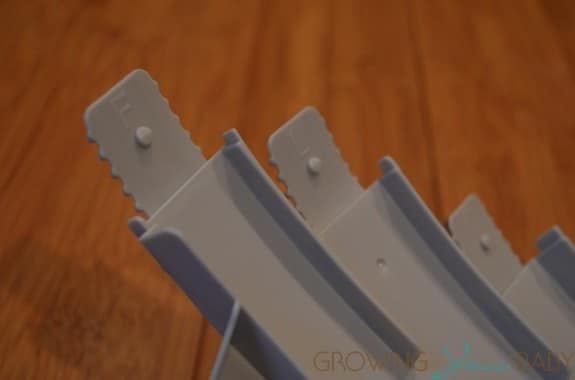 A great feature, however, is that you only need to use the screwdriver to install the batteries.  After that everything clicked and slid together.  I had never assembled a Hot Wheels set so there was also a slight learning curve involved as to how to slide everything together but when it was all said and done, I did pretty good.
The first run revealed a few areas that needed to be tweaked but we were up and going in about 20 minutes.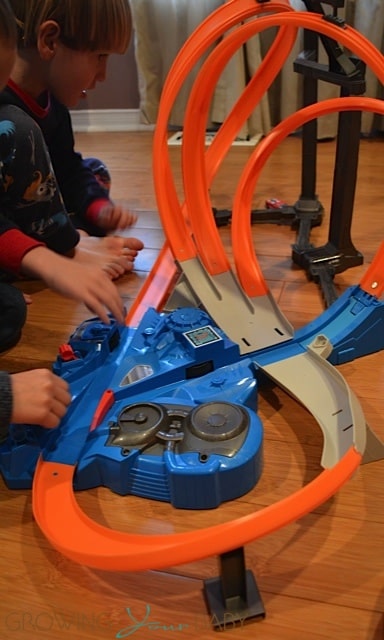 To get the car going kids just need to load it onto the beginning ramp and let it go.  Two wheels in the walls of the beginning track propel it onto the track and it is off.  The main loop is the one we had the most trouble getting the cars to stay on.  The car that comes with the set is flashy, but we found a few in our toy box cars that were lighter so it was easier to get them to stay on the track up side down.
Kids can just have their car do laps on the main loop or press the lever to have the car switch tracks and whip through the two additional loops at the front of the track. They loved it, but the fun was multiplied when they realized they could add more cars into the mix while the others were in the middle of the track.  Eventually they would meet, crash and fly off the track, which made the whole set that much more exciting.
This set has an iPad compatible mode, that kids can use to race through five virtual worlds.  Currently, my guys are thrilled with the set without the technical element to it so our plan is to add it if we see it getting less play.
That hasn't happened, likely because they are still testing every car out they have through the track.  Spoiler:  They don't all work but that doesn't keep they from trying.
The Hot Wheels Triple Track Twister set is a hit for us!  I also hope it will have the same magic at my brother's house because I have purchased one for my nephew as well!
For more information on some of Mattel's hot toys for the holidays please visit their site!
---
"Disclosure: I am part of the Mattel Holiday Blogger Campaign with Mom Central Canada and I receive special perks as part of my affiliation with this group. The opinions on this blog are my own."
[ad]