Research by the government has found that removing infant cold medicines off the shelves has caused a decline in the number of Emergency Room visits by infants and toddlers. Bad reactions to the medicines, as well as accidental overdoses, can cause many infants and toddlers to need medical care.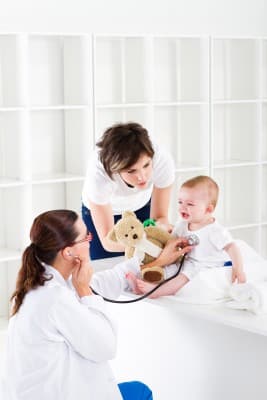 Research has found that many parents are still giving their children these medicines that should be avoided. The result has been an increase in young children requiring ER care. Older bottles of medicine and those that have been withdrawn by the manufacturers need to be completely discarded by parents to prevent accidental overdoes or accidentally giving children the wrong medicine.
"Keep all medicines up and away and out of sight," said Dr. Daniel Budnitz, the study's senior author and a researcher at the Centers for Disease Control and Prevention.
Over the counter cold medicines aimed at infants and young toddlers have been controversial for a while. Many companies choose to withdraw their products in 2007 after pediatricians complained that these medicines were not affective. In 2008, the Food and Drug Administration warned against using these medicines on children younger than 2 years. They are now recommending avoiding over the counter medicines for children younger than age 4 as well.
The researchers looked at the number of nonfatal hospital visits for young children linked to cough and cold medicines. Before the removal of these medicines there were 2,970 reported cases. After the removal, that number dropped to 1,248 incidents. In two-thirds of the incidents, the incident happened by the toddler or infant ingesting the medicine on their own.
Dr. Elizabeth Powell, an ER physician at Chicago's Children's Memorial Hospital, recommends that parents use acetaminophen (Tylenol) or ibuprofen when their infant or toddler is sick. A bulb device can be used to remove mucus from the nose to help their children breath better. – Summer, staff writer
Related Articles: