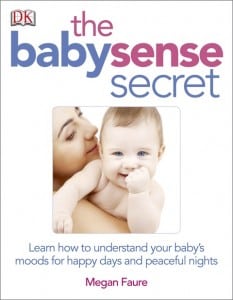 The Baby Sense concept is based on understanding baby's sensory world providing parents with an understanding of how to read baby's body language and signals to respond accordingly.
Baby Sense was founded in 2005 by Megan Faure (BSc, OT, OTR), an occupational therapist who has worked for more than a decade in the pediatrics field in several countries including the USA, UK, and South Africa.  Her pioneering infant behavioral method helps to make the first few months of a baby's life easier and more rewarding for parents and their infants. 
Meg Faure's best-selling book Baby Sense reveals that the answer to a calm and rested baby lies in understanding baby's sensory world. Her newest book, The Babysense Secret, is based on sensory integration principles and offers parents insight to understanding how to read a baby's body language and signals. The knowledge gained by parents will help them structure a flexible routine around their child's needs for peaceful, easy nights and calm periods of daytime wakefulness. Basically it aids in the learning process of balancing a child's capacity for stimulation and need for sleep so parents can recognize how their baby is feeling and what he or she wants.
"Almost every parent I have ever spoken to has longed for a manual explaining how to 'read' their baby, to understand the how's, why's, and when's of sleeping, feeding and stimulation," said Faure. "The baby in their arms holds all the answers and will tell them what they need and when they need it."
In addition to the Baby Sense books, the Baby Sense product collection includes the Baby Sense Burp Cloth, Baby Sense Cuddlewrap, Baby Sense Nurture Nest, Baby Sense Feeding Shawl, Baby Sense Receiving Blankets, Baby Sense Sling and Baby Sense Summer and Winter Sleepy Sacs.  The entire Baby Sense product line can be purchased at: www.kastelinternational.com