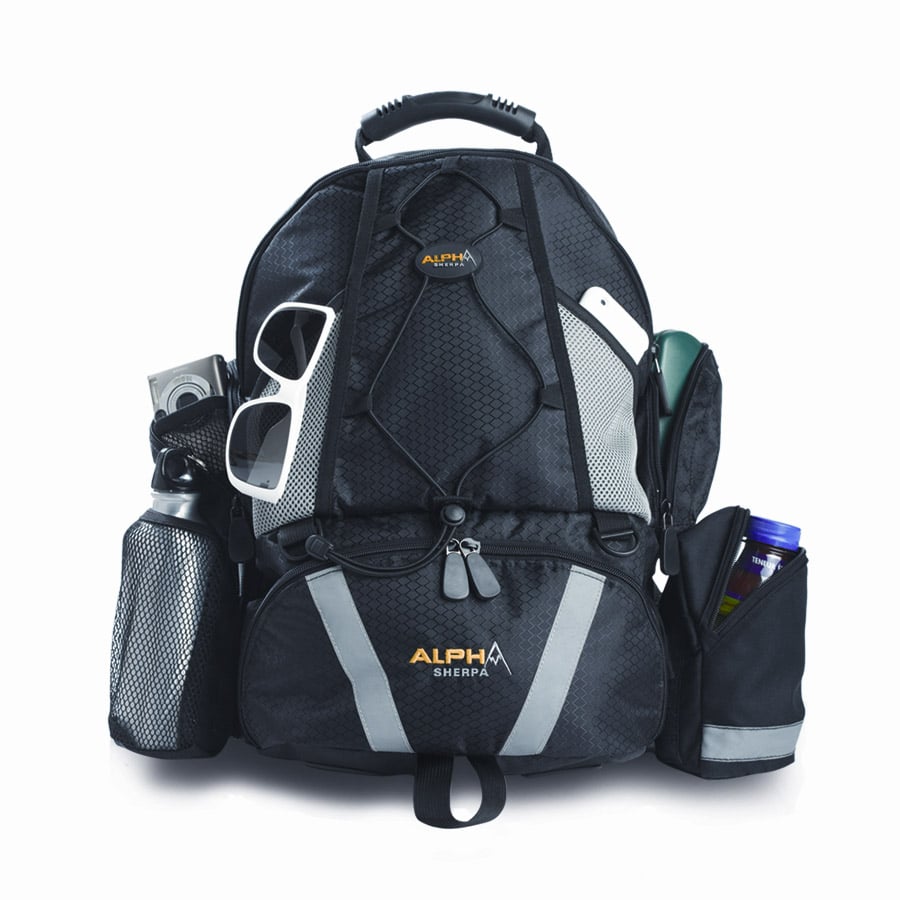 Manitoba's Baby Sherpa, has introduced a new backpack called ALPHA SHERPA. While this heavy-duty bag was specifically designed for families on the go with little ones in tow, it also is a versatile bag for everyone from teens to senior citizens. Now that my youngest child is almost two years old, I figured I was ready to ditch the diaper bag and give the ALPHA SHERPA a shot at being our family's tote bag of choice. Inaugural mission: a day at the beach.
Fitting
Initially, my first thought was that the fitting instructions were pretty complicated(there are 9 steps!). But, after I figured out how to get the hip belt across my hips (and not directly under my boobs!), I was able to take advantage of the ergonomic design. It was a good fit and I certainly didn't look like I was carrying a diaper bag.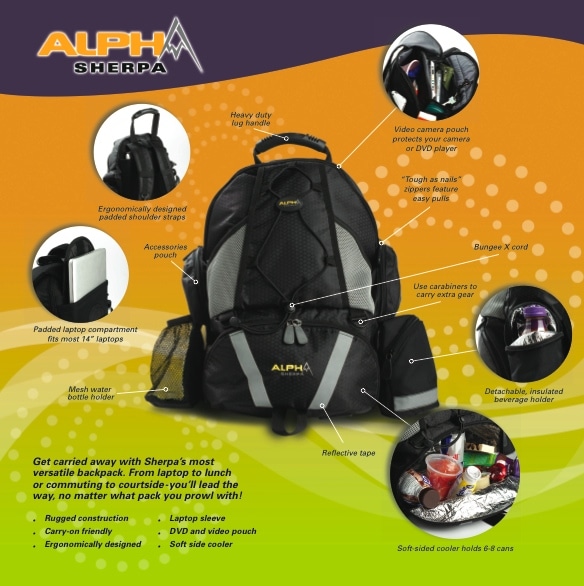 Features
I then began the task of loading up for the day. Exploring all the features of the ALPHA SHERPA was a lot of fun. I was happy to pack our picnic lunch and snacks in the integrated soft-sided cooler, which eliminated the need to bring a traditional cooler. I used the insulated bottle holder to pack milk for the kids and put an additional bottle of water in the mesh holder. I then added towels, bathing suits, diapers, extra clothes and hats in the main compartment.
There is no shortage of space for personal gear with individual, zippered pouches for my cell phone, digital camera, sunscreen and wallet. One of my favourite features was the key retriever; great peace of mind when you're at the beach… my keys weren't going anywhere! I decided to use two karabiners to hook some pails and shovels to the D-rings and then I slipped our beach umbrella through the open pouch on the front of the bag.
When it was fully loaded, I was carrying almost 30 pounds (yes, I weighed myself) and I managed it comfortably as we made the trek from the parking lot to the beach. As soon as we hit the sand, everyone's shoes came off and I hung all four pairs from the bungee X for the remainder of the day. Though I didn't feel the need to cart my notebook to the surf, I was pleasantly surprised when I opened the laptop sleeve and found a change pad that I used both as a seat on the sand AND a place to change my daughter.
Style
The ALPHA SHERPA is a great looking hiking pack that hides all the parent essentials that usually have to be toted around in a diaper bag. The most telling evidence of the SHERPA's style is that my husband can't wait to steal it for himself, and not just for use when he's on Daddy duty.
The ALPHA SHERPA bills itself as "the first total parent hybrid diaper and laptop bag". It truly is a hybrid, offering parent-focused versatility in a smart, comfortable design. I was impressed by the SHERPA's sheer carrying potential, its well-thought-out organization, and its gender-friendly style. It had definitely earned its new place as our family's go-to tote for family outings.
To receive 20% AND free shipping off use code Blog20 until Oct. 31, 2009.
Baby Sherpa is offered one(1) Growing Your Baby Reader the opportunity to win an Alpha Sherpa Backpack.
Congratulations to our reader Vickie!
Thank you to the blogs that blogged about our giveaway:
---