Parents of autism secretly dread change. And loud, noisy places. And new experiences. And a whole lot of other things. It isn't that we are unwilling to do these things; it's that we know our child is going to feel overwhelmed, stressed, scared, confused, or overstimulated. Those feelings can produce a myriad of unpleasant coping behaviors, including slapping, biting, screaming, rocking . . . the things that can literally make us want to curl up on the floor and cry with our children. We know what is happening, even if the onlookers around us do not.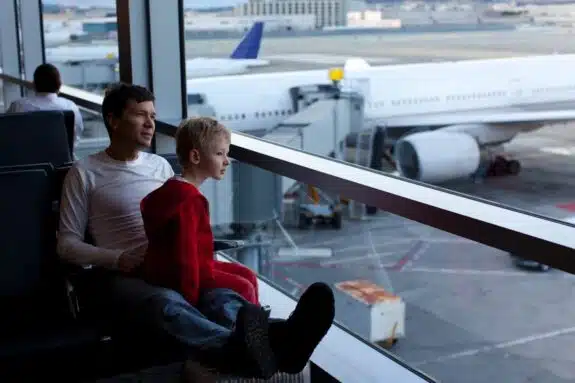 Introducing new experiences in small doses can often dampen the anxiety and stress our children feel, and we try to make that formula a reality as much as possible. But life can be unpredictable. And sometimes, there just isn't a way to make something big and scary any smaller than it already is. Enter in the Jet Blue "Blue Horizons for Autism" program.
Held at Orlando International Airport, the program follows other that have taken place at airports like LaGuardia Airport in New York and Logan International Airport in Boston. Individuals with autism of all ages had the chance to check in at the ticket counter, go through security, travel on the airport tram, and board a plane. Then, as they sat through the safety instructions, met the pilots, and enjoyed in-flight snacks, they were able to hear the rumble of the plane's engine, all without ever having to go into the air.
"It brings a lot of value to the individuals with autism and their families," Jing Zhou, executive director of Interventions Unlimited and a behavioral analysist, told the Orlando Sentinel. "They have the opportunity to overcome those challenges and to practice."
Zhou volunteered at the event and met with the JetBlue staff before all the attendees arrived. She talked them through all the challenges that families face when traveling with a child who has special needs.
"It's very challenging itself for individuals on the autism spectrum," she said. "It's a big change in their routine and it can be unpredictable."
The program reportedly started after an employee witnessed a family who had to miss their flight because their child was uncomfortable while trying to navigate through the airport. The hope is that, with programs such as this, travel for families who have special needs children or adults will become a little easier. And there are few places where such a program is needed as in Orlando.
"We are the children mecca of the country," Paul Ramirez, a JetBlue flight attendant, told Orlando Sentinel. "So we are going to have a lot more children on our flights than most other cities in the U.S."
Related Articles:
---