As my boys get older, I am still surprised by the amount of stuff I need to bring when we head out for the day.  We're well passed the diaper stage, but they still need snacks, drinks, sweaters and whatever toys they are currently obsessed with.  On top of that I still carry wipes, sunscreen, a first aid kid, medical information and all of my camera gear, which can fill a bag quickly.
While we were planning our recent trip to Walt Disney World, I wanted to bring a bag that both my husband and I could carry while at the parks and one that would also hold everything I needed to pack each day comfortably.
I had heard good things about Ju-Ju-Be's Be Right Back backpack so I thought it would be a good option for us on this trip.  I am a huge fan of the brand, having previously reviewed their Be Classy tote and their BFF backpack.  Backpacks are a favorite for me when we travel because they allow me to be hands free to keep the kids close in busy areas.  BUT I need a backpack that won't kill my back, while carrying the millions of little things that we 'might' need for a day out.  Oh, and it needs to be stylish.  But not too stylish because then my husband won't carry it if I want to switch out…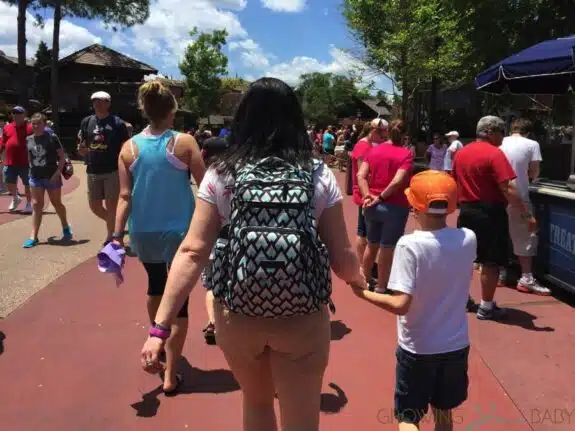 Famous for their details and gorgeous prints, Ju-Ju-Be recently debuted a new collection that offers more choices for both mom and dad.  The Onyx Collection, which includes diaper bags, bibs, backpacks, and more, features all matte black hardware – a first for Ju-Ju-Be products.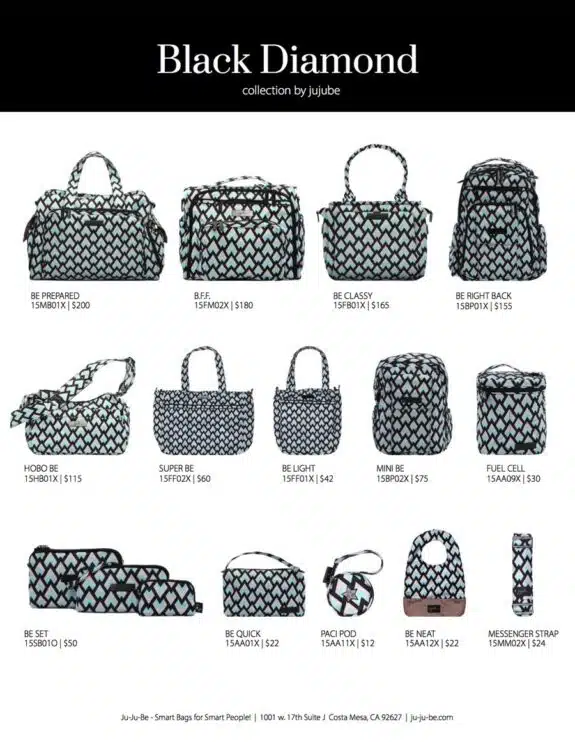 For this trip we opted to try their Black Diamond pattern that mixes black, aqua and an off white to create a modern design that we could both carry.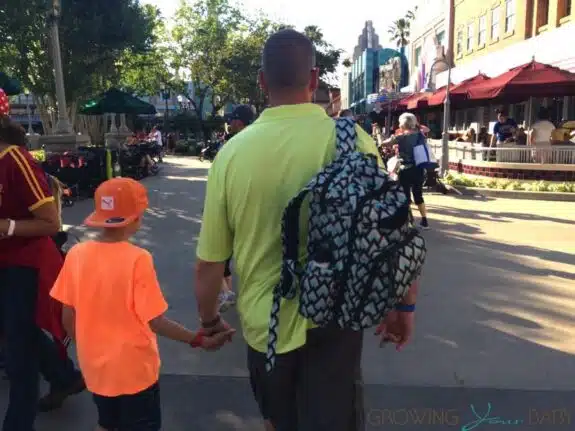 Style aside, the Be Right Back bag also has quite a few pockets to keep you organized and memory foam on the shoulder straps to keep you comfortable.  Sign me up!
A signature for Ju-Ju-Be, the mommy pocket holds everything our need to get to quickly.  On this bag it also has a magnetic closure so you don't have to fumble with snaps to get it closed.  This is the perfect place to keep our sunscreen, and my phone charger, which is my lifeline – literally.
Behind that there is a top storage pocket that has a bungee cord to hold your keys, a sunglasses case and a mesh pocket to hold your wallet or anything else you need to grab quickly.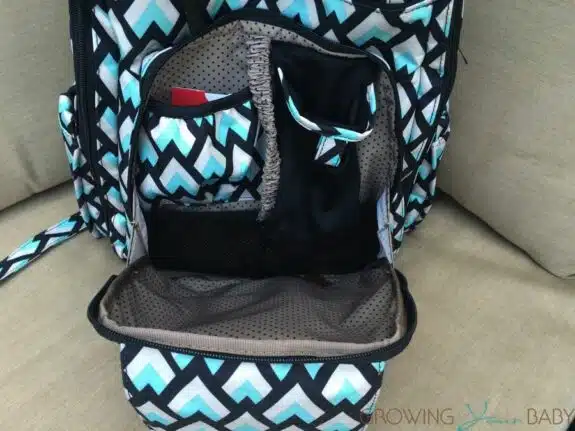 In between this pocket and the main compartment is a small, lined zippered pouch that is perfect for your phone.  This pocket has a very soft lining to ensure your gear doesn't get scratched or damaged.
The main compartment is one of favorite spaces and it opens up completely so you don't lose sight of any of your gear.  With a zippered mesh pocket on one side and a mesh elasticized pouch on the other, there is room here for snacks, wipes, a change of clothes, diapers and toys.  I use this area for our first-aid kit, wipes, and to store extra clothes for the kids.  I like that each pouch keeps everything on the sides of the bag because it leaved the middle of the backpack for bigger items like my SLR camera (or two because I'm crazy).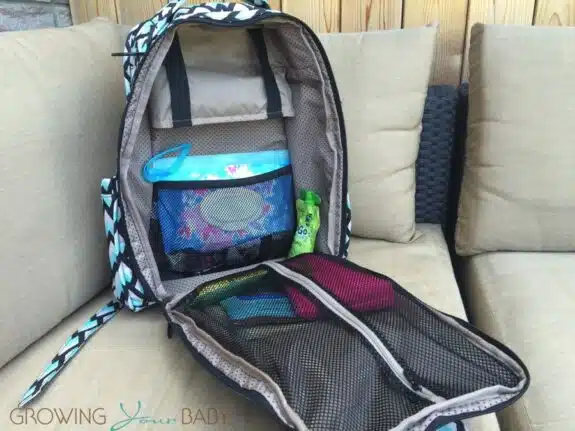 The inside of our bag is a light beige polka-dotted material that makes seeing where everything is very easy.
Just behind the main compartment sits another half pocket that is perfect for a bottle of water for mom and dad or extra room for items you may need to grab quickly.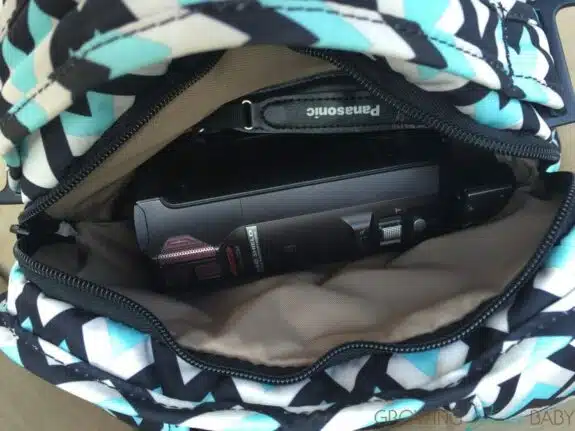 Two insulated pockets on each side can hold bottles for your little one, water bottles or juices boxes.
Lastly, there is a hidden pocket behind the back mesh panel of the bag that holds the diaper changing pad.  Ju-Ju-Be adds memory foam to their changing pads to ensure your baby is comfortable during diaper changes – even on hard surfaces – and the pad can be easily folded back up and tucked away when not in use.  This space is also large enough to hold a tablet or small laptop.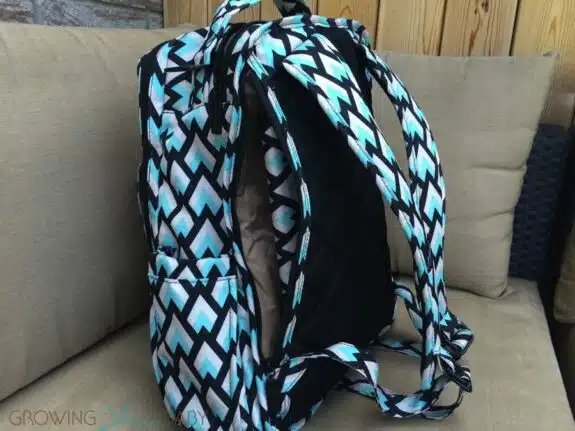 One of things I love about Ju-Ju-Be is that they create practical bags for everyday parents.  Because they know that stains happen, they have added a Teflon™ fabric protector to help repel the stain.  If that doesn't work, you can just throw your bag in the washing machine and air dry it to get it clean again!  How awesome is that?
This also gives me peace of mind when we're traveling because the last thing I want to worry about is trashing a good bag.  I can't baby these bags. My kids are too busy for that.   I set them down where I need to and clean them when they're dirty.  For this reason, Ju-Ju-Be's cleanability works well for me.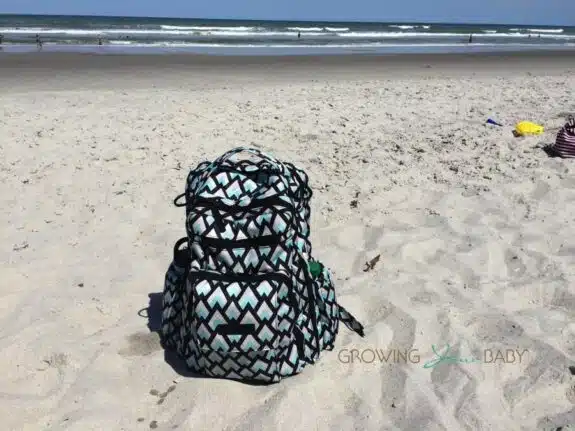 Comfortable, stylish and machine washable?  That's the reason why their bags have been a go-to for me for the last couple years.
The Be Right Back currently comes in 16 different fabrics including Ju-Ju-Be's Legacy, Hello Kitty, Tokidoki prints so there is something here for everyone!
---