Being a new parent and transitioning our twins into their own room, I think it was more difficult for me to get used to then them! My mind continually raced with thoughts concerning their comfort and safety. "Are they sleeping?" "Are they still breathing?" ''Did they just wiggle out of their swaddle blanket?" "Is the temperature right, not too hot or cold?" The questions although endless can also be easily solved with a video and audio monitor. With so many different monitors now flooding the market, picking one out that is good quality, yet affordable can be a challenge.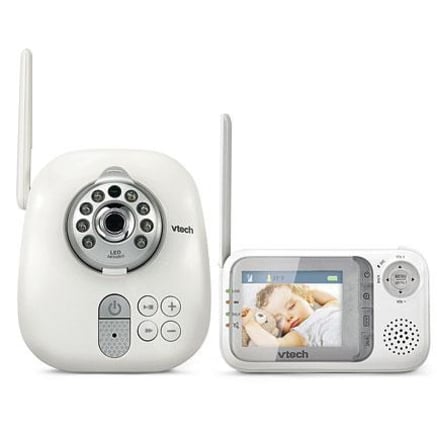 The VTech Safe & Sound Video Monitor provides a full audio/visual monitoring solution with up to an impressive 1,000 feet of range. It has a split video screen, enabling simultaneous viewing from up to four separate cameras.   Moreover it has infrared night-vision and a two-way intercom system with volume control enabling your little one to hear your voice. I can already tell this feature will come in handy in the coming months when I have two toddlers sharing a room!
Easy to get started, all I needed to do was plug-in the camera to the wall (or 4 AA batteries) and turn on the handheld, wireless parent unit. Instantly the 2.8 inch color LCD screen appeared showing the nursery.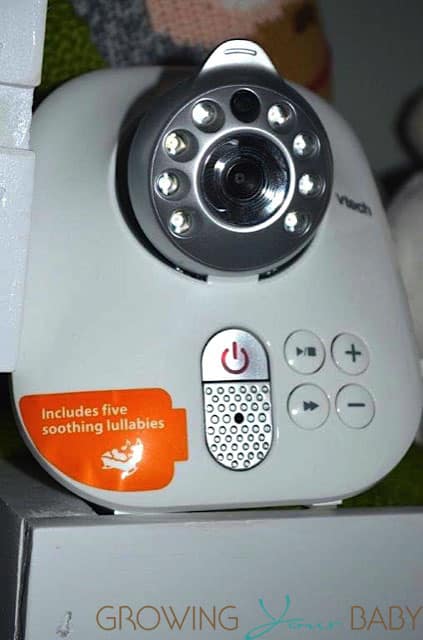 The camera can be tilted up, down, left and right by using the handheld device, there is also a zoom feature that can be accessed as well on the parent unit. We decided not to install the monitor to the wall since we already had shelves at the correct viewing height however it does come with a wall mount bracket that stores excess power cord.

Digital transmission makes the sound quality on the monitor fantastic and static-free. I use white noise for naps and bedtime and even with the white noise blaring I could still hear even the littlest whimpers coming from the nursery. The monitor has a six level color coded sound bar that has optional vibration so even when the monitor is on silent I know when it is urgent to check on the boys. Another great feature is the temperature sensor. On the parent unit the temperature in the nursery is accurately displayed. This lets us be assured the conditions are ideal for restful sleep, not too hot or too cold.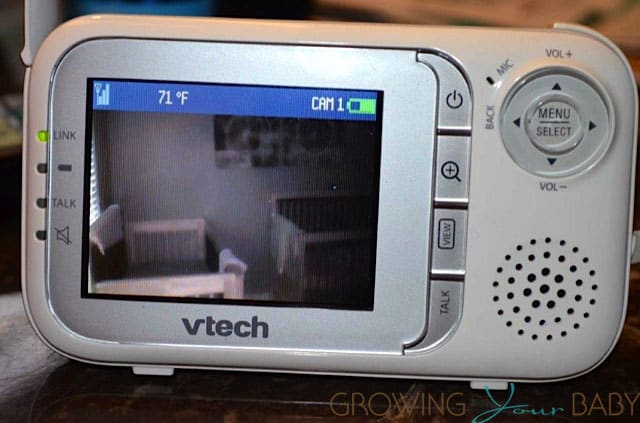 After more than a month of using the VTech Safe and Sound monitor, I find that the picture is crisp and clear during the day, however the night vision comes across grainy. Because the camera has a ring of infrared LED lights, you can still see the fuzzy images of both boys squirming around but the visibility greatly decreases when you try and zoom into the room.
If asked, there are some things that I would change about the monitor. It comes with five polyphonic lullabies on the camera. Personally I don't find them very useful as they are only a few minutes long and not of great sound quality. I would prefer to have an MP3 option so that the babies could listen to a lullaby CD or other music sources instead.  The parent unit runs on a rechargeable battery. Rather than blowing through tons of batteries it can be plugged into the wall which is great.  The downfall is if not plugged into the wall, it only lasts a maximum of two hours and turns off immediately after a low battery alert signals.
With that being said, I do think that for $129.95, the VTech Safe and Sound monitor is a good, reliable choice for parents and will definitely help to ease bedtime worries.  Also, having the option to add up to 4 cameras is nice for couples looking to expand their families.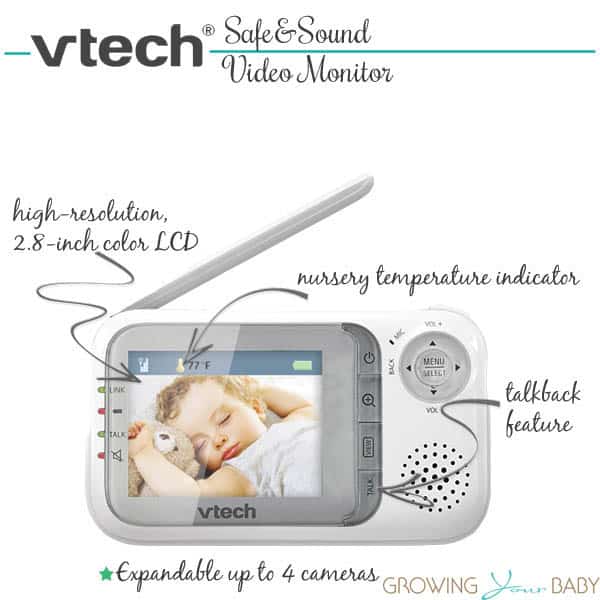 ---
*Thank you to Vtech for sending the Safe and Sound monitor over for us to test*
---