One of the best outdoor toys for kids is the water table!
They are designed with a ton of play value and can be re-configured to give kids a different experience each time they play. Their size also makes them perfect for siblings or friends to play together. Plus, the added accessories give kids more ways to create stories.
There are many ways your kids can play with their water table. Add sand, bubbles or bring it into the house in the Winter and fill it with snow. As the snow melts they will have slush to push their boats through. If your kids are older you can add crystal water gel or water beads for sensory play.
We have rounded up our top 8 water tables!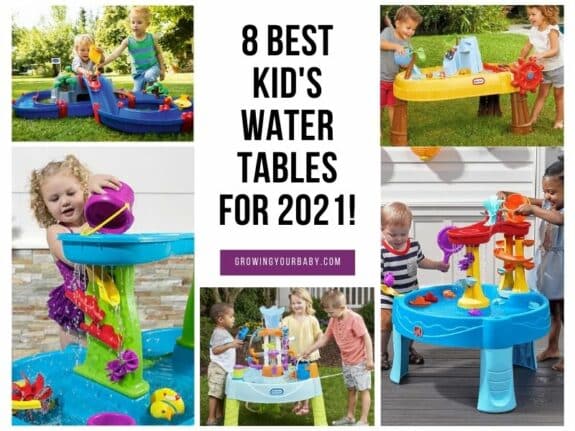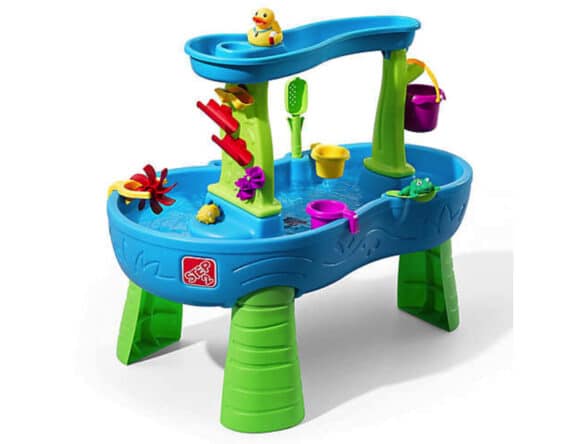 Designed for kids 18 months+, kids can scoop up water from the pond and pour in the top tier to make a showering splash below. The Rain Showers Splash Pond Water Table features maze-like spinners, ramps, and buckets that become activated by the water. Kids can rearrange the put-and-place maze pieces, again and again, to create new waterfalls over and over again!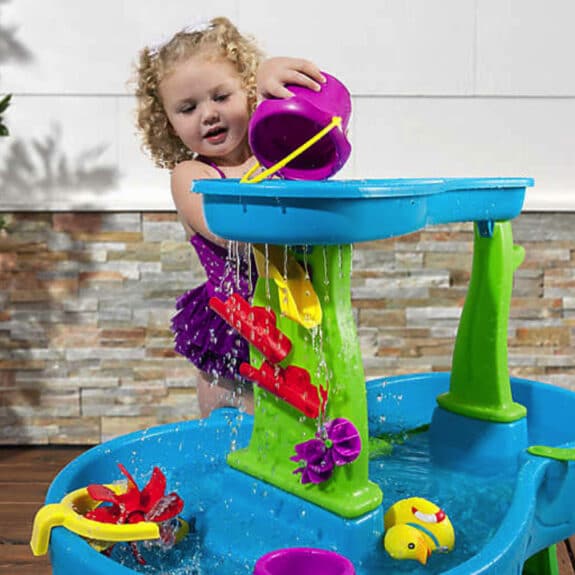 There is also a molded-in hole in the back of the table to add an umbrella for hot days! We love that it's big enough for 3-4 kids to play together.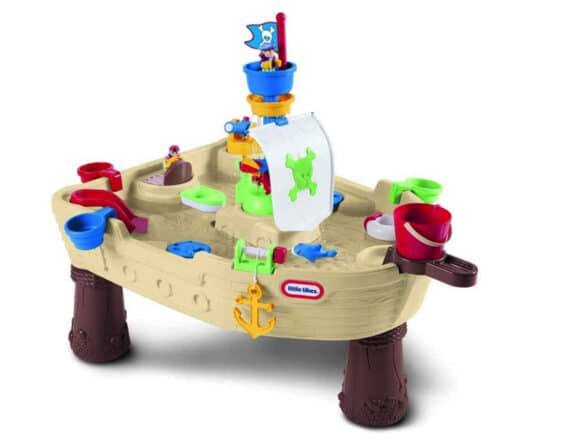 This pirate ship-themed outdoor, water table is loaded with spinning features. Kids can keep water moving with the pump or by pouring water into the crow's nest and watch everything spin. The spinners cause current in the ship which moves floating objects around.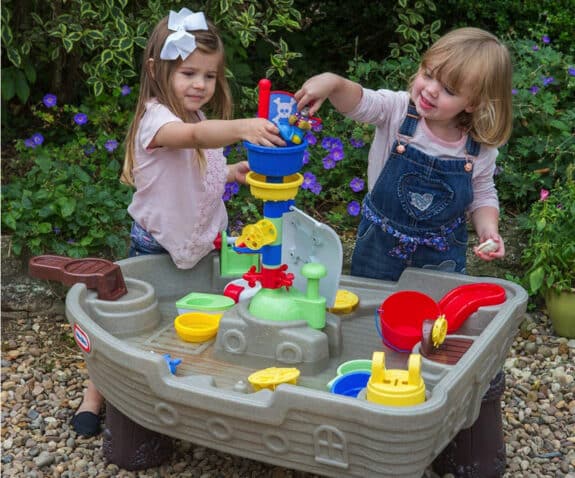 Kids can aim and squirt water from the water cannon and raise the anchor by ranking the handle.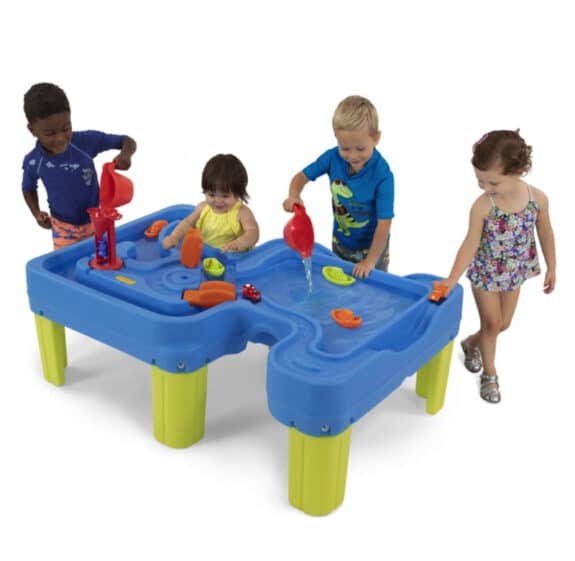 This giant water table includes tracks for cars, trucks, and trains to drive up and down hills and all around the surface, two working, moveable bridges, winding waterways with an open water pool.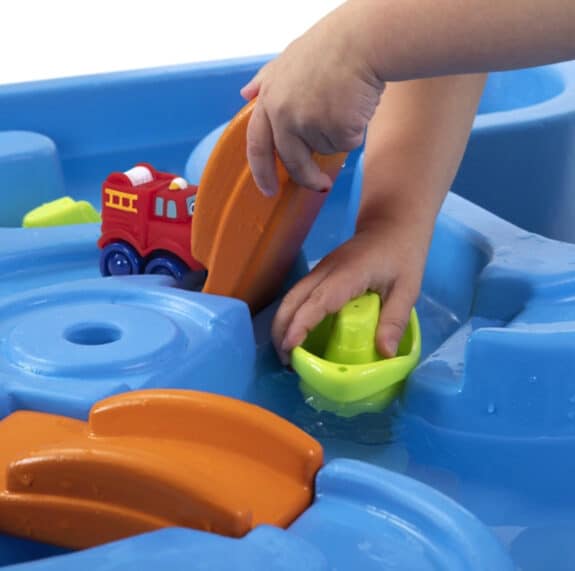 Perfect for a group of kids to play collaboratively, this play table allows kids to learn STEM concepts and building communication, cooperative, imaginative, and problem-solving skills through water play.
Includes a spot to add an umbrella.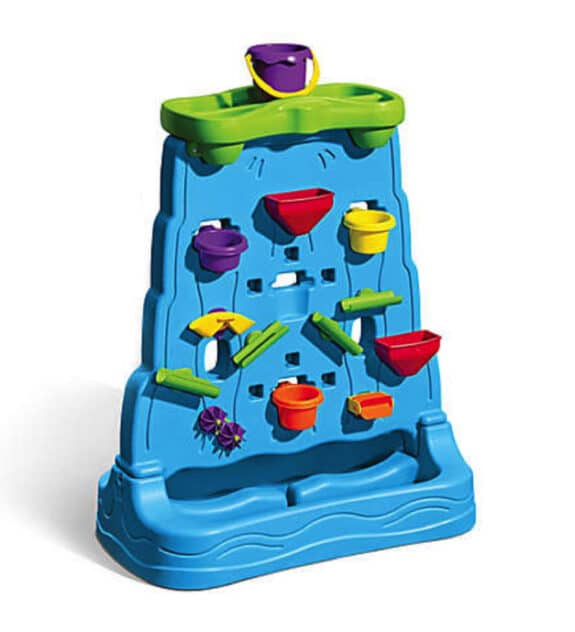 Two-sided play!
Step2's Waterfall Discovery Wall features a fun water maze for your child to engage in as they scoop water and watch it cascade through spinners, zigzags, and funnels.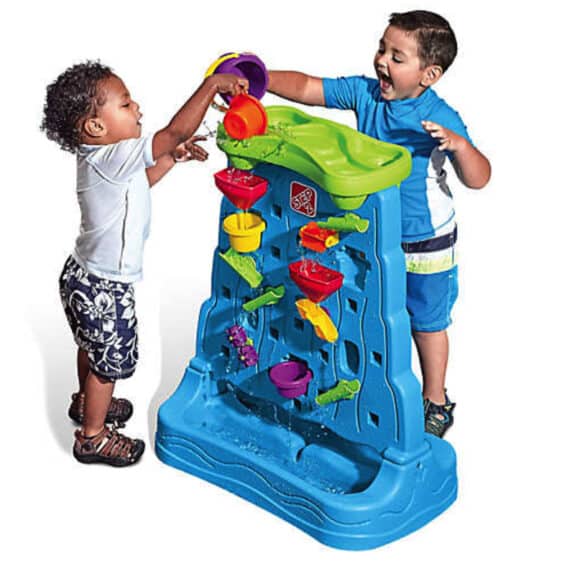 Reconfigure it with endless play combinations!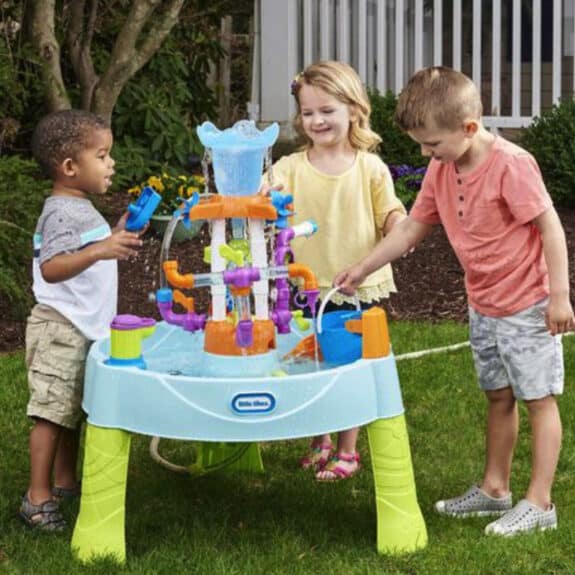 A lot of play packed into one table!
The Little Tikes® Flowin' Fun Water Table™ features multiple play stations with 13 interchangeable pipes, fittings, and faucets. Kids can create their own waterworks, watch water cascade down it, and then mix things up.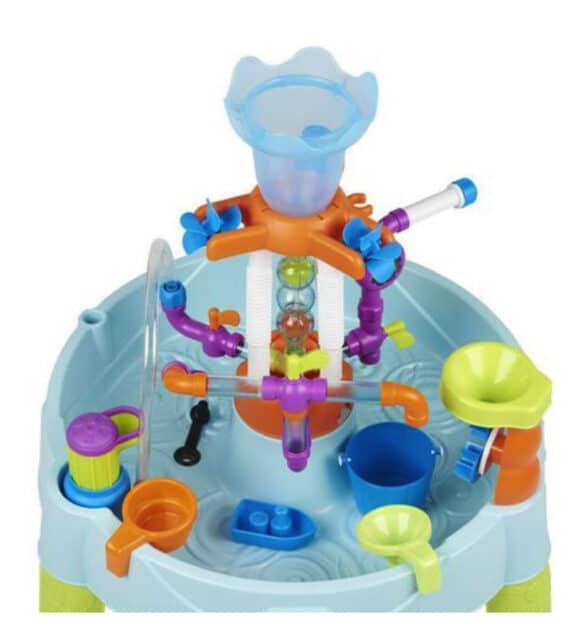 Connect the Little Tikes® Flowin' Fun Water Table™ to your garden hose, or pour water into the central tower, to make a real splash.
Includes 13 interchangeable pipes, fittings, faucets, a scoop, bucket and boat.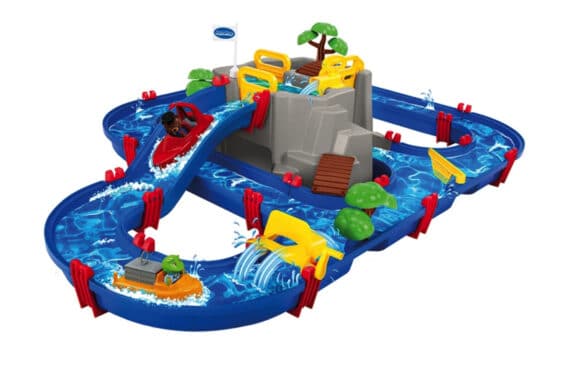 We LOVE Aquaplay water playsets! There is a ton of play value built into their sets and they accommodate a lot of kids.
The Mountain Lake set features a large canal system that will keep your children occupied for hours. Designed with the big mountain with a lake, it also contains a speedboat, a container boat with a container, and two animal figures; Nils the Frog and Bo the Bear.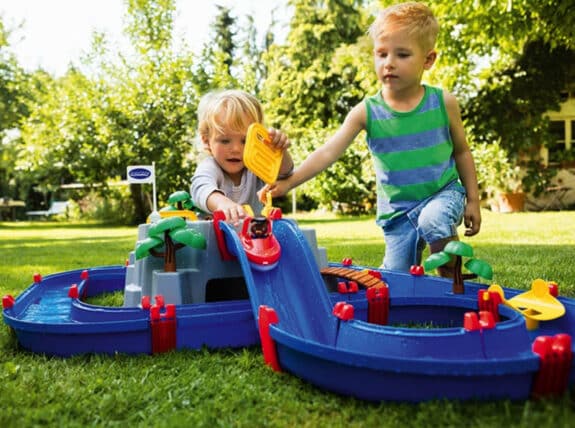 Together with the figures, kids can explore the mountain's mysterious cave, climb the steep cliffs, take the speedboat down the hilarious waterfall or search for treasures in the canals. Set the water into motion by paddling the water wheel and pass through the enormous lock system. You regulate the water level by using the pump and opening the lock gates. This is a creative and playful way of educating how water moves, lifts, and climbs!
Step 2 Archway Rain Showers Splash Pond Water Table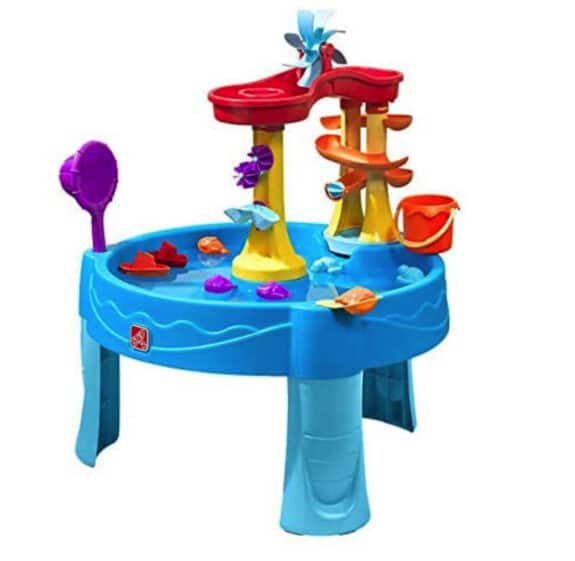 Two-tier waterfall play!
Kids will have buckets of fun scooping the water over the top tray and watching the water maze come to life as the water flows down the ramps, spinners, and teeter-totter. Waterfall cause and effect play keep toddlers and preschoolers engaged, and the side flipper, boat toys, and sea critter figures encourage sharing – a great way to splash the day away.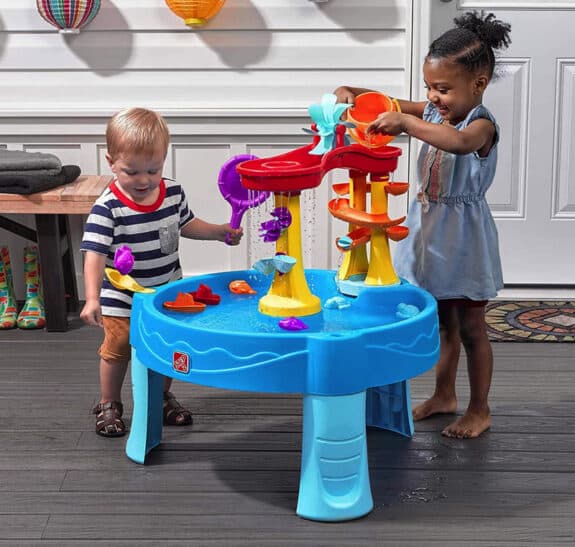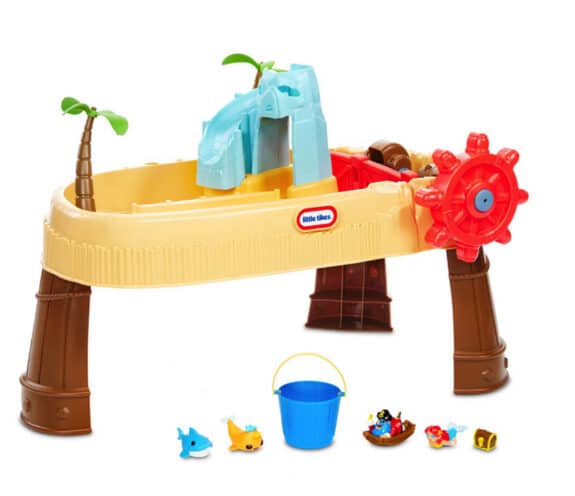 The Little Tikes Island Wavemaker Water Table lets kids create the waves inside their water table with the easy-to-use wavemaker wheel. With five unique play stations, the Island Wavemaker has hours of fun built right into it. When kids create their own waves that send the characters sailing around the central skull island and the skull island waterfall.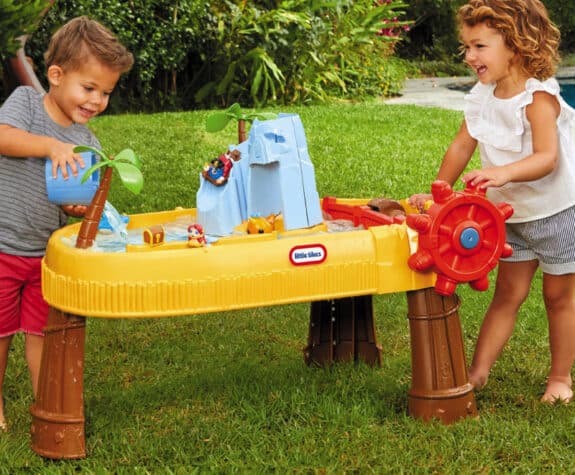 The included treasure chest can be buried in a variety of locations around the Island Wavemaker, so kids can imagine they are a pirate on the high seas burying their treasure and sailing for adventure.