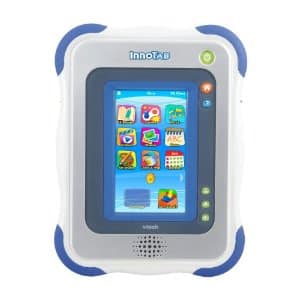 Well known for their innovative kid's tech products, VTECH has done it again with the introduction of their innotab. This multi-functional tablet is great for kids 4-9. While putting it through it's paces over the last couple weeks I have been impressed by the amount activities that VTECH has included right out of the box .
Before you get started I do, however, highly suggest that you purchase an SD Card for this unit. In order to take full advantage of the device, you will need this to be able to store programs and add media to the tablet. We originally used a 2G card that was not being used but quickly realized that something bigger like an 8 or 16G would be better so that your child could have more choice.
Featuring a 5" x 2-1/2" color touch screen LCD,the Innotab is easy to hold, has contoured sides and rubberized corners to protect it in the event of a fall. On the outside of the unit, there is a game slot, usb connection port, headphone jack, power adapter, a stylus and a screen lock. To get started VTECH has designed all of keys to be easily recognizable – even for toddlers. Along the side of the screen they have placed the on switch, home key, help key, volume and screen brightness keys within easy reach for small hands.
Once on, the main screen of the Innotab has many icons including Ereader, Games, Music, Pictures, Videos, Notes Art Studio, Color & Pop, Calendar, Cartridge and Downloads.
When you load the E-reader you will see what looks like a bookshelf. Pre-loaded onto the InnoTab is 'What's That Noise' a very cute story about a dog who moved from the country to the city.  For the Innotab, VTECH has updated the story and made it more animated.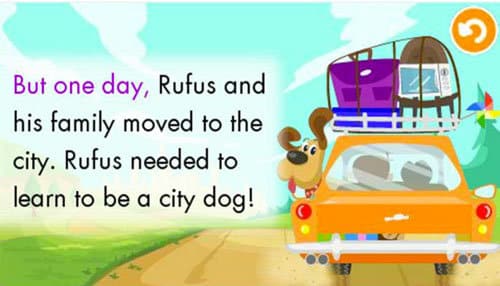 Color & Pop – Here your kids can color a picture to be saved and printed off later. They have their choice of 8 scenes that become a little animated when you tell the tab you are done and move it around a bit.
Games – The Innotab comes pre-loaded with 2 games: Pinball Letters and Ice Escape. Both offer 2 levels – easy & difficult. More games can be purchased from the VTECH store.
Calendar allows kids to keep track of important dates and even gives them some space to add notes just like a diary. They can also add icons to special dates to remind them of holidays or birthdays.
Pictures – The Innotab comes pre-loaded with 6 images; 3 kids playing, a fish, a Macaw and a kitten. While the device does not have a camera, you can add your own personal photos to the SD Card.
Friends – Here you kids can keep track of all of their friends information. Important facts like birthday, e-mail, home address and phone number are listed. You can also chose an image for each friend from your library.
Music – the Innotab comes pre-loaded with one song. To add more you must load them onto your SD card.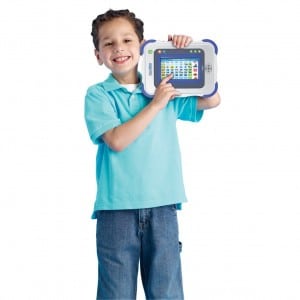 The tab comes with a Game Cartridge – Mickey's Clubhouse. It has 5 games, each with 2 levels of difficulty and an animated book about hide and seek.  The book works much like the e-reader and reads the story while highlighting the words.  It will also offer your child a definition if the world is highlighted.  The games all feature different Mickey Mouse characters and are all designed to teach skills such as numbers, math, shapes and sorting.
I really like the Innotab. For just $90 + $15 for the SD card it is a far cry from the $500 price tag of an iPad and essentially does many of the functions if loaded properly.
If you have already purchased TV episodes from iTunes you can drag them to your desktop, convert them to AVI files and them load them onto the SD card to be played on the Innotab.
The one thing I wish this tab would do is turn off if my son sets it down and walks away. Instead of shutting down after 60 seconds of no activity it just repeats the directions on that screen over and over again until I track it down and manually press the off button. This drives me crazy.
That aside, there are many features on the Innotab that make the kids happy.  The customization factor is huge as is the value for your money!
This tab could definitely be a contender as one of the top toys for kids if VTECH stays on top of the technology and allows parents to do more with the tab.  A couple suggestions I have read online have been updating color pages and allowing parents to remove the pre-loaded images on the unit.  I agree with both of these and hope that VTECH listens to parents when planning the evolution of this device.
* Rechargeable batteries are recommended as the unit does go through them quicker – especially if your kids are watching video.
---
[ad]