As parent toys that are educational and will help my son to develop are a must.  That being said they need to be fun and affordable as well.
My son and I recently discovered B. Toys Whacky Ball and I was thrilled with how well the rolling balls hold is attention while also developing his motor skills with each whack.
To be honest, when I first opened the Whacky Ball package my first thought was that "he's still too young for this – he won't get it."  Boy was I WRONG!  Within five minutes my son was using the hammer to whack the brightly-colored balls through the ramps and shoots – all on his own!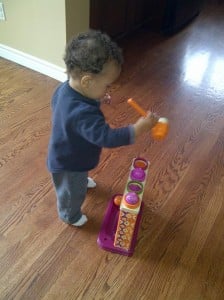 I was amazed!  Maybe the mirrored background adds to the attraction for him or perhaps it's the squeaking hammer.  I love that the balls are the perfect size for little hands to pick up (but not small enough to choke on) and place into the slots, meaning I don't have to run around picking them up and putting them in for him.
I also love how the Whacky Ball is teaching him cause and effect or action and reaction.  It's nice to know that while he's playing he's also learning (but don't tell him that).
If I were to change one thing about this toy, I'd like to see the tower be attached to the base so that I can easily grab it in one had to put away while having a squirming toddler in my other hand.
The Whacky Ball comes in recyclable packaging, was Dr. Toy's "Best Pick" and is highly rated by Able Play™ for children with special needs making it a hit with us!
*Thank you to B. toys for sending us the Whacky Ball for review*
Related Articles: