Kourtney Kardashian and partner Scott Disick spent some time with friends on Sunday(April 29) afternoon having lunch at Buddakan in the Meatpacking District, NYC.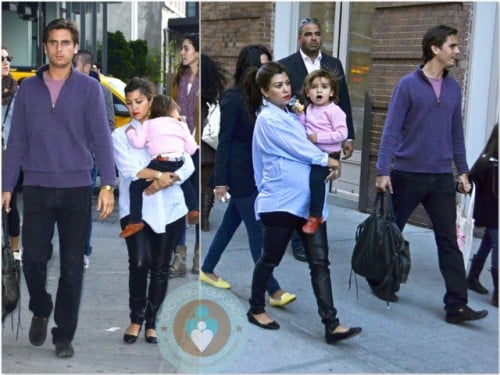 Even though the restaurant is just a couple blocks away from their hotel, I am not sure why Kourtney is carrying Mason. It is, however, the new way that pregnant celebrities cover their growing bellies.
In town for the launch of Scott's new restaurant RYU, Kourtney has also been promoting her new Kardashian home collection.
During an appearance on The Rachael Ray Show the reality star shared that Mason has become "obsessed" with being a big brother and can't wait to meet his little sister.
"He's really excited. Yesterday, he was talking about how he's excited to hold her and he's been like, recently obsessed with babies."
Now in her third trimester, she also revealed that her cravings are different with this pregnancy.
"I remember when I first got pregnant with Mason… I wanted fruit and frozen yogurt and all this [healthy] stuff, and this time it's like cheeseburgers, sour cream and onion chips and double-stuffed Oreos."
She quickly nixed the cookie when Mason started to snack on them as well.
"Mason started eating the Oreos [I bought for myself] and then I said, 'OK, we're not buying Oreos anymore!'"
Scott and Kourtney expect baby#2, a girl, in July.
---
{FAME/FLYNET}
---
[ad]