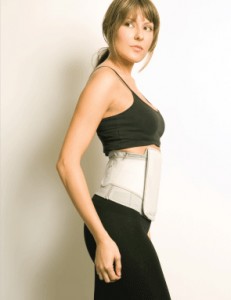 Having recently delivered my first child I had the same worries that many new moms have about weight loss.  How quickly will the baby weight come off?  When will I be able to fit into my old clothes again?  Will my body ever return to the shape it once was?
There are many products on the market from creams to undergarments promising to take off those unwanted extra baby pounds.  I recently had the opportunity to try out "The Cinch" by Anew to see how it compared.
The cinch is specially crafted to motivate new moms to get back to their healthy shapes with a single wrap.  Upon receiving The Cinch I was taken by how unique and super cute the packaging was; it comes in a little silk type garment bag on its own specially designed hanger.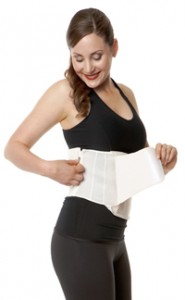 Figuring out how to use the Cinch was simple and very easy.  You just size it to your current waistline using the Velcro straps, and then do it up using the zipper on the side. The built-in measurement guide allows you to see your progress and the adjustable panels shrink with you as you slim down.
One of the features that I quite liked about it was the inner front pocket that allows you to put in a warm or cold pack (depending on preference and need).  The material is comfortable, isn't itchy and it can be worn day or night – although I did find it a little bulky to be worn under clothes discretely.
For approximately $80.00 USD, "The Cinch" provides postpartum support while allowing mom's to be motivated to lose weight by the results they are seeing.
*Thank you to Anew for sending us this for review*
---