There is no denying that pregnancy takes a toll on your body. Your organs have shifted, your hips have widened and you're carrying a 30lbs moving ball.
Regardless of the size of your baby or your frame most moms need extra support during their pregnancy.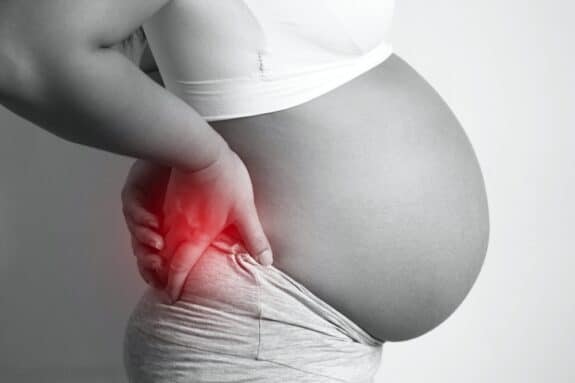 Quite a few brands have created belly support. They are designed to support your hips, ease lower back pains, pelvic floor pains, and round ligament pains. Having this support gives moms-to-be the relief they need to continue their daily routines and they get closer to delivery.
It's important to note that there is a difference between a belly band and a belly belt. Bands, while nice under your clothing don't really provide the needed support during pregnancy. Belts, however, are designed to reduce pregnancy discomfort by compressing your low back thus taking pressure off the rest of your body.
We have rounded up our favorites.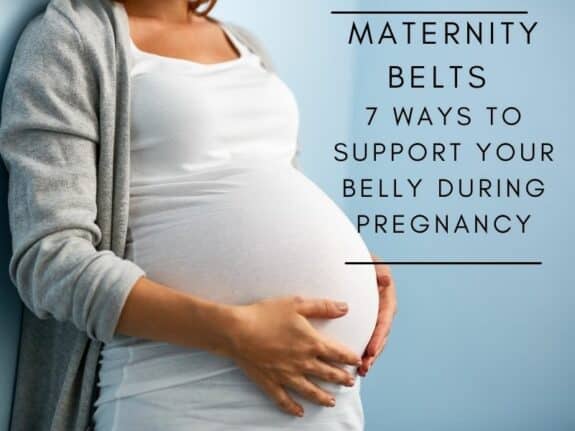 Here are our top 7 pregnancy support belts!
Belly Bandit
Belly Bandit's Upsie Belly® was designed to lift your belly, support your back, and stabilize your pelvic area. It was designed with an ultra-soft viscose from bamboo fabric and SecureStretch™ which molds to your body. It has 12″ of adjustability with its anti-dig closure and a spot in the back pocket for a Hot/cold therapy gel pack.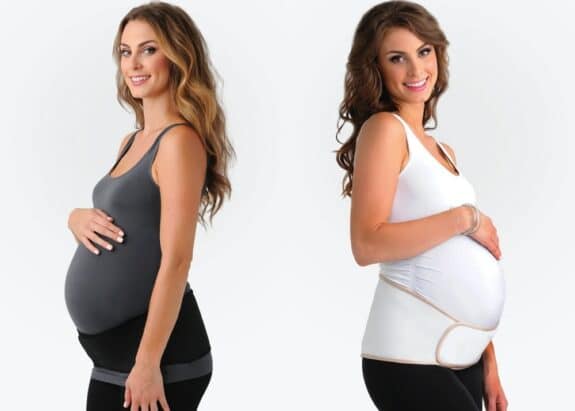 Upsie Belly® is available in two colours and 5 sizes.
KeaBabies
The KeaBabies Maternity Belly Band for Pregnancy is designed to help evenly distribute weight around your hip and pelvis, to provide optimum support for your pregnancy belly. It helps to support your abdominal muscles during pregnancy and postpartum.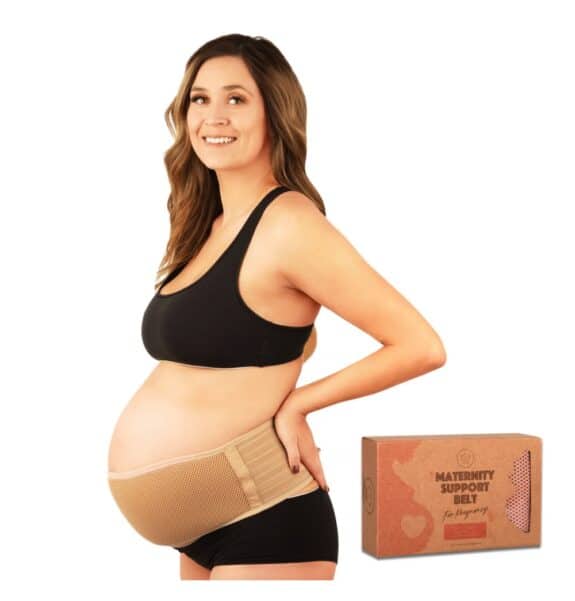 They use a soft, breathable, and high-quality mesh to give you the best comfort throughout the day.
It is easy to use and adjusted for your comfort, you may even forget that you're wearing it!
This Maternity Belly Band retails for $20 and it's available in 2 sizes – one size and XL.
NeoTech Care
The Neotech Care maternity belt helps support the weight of the pregnant belly and the lumbar regions of the back.
This pregnancy belt is meant to support the lower back by redistributing pressure more evenly on the surface area the back support covers. It has 4 elastic side panels adding support and compression while allowing your skin to breathe. It is recommended to wear this bump support belt over clothes and while walking or standing.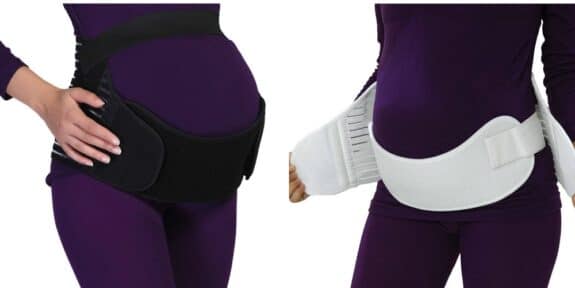 Moms-to-be will appreciate that it's fully adjustable to accommodate abdominal growth throughout pregnancy.
The Neotech Care maternity belt is $30 and it comes in 3 colours and 5 sizes
Gabrialla
This Gabrialla Maternity Belt comes in light, medium, and strong support to help keep you comfy and active during pregnancy. This fully adjustable belt provides abdominal and lower back support to reduce pressure and pain without using tummy straps that can strain your growing bump.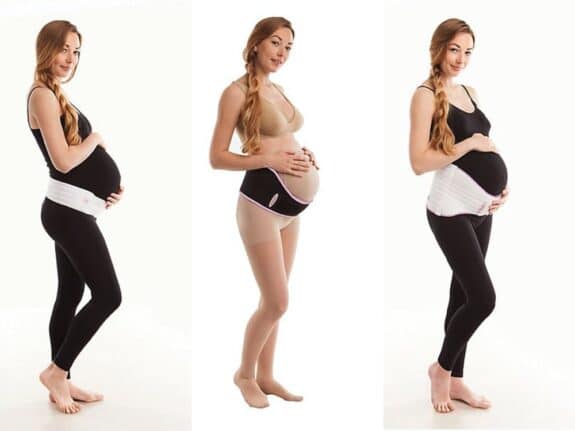 Moms-to-be will love that it's thin enough to be hidden under clothing.
The Gabrialla Maternity Belt retails between $30-$45 depending upon the strength you need.
BabyMoov
BabyMoov's Maternity sleep support Dream Belt provides pregnant women with the support they need at night. This ergonomic belt has a stretchy, central cotton panel that fits perfectly around your belly while the memory foam side panels bridge the gap between the bump and the mattress.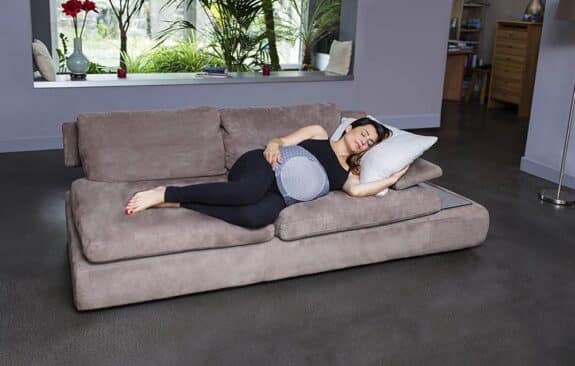 Moms-to-be can easily adjust the Dream Belt with the velcro fastening system depending on the stage of your pregnancy.
The BabyMoov Dream Belt is $35 CAD
Baby Belly
The Baby Belly Pelvic Support™ provides support exactly where you need it. For some, this is in the front (pubic symphysis and low belly) and for others, this is in the back (sacroiliac joints and low back). Where you need support can change as your pregnancy advances, in some months you will find you need help at the front and in others at the back of your pelvis.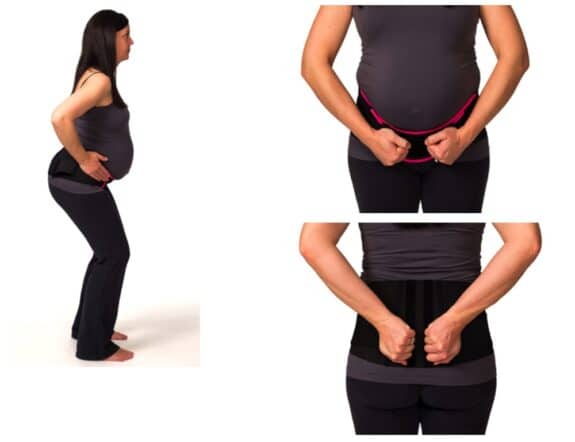 The Belly Belt is $185 CAD and it's offered in 3 sizes.
Cabea Baby Belly Belt
This hip pregnancy support belt is made of a lightweight, breathable, antimicrobial, and latex-free fabric that provides secure support. It relieves belly, hip, back, and hernia pain during exercise, work or play.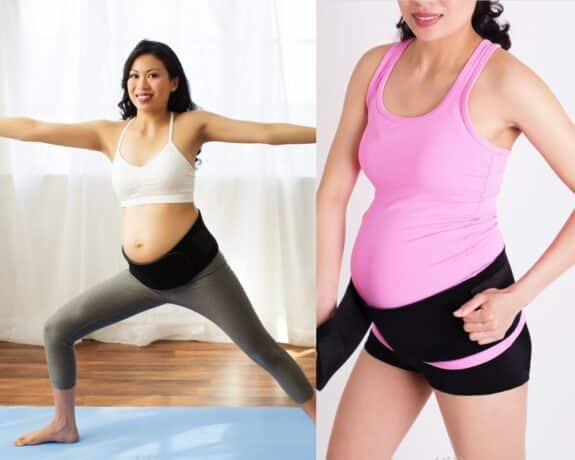 Being easy to use and adjustable, it is perfect for an active pregnancy! Plus, it's physical therapist recommended! This unique pregnancy exercise belt can be worn on the lower back or hip area for stabilization and support.