Maria Pridmore and her partner, John Foran, had always wanted children. They tried for 13 years to have a baby, but unlike most couples that struggle to have a baby, the problem wasn't getting pregnant – it was staying pregnant.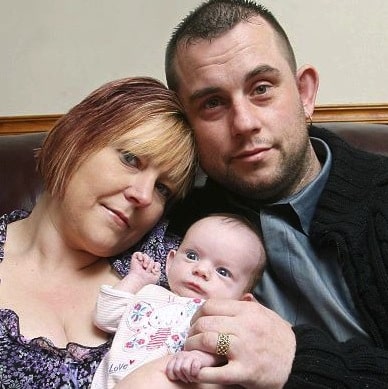 Over the course of 13 years, Maria had been pregnant 16 times. Fourteen of her pregnancies had resulted in miscarriages. One of her children was delivered stillborn. Her only live birth, a little boy named Kia, died just two weeks after he was born.
"It was just horrible. To keep going through it, again and again, was just agony," said Maria. "We were both determined to keep trying, but it put a huge strain on our relationship."
The miscarriages also put a huge strain on Maria's health. By the time she had turned 30, she had suffered from two strokes. So, despite their yearning for a family, the couple decided to stop trying. They were ready to give up their dream of ever having a family.
But shortly after they had made their decision, Maria found out that she was pregnant again.
"It was a bit of a shock," she said. "I didn't dare hope it would have a happy ending."
But doctors were ready to meet Maria's previous complications head-on. They placed Maria on complete bed rest. She was only allowed to be out and about when she traveled for her weekly trips to the hospital for ultrasound scans.
Doctors also discovered that Maria had preeclampsia and strep B – both of which can result in miscarriage, stillbirth or premature labor. Added to those conditions were Maria's health problems, but doctors were ready for this as well.
Maria was placed on an aspirin a day to help her platelets (responsible for blood clotting, which would be needed during delivery) stick together better. She also received twice-daily injections of a blood-thinning drug, Clexane, which would help prevent blood clots and strokes.
Then, just days before their baby was due, Maria started having complications. Doctors decided to deliver the baby by caesarean on January 16th. It was that day that Maria and John welcomed Mia Shannon, a healthy, 4 lb., 16 oz. baby girl into the world.
As expected, both parents are ecstatic about finally having the chance to enjoy parenthood.
"Being a mother is better than I ever imagined it could be," Maria said. "After all the miscarriages and the two we lost, I didn't think it would ever happen. It goes to show, you can never give up hope."
"I really don't know how to put into words what I felt," John added. "It doesn't compensate for what has happened in the past, but it makes it a bit easier."
Congratulations to the happy family and we wish them the very best!
Related Articles:
---