Dressed in a pink dress, hand wrapped around her mother's finger, Meghan Hope Pacyna drifts in and out of sleep. She looks like a typical newborn leaving the family care unit of Advocate Good Samaritan Hospital in Downers Grove. But 7 pound Meghan isn't a newborn; now five months old, she's making her very first journey home – a journey that no one ever thought she'd make.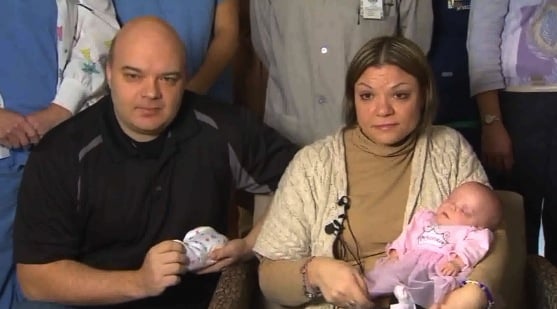 "When she was born, none of us were sure how long she was going to live because the survival (rate for babies born at 23 weeks) is about 10 percent," Meghan's neonatologist, Dr. Vibhaben Thaker told Daily Herald. "We all thought she had a few minutes, to a few hours, to a few days. And then she was a strong baby and she just made it. That was a miracle that she made it."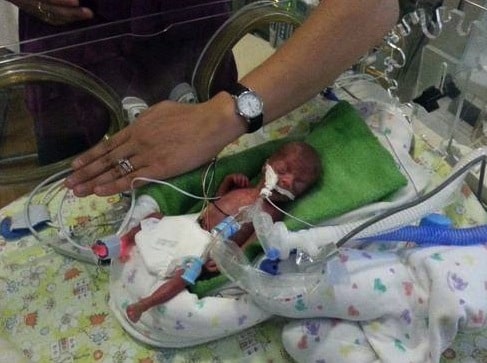 Of course, Meghan's journey wasn't quite as simple as Dr. Thaker makes it sound. In fact, the miracle that is little Meghan began the day she was conceived because her parents, Rene and Mark Pacyna, had tried and failed several times to have a baby. Interestingly enough, they'd decided that their attempt with Meghan would be their last try.
The struggles would continue when Rene's water broke during her baby shower on July 9th. Meghan was born 17 weeks premature. She weighed a mere 15 ounces and measured only 8 inches long. Her father could easily slip his wedding ring over her arm.
Over the next few months, Rene drove to the hospital daily. She sat with her daughter, hours on end, watching as she fought for her life. There were several close calls, including an almost fatal blood clot in Meghan's abdomen, an eye disorder, and weak lungs.
All the while, the family was being prayed for by many, many people. Rene says she truly believes that those prayers play a part in their daughter's recovery.
"She's been on prayer lists at many, many churches," Rene said. "Everyone has been praying for this baby and praying for us as a family to just get through this."

"They were very realistic, but they were also optimistic," Dr. Thaker said. "They knew things could go wrong, but they also had so much bravery and so much family support and so much faith in everything, in God. I said, 'If a miracle doesn't happen to this family, what other family will it happen to?'"
Meghan kept fighting, and Rene kept showing up, people kept praying, and little by little, the miracle became what we see today. That miracle wouldn't be possible, had it not been for the hospital staff at Good Samaritan Hospital in Downers Grove, Rene said.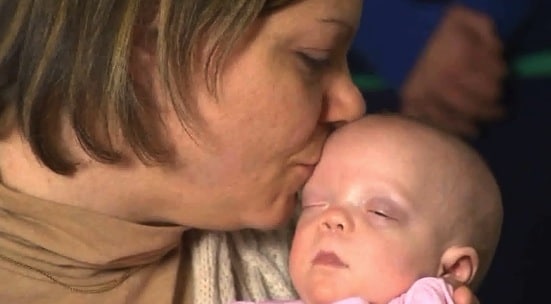 "God speaks though [the staff at this hospital]," Rene told Daily Herald. "When I just, emotionally, felt like I couldn't stand one more second, they would somehow pick me up and say, 'I'll see you tomorrow.'"
Of course, waiting, day by day, to see if their daughter would pull through definitely put them in the mindset of living one day at a time – not worrying about or even making plans for tomorrow, outside of visiting their daughter. In a way, that is a good thing, but at the same time, the family can now feel a little more secure about making plans – like celebrating a quiet Christmas at home with their daughter.
"We're going to get a big portion of our lives back," Meghan's father, Mark, told Daily Herald. "It's going to continue to be a big challenge, so I don't want to say the burden's been lifted, but it's fantastic being at this point."
Related Articles:
---
[ad]