In a remarkable turn of events, a 28-year-old homemaker from Assam India completed a full-term pregnancy despite a high-risk condition. But what makes this story incredible is that the baby grew outside the mother's uterus in the abdominal cavity.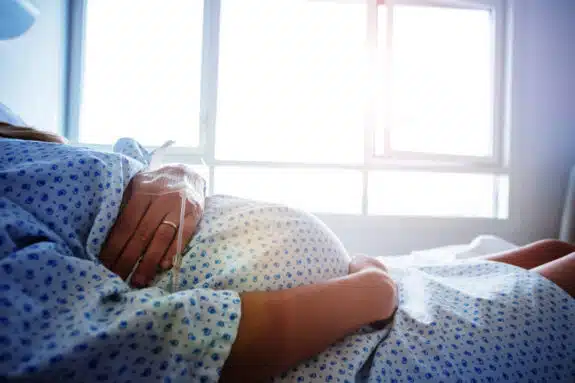 This rare case of abdominal pregnancy, occurring in only one in 20,000 pregnancies, presented a significant threat to both mother and child. Without uterine protection, the rupture of the thin sac surrounding the baby was a constant danger. However, the team of doctors at Vanivilas Hospital successfully performed a laparotomy, delivering the baby without cutting the uterus.
The baby girl, who remains unnamed, weighed 2.7kg at birth.
The new dad, Mangal, reflected on the surreal moment he held his daughter for the first time. Uncertain if she would survive, he waited until after her birth to purchase a crib.
An abdominal pregnancy, where the baby develops outside the uterus, posed significant risks for the new mom Rangila. The odds of the baby's survival are only 10%, with a 50% chance of abnormalities.
Although Rangila initially sought medical attention for abdominal pain during her second month of pregnancy, the unusual abdominal pregnancy was not detected until much later. Fortunately, she followed through with regular follow-ups and consultations at Vanivilas Hospital until the very end.
Abdominal pregnancies are usually detected during the fourth or fifth month and can be life-threatening. In Rangila's case, the team of doctors at Vanivilas Hospital decided to operate when it became clear that the baby was not growing inside the uterus. The baby was delivered from a sac-like structure that fully occupied Rangila's abdomen.
"As we scanned her, we realized the baby was unlikely to be growing inside the uterus. She was just two days short of her expected date and there was no point in prolonging the pregnancy. So we decided to operate on her. The whole of the abdomen was occupied by a sac-like structure within which the baby was found. We opened the sac and delivered the baby. It was fully grown,"  said Dr Srinivas K Jois, professor of OBG at Vanivilas Hospital, Bangalore Medical College and Research Institute.
The medical team at Vanivilas Hospital, supervised by Dr. Savitha C, the medical superintendent, handled the C-section with coordination between the anesthesiology and radiology teams. Emergency protocols were in place to manage potential complications. Fortunately, Rangila did not experience any complications during the procedure.
Related Childbirth News: