The average baby arrives weighing about 7lbs. At 12-pounds, 4.5-ounces Theo Brown doubled that and surprised both his parents and the staff the birthing center where he was born!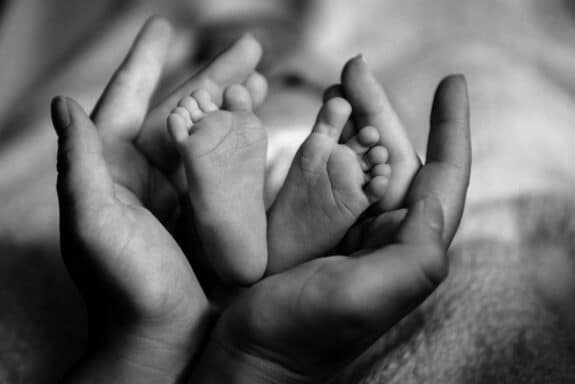 "The midwife canceled her dentist appointment to make sure she was there for the birth; they hadn't seen anything like it," Theo's father, Gareth, told Metro News. "They said it was the biggest baby out of the last 4,500."
Theo doesn't take the title of the biggest baby in the Britain, however. That title is thought to belong to baby George from Gloucester. Born February of 2013, he came in at a whopping 15lbs 7oz. Still, baby Theo's size is rather impressive.
"It was strange, most of the babies there were tiny, and Theo was huge," Gareth said. "We were all making guesses at what weight the baby would come in, but nobody was expecting that."
Given the size of their previous children (born at 9lbs 3oz and 9lbs 8oz, respectively), they certainly weren't expecting a baby of quite that size, which is why they had to go out and buy brand new clothes; he wouldn't have fit in anything that they bought him!
Too-small clothing wasn't the family's only crazy surprise though. Mom Paula wasn't exactly expecting to spend six hours birthing such a large infant.
"It was not pleasant, and it was hard work and tiring," she told Metro News, but she added (just as any mom would) that, "The end result of it all is just fantastic."
Mom isn't the only one smitten with her rather large bundle of joy though. His older sister, Rose, now five, has already bonded with baby Theo. And Theo's 14-year-old step-sister, born at a tiny 6lb 11oz, cut the cord. And now that young Theo is doing better (he had to stay in the hospital for a while because of jaundice), the entire family gets to bond with him.
"Everybody is doing fine now," Gareth said. "Theo is home and well."
"He's absolutely brilliant," Paula added.
Congratulations to this amazing family! We hope they enjoy their little-big bundle of joy!
---