Gemma Osborn is more than just a mom and a breast cancer survivor – she is a walking miracle! But leave it to this brave mom to give the credit to her two young children, little Gracie and Finley, whose births literally straddled her life-saving chemotherapy treatments. Of course, that makes both beautiful babes walking miracles as well.
At 27-years-old, the admin worker and beauty therapist had a pretty typical life. She was expecting her first child, a little girl. But that all changed when, at 27 weeks pregnant, she discovered a lump in her breast while rubbing oil on to prevent stretch marks. A little concerned, she brought the issue up to her midwife. She was referred to a GP who, initially, believed that the lump was likely a blocked milk duct. But after three weeks, when Gemma went back for a check-up, the lump had grown significantly in size. She was immediately sent for an ultrasound and a biopsy.
"When we went to get the results, we were not really concerned at all – no one thought it was anything," Gemma told Daily Mail UK. "We just thought it was a blocked milk duct."
But everything would change the day that Gemma went back to the GP for her test results. She had breast cancer.
"When I was told, it was like a massive blow," she said. "I just said, 'I don't want to die' and the doctor said he'd get me fixed. It was horrendous."
Gemma and her partner, Peter, had a meeting with their midwives and oncologists. Everyone agreed that the best course of action would be to deliver Gracie at 32 weeks and then start chemotherapy as soon as Gemma had recovered from the C-section. Though it was only two weeks of waiting, the time passed painstakingly slow for the soon-to-be mom.
"I felt trapped in my body and I thought I could feel the lump growing," she said. "All the excitement of the baby was taken away and I felt robbed of the labor and birth."
The delivery did go well, however, and Gracie, who was born at just 4lbs, 1oz, would spend just one month in the special care unit. Meanwhile, Gemma underwent chemotherapy treatments, which started just nine days after her delivery. It would continue for the next five months. A double mastectomy at Hinchingbrooke Hospital in Huntingdon would take place immediately after. Then came the radiation treatment at Addenbrooke's Hospital in Cambridge.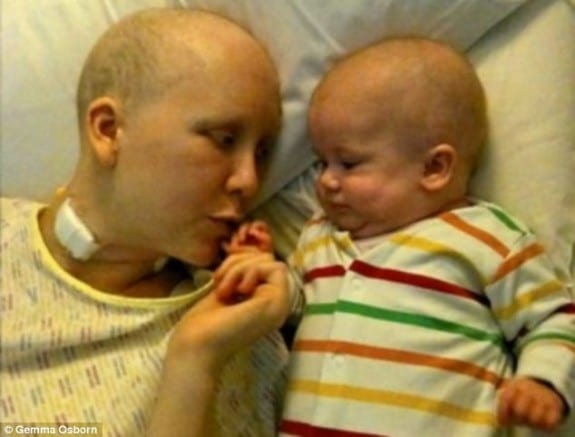 "The care that I received was just amazing," Gemma said. "The NHS was amazing – I couldn't fault them. All of my treatment has been spot on."
Gemma had stopped having periods during her chemo treatments. She believes that was due to a drug she'd been placed on, which reportedly put her ovaries to sleep to keep them from being damaged. But then, in the summer of 2011, she became concerned that she might have ovarian cancer. She said she discovered she'd displayed some symptoms, and she already knew that breast and ovarian cancers could often occur together or within a short time of each other. She booked herself an emergency appointment and discussed it with her GP.
When she told her GP that she'd been suffering from bloating and frequent urination, the doctor administered a pregnancy test. As it turned out, Gemma didn't have ovarian cancer; she was 17 weeks pregnant! At first, it was difficult news to grapple with.
"I was so relieved that it was not cancer but I was terrified that I wouldn't be able to keep the baby – I had been told not to get pregnant until two years after I finished my cancer treatment so my body had time to recover," Gemma said.
But after discussing the pregnancy with her oncologist, they realized that she'd likely conceived about six months after her chemo treatments had ended. That meant that the baby hadn't been exposed to any dangerous drugs, and, if her body tolerated the pregnancy, she could keep the baby.
Little Finley would be born at 36 weeks because Gemma would end up with pre-eclampsia. Weighing just 4lbs, 10oz, he was small, and he did suffer from bronchitis at just five weeks old. But otherwise, he seemed like any other happy, healthy baby.
"He is our miracle baby. We feel so blessed. I think Gracie saved my life as I wouldn't have found the lump if I hadn't been pregnant and Finley is our miracle," Gemma said. "I don't know how he hid away for so long – he is a little fighter, a total soldier. He just battles through everything."
Now, having been in remission for three years, Gemma and her boyfriend, Peter, feel like they can move forward with their lives. They are now planning their wedding, which will take place June of 2014. They plan on having Gracie as the flower girl and Finley as a page boy.
"We can't wait. It should be just perfect," Gemma said.
Related Articles:
---
[ad]