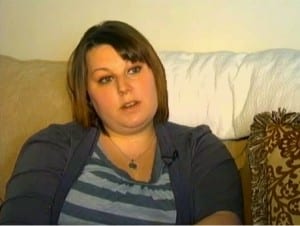 What started out as a normal afternoon for Valerie Simpson, decorating her first child's room, soon turned into a horrible nightmare; a nightmare that she hopes will help someone else someday, which is why she is sharing the very intimate and painful story of the loss of her daughter Sophia.
Valerie was 23 weeks pregnant, and up until that day, she hadn't had any complications, but around 1:00 in the afternoon, Valerie started experiencing severe abdominal pain. Concerned, she and her boyfriend, Jason Stansberry, went to Erlanger hospital.
Valerie was given an ultrasound, a vaginal exam to check for cervix changes, two doses of morphine to help with the pain and was sent home, diagnosed with a bacterial infection. Before signing the discharge papers, Valerie tried to tell the nurse that something was wrong.
"I said 'These are getting more intense, they're getting more intense,'" Valerie told Channel 3 News. "[But] the nurse looked at me and said you're just perceiving them that way."

"We signed the papers, we listened to them when they told us everything was going to be okay and she was alright," Jason added.
Unfortunately, Valerie was right. Just 12 hours later, her water broke. Valerie delivered Sophia in the bathroom, alone.
"I felt this pressure again and I push, and there she was," Valerie stated.
After delivering Sophia, Valerie called 911.
"She's crying, she's crying," Valerie told the dispatcher.

"Just take your hand and wipe her mouth out and try to wipe her nose out," the dispatcher told Valerie.

"Her nose is too tiny," Valerie replied.
Paramedics soon arrived and transported both Valerie and Sophia, who weighed just over a pound and was only 12 inches long, to Erlanger, the hospital that had discharged her just hours before.
"All I could think about was please, please let her hang on enough for [Jason] to get here," Valerie stated. "Please let her hold on until he gets here."
Sophia did hold on long enough to be held by her father, dying in his arms, just two hours after she was born.
Valerie says that the doctor who discharged her came and visited her soon after they arrived.
"He goes, 'You know, I heard you were here, and I am so sorry that I sent you home," Valerie said.
The hospital does not deny or confirm the conversation, but they did share with Channel 3 that, given Valerie's symptoms at the time of her discharge, there was no way to predict that she was in labor.
"Based on my initial review, I do believe this young woman received appropriate medical care," stated Dr. Cyrus Huffman, the Chief Medical Officer for Erlanger.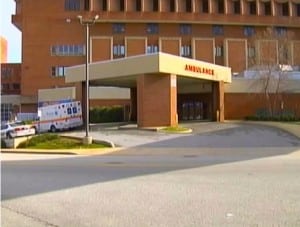 And Dr. Huffman isn't the only one saying that there really was no way of knowing about the nightmare that would unfold, just hours after leaving the hospital. According to other experts, which are not connected to the story in any way, it would have been impossible to predict Valerie's impending labor.
Jennifer Homa, the Erlanger Public Relations Representative also released a statement, saying,
"Any time a patient of family member disagrees with the decision to discharge, he/she should express this concern to the patient's nurse who would see to it the responsible physician address the concerns and work towards a solution."
Unfortunately, it sounded as though Valerie and Jason did follow the recommendation, but their concerns were discounted. If they had pressed a little more, could things have been different?
Valerie and Jason understand that their daughter's odds of survival were only about 10%, even if she had been delivered at the hospital. Still, they wonder if things really had to happen the way they did.
For Valerie, it might have made coming home a little easier, had she delivered at the hospital.
"Something as stupid as, I was standing there, and I would look at the toilet, and I was scared to go to the bathroom," Valerie shared about her difficult homecoming. "And I know this sounds so crazy, but I didn't know what would happen."
For Jason, the big question is whether or not Sophia could have survived, had she been delivered in the hospital instead of at home.
"We would have been able to see her for a longer period of time," Jason stated. "And I think she would have had a better chance."
Related Articles:
---
[ad]