A Las Vegas family was almost doubled last Friday when Evonne Derrico gave birth to three girls and two boys.
From being a family of six, Deon and Evonne Derrico have now become a family of eleven when they became parents to quintuplets born at the Banner Desert Medical Center in Mesa, Ariz., on September 9th.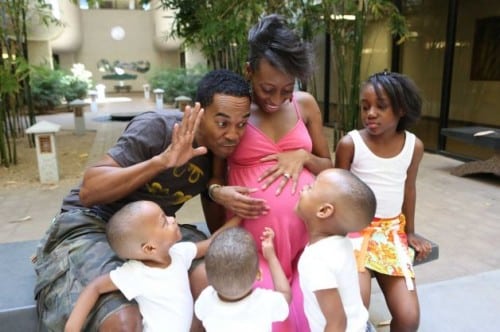 With chances in the range of 1 in 55,000,000 of conceive quintuplets naturally, the babies' arrival is more than incredible.
Deon said from the hospital, "We are all doing great. Excited is an understatement."
Originally from Las Vegas, the family moved temporarily to Arizona 10 weeks ago to prepare for the babies' arrival.  At 32 weeks, 2 days of pregnancy, the quintuplets were delivered by Dr. John Elliott, a perinatologist and multiple-birth specialist beginning at 11:17 a.m. Friday.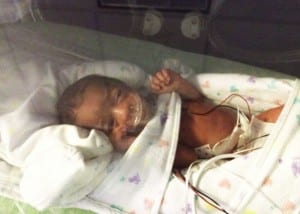 Deniko, a boy, was born at 11:17 a.m., followed by Dariz, a boy, born at 11:18 a.m. then Deonee, a girl, born at 11:19 a.m., Daician, a girl, born at 11:20 a.m. and Daiten, a girl, born at 11:21 a.m.
Keeping with the family tradition they have all names beginning with the letter 'D'.
Ranging in weight from 1 pound, 14 ounces to 2 pounds, 15 ounces the babies are being cared for in the neonatal intensive care unit at Cardon Children's Medical Center while their mother remains in Banner Desert Medical Center.
The hospital has already helped deliver four out- of- state quintuplet babies before the Derrico quintuplets.
Hospital officials added that because Evonne did not know the gender of her babies, the doctors announced the sexes during the delivery.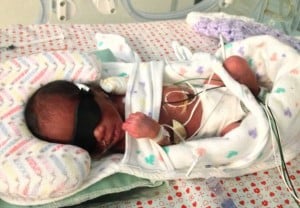 Deon works as a field property manager and has now already started planning a life with 11 family members.
 "We have a vehicle for the family right now, but we don't have a vehicle for the five others," he said. "There's just so much to figure out."
But he is overjoyed at the prospect of being father to five newborns at once.
"This has humbled me," he said. "I feel very honored that God chose us."
He adds that having multiple babies, runs in the family. They already have one year old twin boys besides 7 year old daughter and a three year old son.
When Evonne conceived, the doctors initially informed the couple that they were having quadruplets. It was only at a later check up that they found it was five babies and not four that the family was about to welcome.
The babies will remain at the hospital for a month during which time their father will travel back and forth between Las Vegas and Arizona to prepare their five bedroom home for the new additions.
He describes the birth part alone as, "so much rush" but knows that this is just the beginning of a busy and hectic life for all members of the family. And they need all the help they can get from friends and relatives.
The father's search for a larger vehicle has already begun.
---
---
[ad]