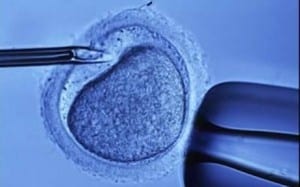 Cambridge, MA-based OvaScience recently received a letter from the Food and Drug Administration (FDA) questioning the status of the company's most advanced drug, Augment, a human cellular tissue-based product (HCT/P). Designed to help boost the success rate of in vitro fertilization, Augment injects mitochondria, the cell's energy source, from egg precursor cells into older eggs outside the body, theoretically rejuvenating them and increasing the chances of pregnancy. It is the company's most advanced product.
Generally, when a product is designated as an HCT/P, it isn't subject to the same regulatory scrutiny as new chemical products (which take years to gain FDA approval). But for whatever reason, OvaScience has garnered the attention of the FDA and it must deal with the letter, and as a result, they have stopped enrolling patients in the U.S. Augment trial testing. OvaScience says that, until the issue can be resolved, they will be focusing instead on their trials outside of the U.S., which will begin next year.
According to OvaScience CEO Michelle Dipp, the company is surprised about the letter. However, she also said that, while the company has yet to meet with the FDA to review Augment in detail, they had already begun "preparing for this scenario." They have already begun the pre-IND studies that they believe the FDA will require, and they are prepared to carry out discussions regarding the company's clinical plans, future timelines and budgets to move forward with U.S. trials.
"This was not a final decision, nor did the FDA place our study on clinical hold,"Dipp said in a conference call with analysts on Wednesday. "We believe the FDA letter is largely based on preliminary information, and are very much looking forward to discussions with the FDA to provide details about Augment [and our] manufacturing procedures."
Unfortunately, this may put a kink in OvaScience's plan to complete U.S. trials by the end of 2014. What's more, they have not given any indication as to how long the FDA questioning may delay the completion of U.S. Augment trials.
Related Articles:
---
[ad]