You would think that a mom who has given birth three times would know how it feels to be pregnancy – or when she's in labor. But it must be true that every pregnancy is different because a West Virginia woman welcomed her fourth child last week without knowing that she was expecting!
Mandie Smith told WSAZ.com that she woke at 2am on Thursday morning with some 'pretty significant pain'.  At first she thought she was experiencing a serious medical issue, but then realized she was having a baby.
Mandie said her cycles are irregular, but she didn't gain any additional weight so the baby's arrival was a shock.
Less than 6 hours after the pain started she was holding the family's new addition – Harrison Smith.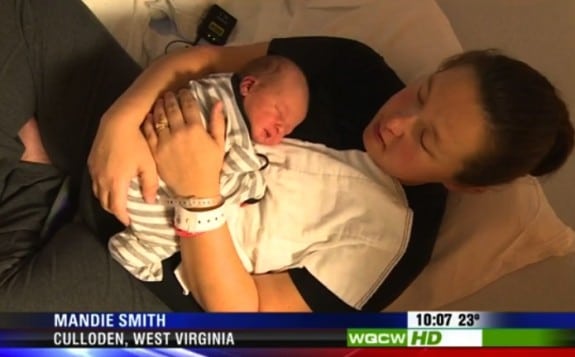 The baby's father was away on a business trip, when he received the exciting news via Facetime. "I'm still kind of in shock," J.R. Smith revealed. "It was just a split second and tears of joy."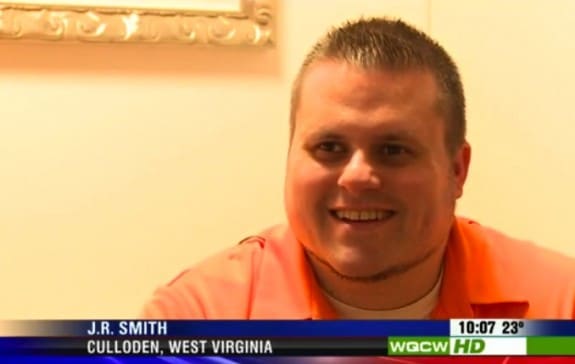 Thankfully technology allowed him to experience that baby's birth from one state away.
Friends and family thought the couple was pranking them when they sent them photos of the newborn.
"Everybody has been like 'What?' " Mandie said. "We've been texting people showing the baby, and they were like 'I was with you yesterday, you didn't look pregnant.' Nobody believes it. Everybody's in shock."
While it may seem odd that a mom would be pregnant for 40 weeks and not know she is expecting, it is more common that we know.  In fact just a couple weeks ago Katherine Kropus gave birth to an almost 10lb baby, just hours after she learned she was expecting!
---
[ad]