A Canadian team reviewed nine studies and found music reduced pain and encouraged better oral feeding in premature babies, while helping them grow and thrive.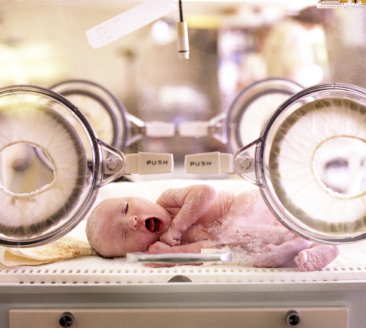 They believe that calmer infants gain weight faster and have shorter hospital stays.
Music also appeared to have beneficial effects on physiological measures like heart and respiratory rate, Archives of Disease in Childhood reports.
Increasing numbers of neonatal units are using music on their wards.
Of the six studies the University of Alberta team looked at
Three looked at the effect of music played to babies during painful procedures such as circumcisions and heel prick tests
One looked at the effect of music on feeding rates
two looked at the effect of music on physiology and behaviours
The music used varied with some trying lullabies with or without added sounds, such as heartbeats or womb noises. One study used loud music – a specially composed wordless lullaby sung by a female voice and accompanied by a harp, with other hospitals have been playing music by some of the great composers, like Mozart.
The study authors, Dr Manoj Kumar and colleagues, said:
"There is preliminary evidence to suggest that music may have beneficial effects in terms of physiological parameters, behavioural states and pain reduction during painful medical procedures.

"While there is preliminary evidence for some therapeutic benefits of music for specific indications, these benefits need to be confirmed in well-designed, high-quality trials."
Professor of Obstetrics Andrew Shennan, from the baby charity Tommy's, said:
"Preterm births have recently increased over the past years and remain a huge problem in the UK, sometimes resulting in many long-term health problems for the child in later life, including cerebral palsy, deafness, blindness, chronic lung disease, learning and behavioural difficulties.

"The preliminary evidence that music played to preterm babies may have positive effects for behaviour and pain is very interesting and should be taken into consideration.

"Although more research is still needed in this area, the study shows that there may be simple and cost-effective ways to provide health benefits to preterm births."
Music therapy has been known for helping hyperactive kids to reduce over activity and enhance the quality of concentration.
Related Articles: