It has been a crazy couple years for Nadya Suleman.  Coined Octomom after she gave birth to 8 babies in 2009, the single mom has struggled to make ends meet since her brood was released from the hospital.  In April, just a couple weeks after she revealed she was accepting government assistance, she filmed an adult film titled, Octomom: Home Alone.  The money she earned from the 'film' allowed her to buy a new home for her family.
While it looked like things were looking up for the mom of 14, TMZ reported yesterday that she has checked herself into the Southern Californian Chapman House Drug Rehabilitation Centre after she had become too dependent on the anti-anxiety medication Xanax, which she had been taking to help her 'deal with stress'.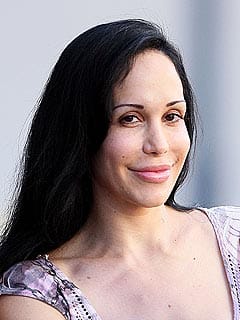 A spokesperson for the Nadya told TMZ,
'Nadya wanted to get off the Xanax she was prescribed by her doctor and learn to deal with her stress, exhaustion and anxiety with professional help with a team of doctors.  Nadya wanted to deal with her issues and make sure she is the best mother she can be.'
While she is in rehab, she has reportedly employed a team of three nannies, and two friends to help look after her children.

The bill for the trip to rehab is being picked up by the facility.
Let's hope that her time at the treatment center can bring this whole train wreck to an end.  In the last few months she has made money stripping, doing celebrity boxing matches and making personal appearances at night clubs. What she really needs to do is stay out of the spotlight and parent her kids.
{PACIFIC COAST NEWS}
---
[ad]