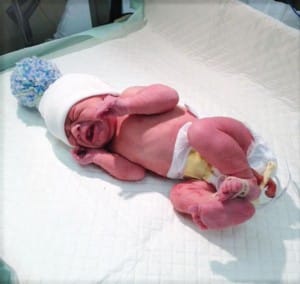 On the 500 block of North 38th Street in Corsicana, Texas, Mihoko and Phillip Brown were settling in for the night. Had it not been for their cat, Stinky, the little bundle that had been left on the door might have gone unnoticed. But as fate would have it, Stinky clued his owners in and a very precious package was found and rescued.
"They said they heard a soft sound, and the cat went to the side door and started sniffing the door," said Corsicana Police Chief Randy Bratton. "That's when they saw the handbag and looked inside."
Mihoko was the one to open the door. There, on her front doorstep, she found a bag that couldn't be seen through. Mihoko says she thought it sounded like a wounded animal inside the bag, so she called her husband over to the door. Phillip thought it was an animal at first as well. Further inspection would prove the couple wrong.
"I put my ear to the door and heard something, and I barely opened the door and saw the bag," Phillip said. "I said 'somebody's left us a puppy in this bag.' Then it started crying, and I said, 'This is a baby.'"
Immediately, the Browns brought the bundle in – a baby boy, umbilical cord still attached, wrapped inside of a towel, a pillowcase and plastic bag. They then called 9-1-1 to report the found infant.
Phillip says he can't imagine why someone would have left a baby on their doorstep. His only reasonable explanation is that they live close to the highway and on the corner, which could make an easy, quick-drop off spot for a desperate mother. But no matter the reason, it's a good thing they found the infant in time. Had they not answered to the sniffing of their cat, things could have gone very differently.
"We're very fortunate because it got pretty cold [that] night," said Chief Randy Bratton. "If the baby hadn't been found quickly, there's a good chance the baby might not have made it."
Phillip says he would have had better chances of winning the lottery than finding that baby on their doorstep, but he and his wife are glad they found the little boy as well.
"You hear about this. They make movies about this kind of thing," Phillip said. "I'm just glad we were here and we heard something."

"I was so glad he was crying loudly enough for us to hear it," Mihoko said. "I was so thankful he was still alive. I can't imagine what I would feel like if he wasn't crying and then we found it. It was shocking enough for me. I'm just so thankful he's alive and in good care right now."
As police search for the mother, who may not have known about the "Baby Moses" law in Texas that allows legal immunity for a mother who leaves an infant in the hospital or at a fire or police station, the baby, reportedly doing well, sits in the custody of Child Protective Services.
"The baby's fine," said Chief Bratton. "CPS will take care of the baby."
Related Articles:
---
[ad]