It was a relaxing family day for Naomi Watts and Liev Schreiber on Saturday.  The couple was photographed taking their sons Alexander(Sasha) and Samuel out for an afternoon bike ride in Brentwood, California.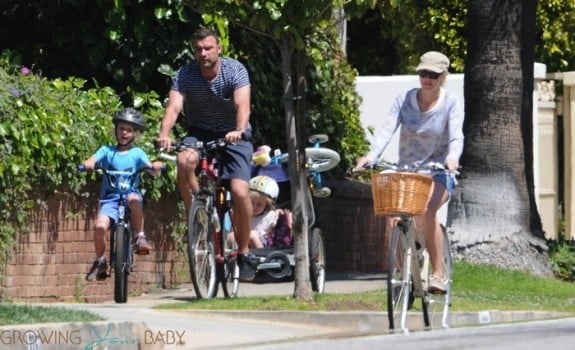 Sammy rode in the trailer while big brother Sasha biked along side his dad.  A little unsteady, he fell but got back up and continued the ride with his family.
Sammy's bike was piled on top of his trailer for him to use when they arrived at the park.  To help Sasha out Liev held his back and guided him through the neighbourhood.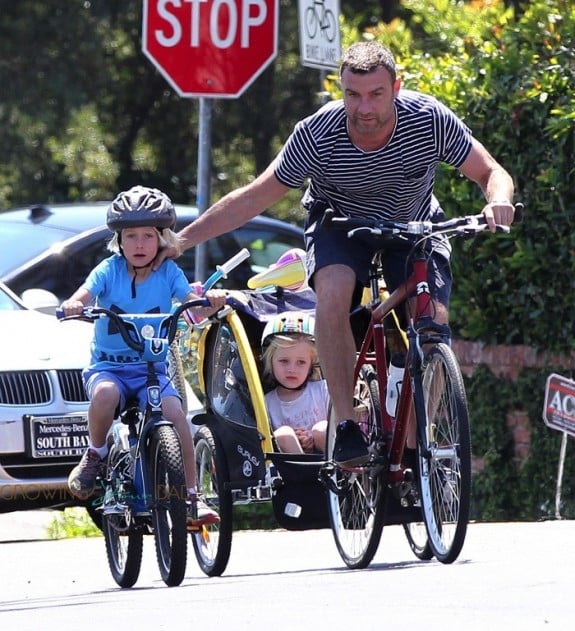 Liev, who currently stars in Ray Donovan, recently partnered up with industry veteran Scott Carlson to open an advertising agency.
"Scott always wanted to be an artist, and I always wanted to be in advertising," said the actor, who studied semiotics, visual literacy and media criticism at Hampshire College before attending the Yale School of Drama. "And I was like, 'Do you want to switch places?' — except I really don't want to see him act."
Not the frontman, Liev will work behind the scenes, tapping Hollywood connections to help with commercials and web series.
The new partnership is a refreshing change he says,
"The reality of being an actor is that it's not as exciting as people think, particularly when you're on a television show and you do the same thing year in and year out," Liev told the New York Times

"Part of what I love about this is it changes all the time," he continued, referring to the agency's work. "Every three months you meet this new client and you go on this new adventure, and it's actually really fun."
We look forward to seeing his creative side!  Maybe this path change will allow to do more with his family…

{PACIFIC COAST NEWS, FAME/FLYNET}
---
[ad]